Dwell editor-in-chief Amanda Dameron talks us through Dwell's October 2016 issue.
It's never been easier to find good furniture. With a few clicks, an endless scroll of sofas, dining chairs, and beds appears. So why is the process still so stressful?
Perhaps it's because the exercise of outfitting a home is a gradual one, filled with inevitable compromise. A current popular philosophy dictates that all of our belongings should give us joy, and if they don't, we should jettison those items immediately. Easier said than done. Objects can carry great weight, both literally and figuratively. Maybe it's an inherited piece that's discordant with everything else, but there's too much attachment to get rid of it. Or a disagreement arises, stemming from what's considered "beautiful," and one person stubbornly clings to an item that the other can't stand. Then there's always the most potent challenge of all—budget. It's very rarely the case that money is no object. Finding "joy" in an item can be rather complicated.
In this issue we focus on furniture designers, examining matters surrounding the creative process, legacy, patronage, and usability. We begin on page 35 with a meditation on the archives of famed French designer Pierre Paulin (1927–2009). Through the efforts of his family, many of Paulin's unrealized creations will now come to light, further preserving his reputation as one of the most innovative furniture makers of the 20th century. Filial responsibility and affection is a theme we continue, where a short essay penned by the granddaughter of Danish modern master Jens Risom highlights the virtue of using, rather than idolizing, heirlooms.
We nod to design's next generation with a quick profile of Ini Archibong, who debuted a meticulously produced collection this year at the world's most important furniture fair, Salone Internazionale del Mobile, in Milan. Archibong, a rising star we've long admired, is finding success by cultivating a deep network of mentors and collaborators, acting as both student and teacher, all the while challenging himself to master new techniques and materials. Flexibility is his strength, and his reward is seeing his ideas tangibly realized. We hope design students (and manufacturers!) take note.
We are always fascinated by the homes of designers, especially those who use their dwellings as laboratories. We admire the late-1800s Brussels residence of Danny Venlet, where his playful creations give the loftlike space its idiosyncratic soul. The interplay between old and new is an exciting juxtaposition, solidifying our common editorial narrative that any home can be modern on the inside. In western France, designers Russell Pinch and Oona Bannon installed a great deal of their own inventory—they head the British furniture company Pinch—into what was a decrepit field structure and is now a sophisticated—but not precious—family retreat. Another interpretation of creative family space is found in Brooklyn, where an interior designer and lighting designer have transformed a brownstone into an elegant mishmash of eras and styles.
Those who make their daily bread through the business of furniture retail have a place in these pages as well. We visit an unconventional "rhombus-frame" home in New York's Hudson Valley, filled with a multitude of Jonathan Adler furnishings—which makes sense since it happens to be the weekend home of that company's chief technology officer. Completely embracing a company's design ethos is certainly a mark of dedication, as evidenced by the cofounder of Muuto, Peter Bonnén, who recently moved his family from their native Denmark to the United States. Muuto's collection appears in every room, of course.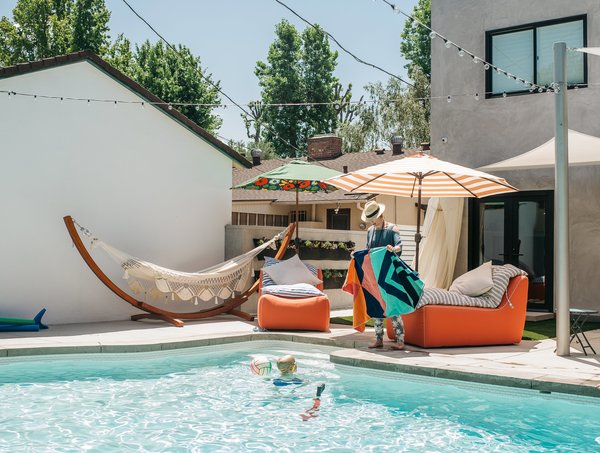 See the full story on Dwell.com: Editor's Letter: Focus on Furniture