A guest house that has a distinctly contemporary character and yet seamlessly integrates both with the main house that is more traditional and a lush green garden, the Paddock Brow Guesthouse does it all! Designed by Blee Halligan Architects for a homeowner who traveled a lot before finally coming back to his roots in UK, the guest house feels smart, engaging and there is no lack of natural light in here. Glass walls along with floor-to-ceiling glass windows bring light indoors with ease even as track lighting takes over after sunset. Transition between the two is seamless; much like the flow of interior between the old and the new sections.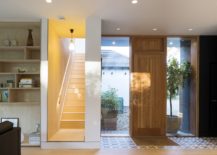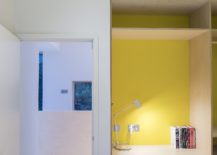 The guesthouse was designed intentionally with an open plan to ensure that it is visually connected with the garden at all times. This gives each room a backdrop that constantly changes as seasons pass by and the neutral interior feels energetic and fresh. Local conservation guidelines were strictly adhered to while planning for the new guesthouse with life here seeming cheerful and relaxing. It is a wood and white color scheme that dominates the interior with pops of yellow adding accent charm to an otherwise neutral setting. [Photography: Sarah Blee Photography]
RELATED: Glass, Wood and Steel: Contemporary Rear Extension to Cramped London Home
We have focused on ensuring the guesthouse is immersed in the orchard and garden to a greater extent than the existing house. This has been achieved by carefully considering levels, thresholds and views, which will ensure an enhanced living experience once the building is complete, whilst also sitting the building sensitively with regard to local Conservation Area guidelines.
RELATED: Mid-Century Modern Aesthetics Shape Posh Texas Home In Wood, Glass And Steel
You're reading Contemporary Guesthouse in Wood and Glass Flows into the Garden, originally posted on Decoist. If you enjoyed this post, be sure to follow Decoist on Twitter, Facebook and Pinterest.