There are few occasions when you feel like packing your bags and taking the next flight to a destination as soon as you see the image of an amazing getaway. The Bamboo House in Bali is one such amazing setting that is eco-friendly, sustainable and ensures that you get the best possible views of the river next to it and the jungle beyond. This is well and truly a remarkable escape that was planned in 2014 and brought to life gradually over the year. The best part about it is undoubtedly the use of bamboo as the sole construction material; making the structure ever greener!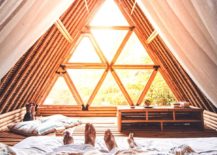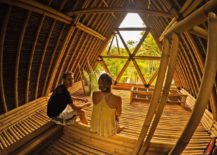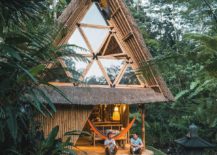 Designed by Jarmil Lhoták + Alena Fibichová, the Hideoutmoves away from low-quality building materials and uses exclusive bamboo of high standard derived from local mountains in Karangasem. This special, locally sourced bamboo has low-sugar content and high strength, making it perfect for construction of eco-friendly buildings. The Hideout stands tall and towers above the normal jungle landscape and acts as a perch that offers bird's eyeview of the scenery outside.
RELATED: Villa Pecatu Bali: Exotic Blend of Natural Beauty and Modern Comfort
Bali already has some outstanding getaways, but few compare to the sheer natural beuaty of this hideout and everything that it offers in terms of serenity. There is an outside shower in the garden here and a bedroom on the top level with triangular windows comes as a result of the vernacular A-shaped roof used for the design. A perfect escape surrounded by breathtaking scenery! [Photography: Sasha Juliard, Valentino Luis, Jordan Hammond, Emily Hutchinson, Reis Junk]
RELATED: Magical Mountain Views Greet You at this Guest House in Santa Lucia Preserve!
You're reading Magical Nights in the Bamboo House Take You into Jungles of Bali!, originally posted on Decoist. If you enjoyed this post, be sure to follow Decoist on Twitter, Facebook and Pinterest.