Tucked away in an Art Nouveau building, this colorful sanctuary fuses period details with contemporary updates.
The Klinkers—a young family of four—purchased their Barcelona apartment on the top floor of a stylish and historic building with the hopes of remodeling the space as their vacation home. Marta, an interior designer herself, planned to refurbish the home using her own design. Then, disaster struck.
A day before completion, an explosion burned the flat down, along with much of the already completed work. This not only devastated their budget, but also severely damaged some of the property's ancient features. A year later, they were ready to reach out to Colombo and Serboli Architecture (CaSa) to begin the remodel the Klinker Apartment again.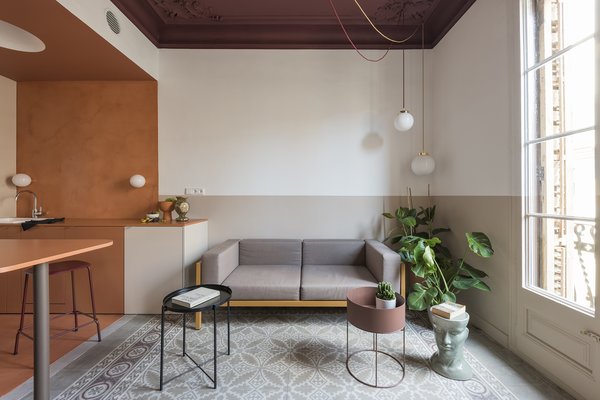 Naturally, they wanted to renovate the home as a budget-friendly project, while at the same time presenting a home that would be dramatically different from its previous incarnation as an old, neglected apartment. The goal was to preserve and highlight historical features and make the most of high ceilings, decorative elements, floors, windows, and doors. Walls and ceilings had been blackened by the fire, which needed special care, and most of the walls had to be scrapped to bricks and newly finished. Art nouveau details in the ceiling were either restored or reproduced.
See the full story on Dwell.com: A Fire-Ravaged Apartment in Barcelona Rises Again With Bold Color and Historic Charm
Related stories:
A Couple Convert Their Parents' Garage Into a Transforming ADU
Before & After: This Sleek California Home Is a Master Class on Minimalism
A Matte Black Cabin Steps Down the Steep Slopes of Norway's Stokkøya Island