On the outskirts of Sydney, Bundeena Beach House's green roof and sculptural skylight are just the tip of the iceberg when it comes to honoring the environment.
Known for its picturesque beaches and bush walks, the coastal town of Bundeena lies within a Royal National Park an hour's drive south of Sydney. It's here, on a small, rocky headland at the end of a secluded beach, that a Sydney-based family of four decided to build a weekend retreat. They approached Grove Architects with a simple brief—to create a new home that was all about its connection with the environment.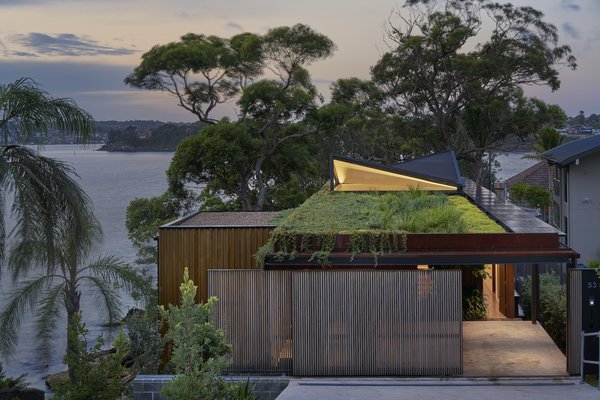 Prior to the home being built, the site was unattractive and poorly utilized, occupied by a run-down, fiberboard shack. Although the site had stunning, uninterrupted water views, the steep slope from the road to the beach was challenging in the design process. Architect Sky Grove also saw the need for a high level of sensitivity and good citizenship.
"When we talk about good citizenship, we are referring to the need for architecture to not only respond to its own site and brief, but also to respond to its greater context," says Grove. "In this case, we felt that opening up views toward the water across the site would be of huge benefit to the community. We also saw an opportunity to engage with the community by opening up the boundaries of the house's garden and connecting it directly with the adjacent public reserve."
So, instead of attempting to relate to its built context—which is characterized by walled gardens and garages—the low-set home provides a moment of relief, connecting the street with the beach and water beyond.
See the full story on Dwell.com: How This Australian Beach House Connects to the Coast Is on a Whole Other Level