An entrepreneur-turned-DIY builder expands his eco-friendly Yucca Valley property with this translucent desert structure.
After selling a successful car parking app (called ParkMe), Los Angeles-based tech developer Sam Friedman craved an absorbing, hands-on experience somewhere far away from the California city's infamous car culture. When he discovered a neglected but sprawling property of 112 acres in the Yucca Valley, a short drive from Joshua Tree National Park, he boldly snatched it up. Its centerpiece was a run-down, poorly designed, 1,600-square-foot geodesic dome. Armed solely with determination, Friedman, with the help of his pals, gut-renovated the skylight-topped structure in 2017, renaming it Hawkeye House.
Now, Friedman has enlivened the property with a petite new cabin.
With the help of Venice, California-based Stephen Vitalich Architects, Friedman spent three months building a 160-square-foot cabin. The final scheme was designed to appeal to sustainability-minded, outdoor adventure enthusiasts. Myriad hiking trails can be found just mere steps from the cabin's wrap around deck.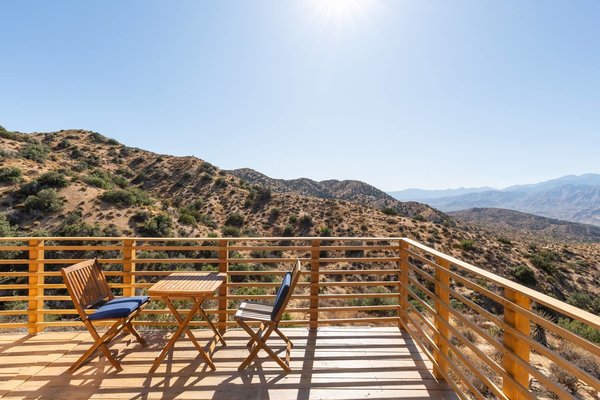 See the full story on Dwell.com: Take in Panoramic Desert Views in This Off-Grid Cabin