For an unforgettable backdrop that can set the tone for your ceremony and reception, consider incorporating a wedding arch into your big day. Not only does it serve as beautiful décor that can double as a photo backdrop, it can frame you and your beloved as you take your vows.
Wedding arches can even be used for a range of events, from baby showers to birthday parties. Thanks to floral designers and makers fully embracing the arch in recent years, it's never been easier to make this design dream a reality on any budget. Keep reading for creative ideas, purchasing info and more. [photo by Marissa Maharaj, featured at Ruffled]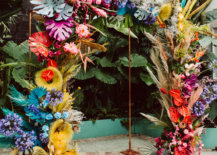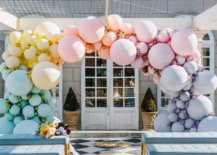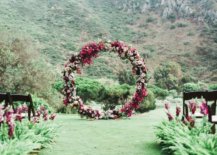 Arches and Chuppahs
Let's begin with a collection of arches and chuppahs decked out in designer florals! Blair Schluter Photography captured the image below, complete with a pampas grass arch filled with volume and dramatic beauty. Featured at Ruffled, this Sunday brunch wedding included floral design by Crooked Roots Design. For more on the pampas grass wedding floral trend, check out this Decoist post.
Once again, it's pampas grass for the win, this time showcased in a cliffside winery wedding featured at Green Wedding Shoes. Betty Flowers Santorini is responsible for this beautiful creation that channels a look of romantic abundance. [photo by Anna Roussos]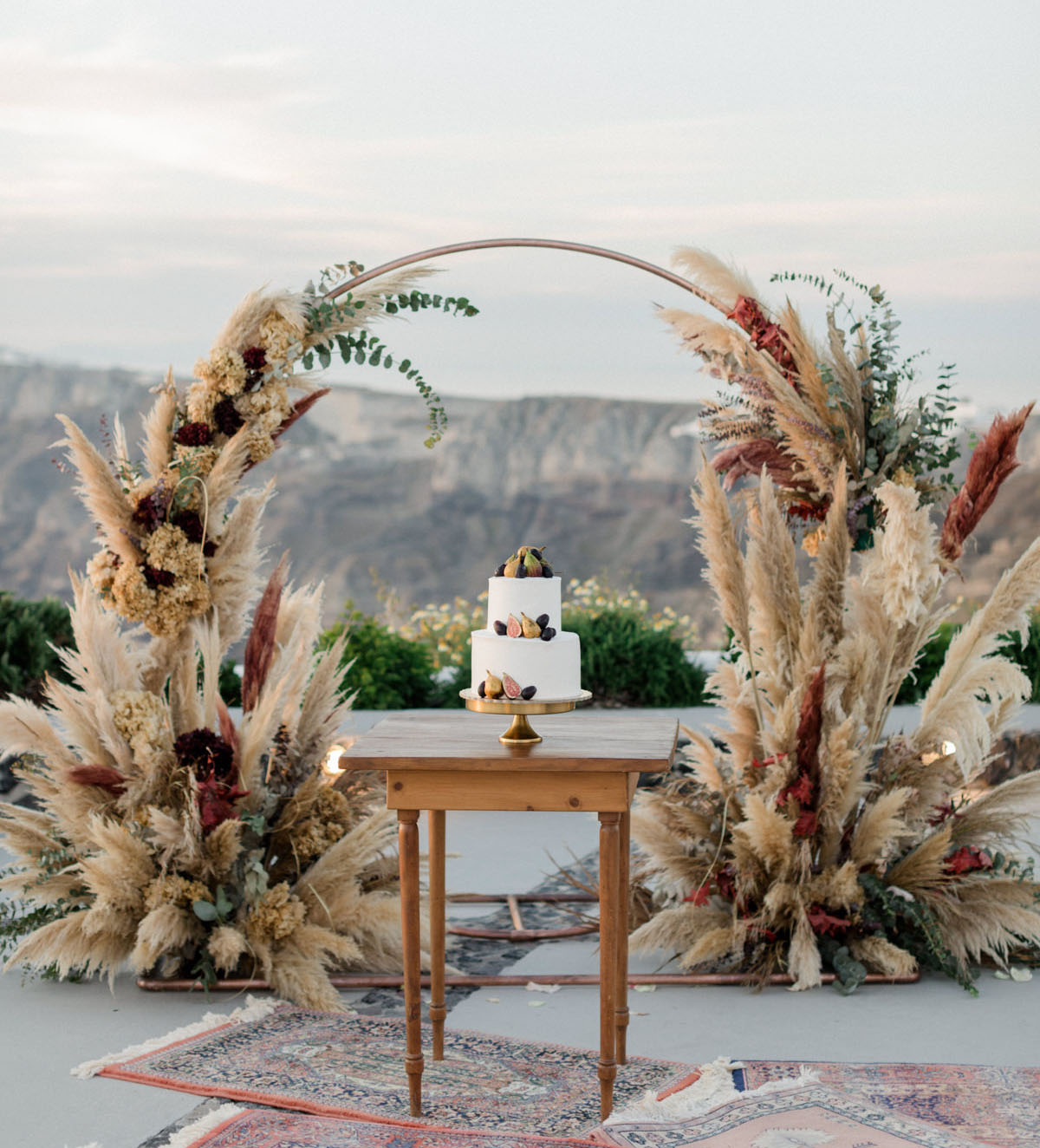 In 2017, Green Wedding Shoes called this berry-toned floral arch "The most amazing floral arch we've ever seen". We can see why! Gray and purple roses were among the florals beautifully arranged by Tularosa Flowers and Angela at The Mintery. There was definitely a fairy tale element to this beautiful display. [photo by Paco and Betty]
The unforgettable arch below was created for a wedding inspiration shoot from 100 Layer Cake. The shades of autumn took center stage, while abundance was definitely the name of the game. Small Yard Flowers designed the florals, while Hazelwood Photo captured the magic. Summer meets fall in an arch that has a lush look, yet also incorporates accents such as fall foliage: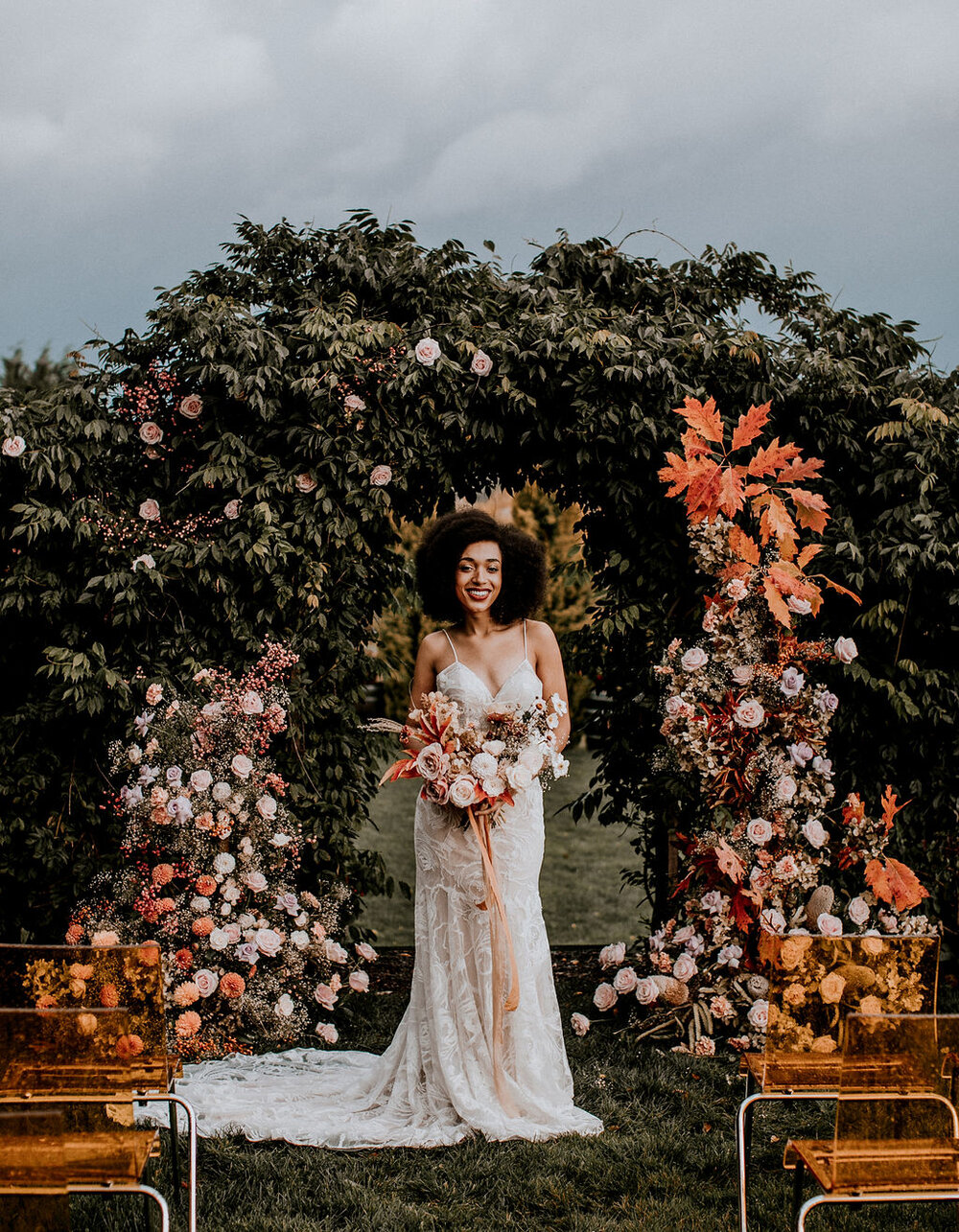 A tropical ombre floral arch is the vibrant focal point of the Bel Air Wedding below, featured at Ruffled. More of a chuppah than your typical wedding arch, this decadent showpiece styled by Inessa Nichols Design illustrates how lush flowers can create an unforgettable backdrop. [photo by Marissa Maharaj]
For more tropical arch magic from Inessa Nichols Design, check out this rainbow chuppah featured at Green Wedding Shoes. Radiant and unique, the selection and arrangement of flowers takes this "arch" to the next level. Chuppah rental from Chuppah Studio. [photo by Hannah Costello]
Let's feature one more chuppah (featured at 100 Layer Cake), this time with pink baby's breath taking a prominent role! In fact, the baby's breath creates cloud-like formations that are both festive and dreamy. Of the Flowers designed the amazing arrangements, which beautifully challenge the notion of the classic white wedding. Also note that the chuppah was reimagined as a reception arch after framing the ceremony. [photo by Jenny Smith + Co]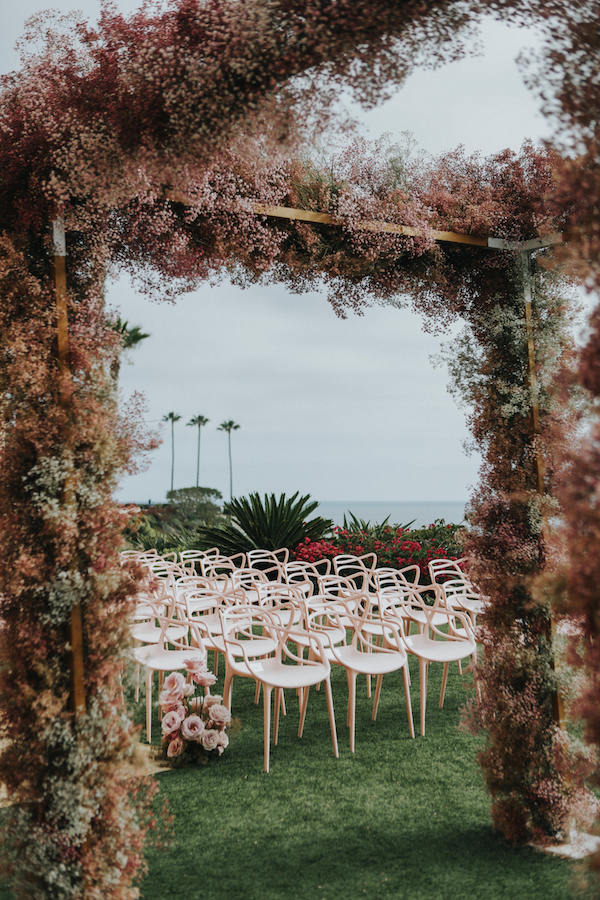 Last but not least, don't forget the beauty of a balloon arch, which can take your event to new heights, thanks to today's beautiful blend of balloons in designer colors and festive sizes. Below we see a pastel floral rainbow balloon arch from LENZO. For more on balloon arch magic, check out this post from 100 Layer Cake.
Circular Arches
If you're a fan of the brass ring wreath trend, in which the wreath hoop is as much of a design statement as the flowers themselves, you'll appreciate the larger version: the circular wedding arch. You can cover it as much or as little as you like with flowers, balloons and more. Yet the circle is a beautiful symbol of everlasting love, as well as a design statement of its own. Liubov Deco's round wedding arch consists of five separate wooden pieces, as well as two legs. Easy to assemble without a drill or a screwdriver, this statement arch can be embellished with flowers: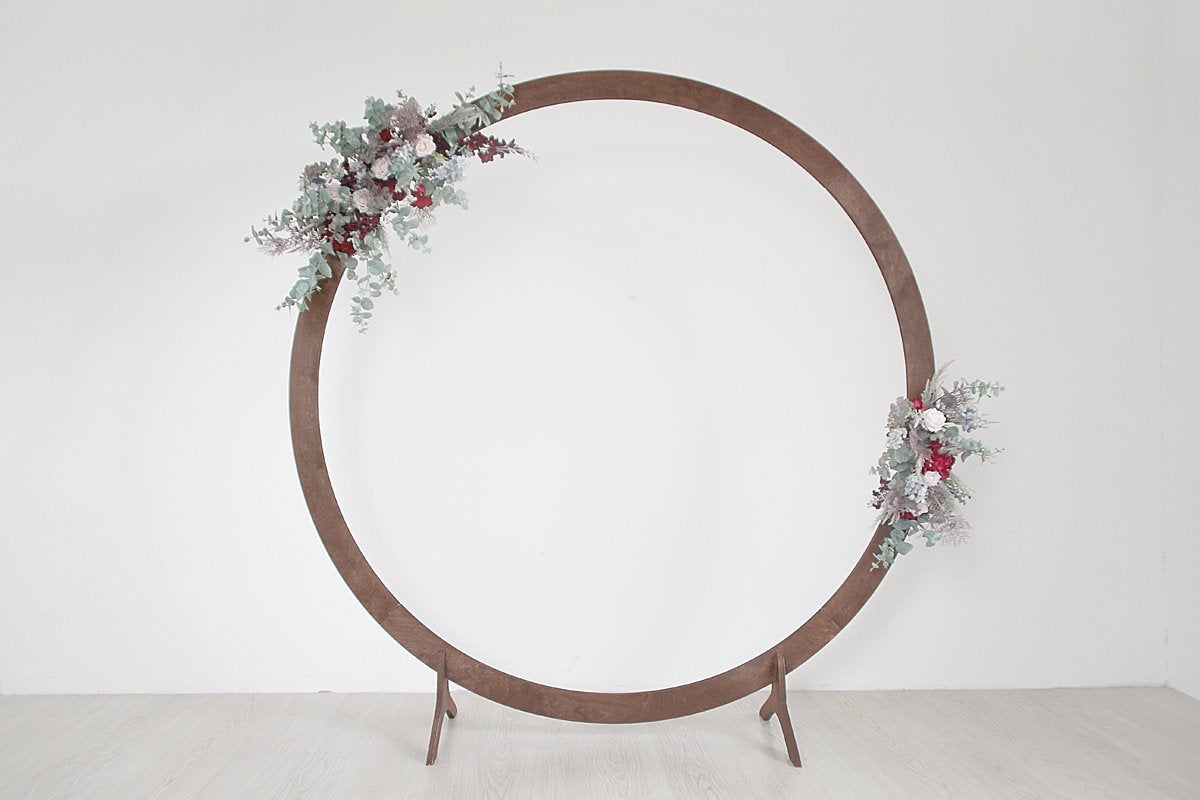 Etsy shop Wood & Craft offers a range of round wedding arches, as shown below. From the petite to the large, these arches are beautiful on their own (with minimal blooms), or stunning when decked out in flowers. Keep scrolling to see this round arch covered in flowers from head to toe!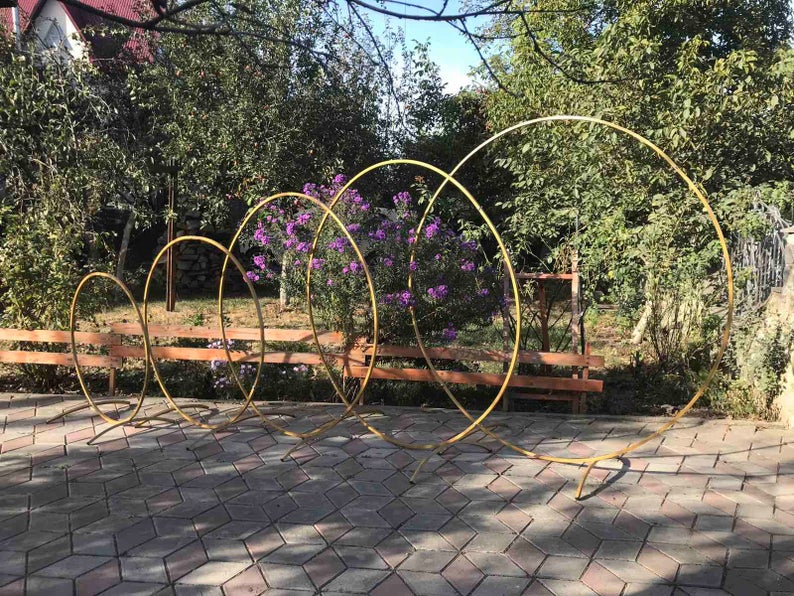 While not a full circle, this metal moon arch from Wood & Craft has the power to add a magical touch to your special day. Perfectly aligned with the current celestial wedding trend, this piece is available in either gold or white, as well as two different sizes:
Here's one last circular arch, shown covered in flowers, from Etsy shop Archway Store. While the flowers aren't included in the purchase, it's fun to get some styling inspiration from photos like the one below, complete with a lush color palette!
Geometric Arches
True arches, chuppas and circular arches are some of today's most popular wedding backdrops, but more angular geometric designs are gaining steam. Bold arches like the ones featured in this section of today's post are appealing to design lovers who are into geo statements and want to stand out from the crowd. Copper Wedding Décor's Triple Peak backdrop is crafted from copper and wood. Not only does it blend well with a variety of styles, it can be used to hold items ranging from flowers to drapery.
Triangular arches create an undeniably modern, almost mystical, statement. Crafted from wood and stained the color of your choice, this arch from Etsy shop Further Still stands nine feet tall. As you can see in the image below, a little bit of floral goes a long way with this piece. Don't be afraid to let the geo form shine through!
A hexagonal arch highlights this barn wedding in French Alps, featured at Green Wedding Shoes. Natipi Florals designed peachy arrangements that enhanced the wedding's beautiful warm tones. Note that on this stunning arch, less is more when it comes to the flowers. [photo by La Boheme Photographie]
If you enjoy a good DIY project, you can save money by purchasing the construction plans for a double hexagon arch from Etsy shop Further Still. The design is yours to build, and you can buy the supplies at your convenience. It's as easy as following the clear instructions that are included, and whether it's you or someone else doing the building, the result is quite striking:
Whether you prefer a more traditional floral wedding arch, the roundness of a circular arch, or a more modern geo statement, we at Decoist wish you a joy-filled wedding day with the picture-perfect backdrop of your dreams!
You're reading Wedding Arch Design Reaches New Heights, originally posted on Decoist. If you enjoyed this post, be sure to follow Decoist on Twitter, Facebook and Pinterest.