A translucent pergola shades this 183-square-foot studio made from hardy OSB.
A Wellington, New Zealand, couple loved their neighborhood of Berhampore, but found that with two young sons, they were running out of space. They called on Parsonson Architects to devise a solution, which came in the form of a 183-square-foot studio in the backyard of their two-bedroom Victorian cottage.
"Set against a backdrop of mature trees at the end of the garden," says founder Gerald Parsonson, "the new studio provides extra space for play, study, and sleeping."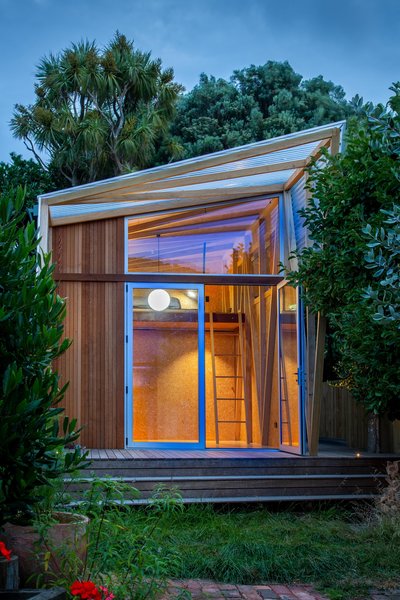 Facing north, Herald Garden Studio looks toward the main house and captures midday sun with a front facade that's mostly glass. This opens onto a deck that wraps around the west side, skirting an existing olive tree and connecting the studio to the lawn. A pergola made from opaque, corrugated polycarbonate extends from the front facade and protects against weather; the materiality of the pergola diffuses both sunlight and artificial light, creating an ambient glow.
Parsonson selected green, corrugated Colorsteel for the roof and the rear and side walls. "It's an inexpensive and practical product," the architect says. "Its green color relates to the garden setting."
See the full story on Dwell.com: A Snug Garden Studio Makes Room for a New Zealand Family's Growing Sons