A historic French estate inspired by Claude Monet has been revived as a neo-futurist garden with otherworldly art and breathtaking views.
Russian landscape architect Alexandre Grivko has transformed a 1905 French estate into Les Jardins D'Étretat—a garden laboratory that combines experimental topiaries with open-air sculptures and UNESCO World Heritage-listed views.
Perched above the alabaster cliffs at Étretat in Northwestern France, the property once belonged to French actress Madame Thébault, who created the garden to reflect the artwork of her friend Claude Monet. In 2017, Grivko updated and expanded the grounds into a world-renowned attraction that has earned a Green Guide Michelin star.
"When I found out about an opportunity to buy this piece of land, there was zero doubts," says Grivko, who had visited the grounds decades prior and recognized the enormous potential of the site.
"This is a magical location on the rock d'Aumont. It has a breathtaking view on the ancient town and the surrounding cliffs. Claude Monet has said: 'Such cliffs cannot be found anywhere.'"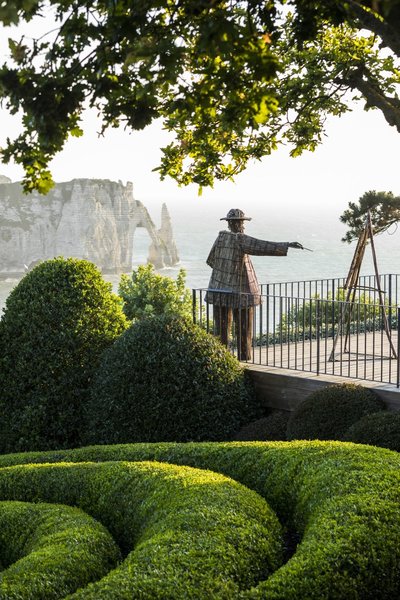 Drawing inspiration from André Le Nôtre, an 18th-century French landscape architect best known for his work at the Palace of Versailles, Grivko envisioned a new type of garden with large-scale topiaries that merge classic garden styles with contemporary and experimental features. "Les Jardins d'Étretat does not slot into a particular style of a garden, but maybe sets a new neo-futuristic vision," says Grivko. He notes that Vito di Bari's 2007 Neo-Futuristic City Manifesto champions a blend of art, technology, ethical values, and nature.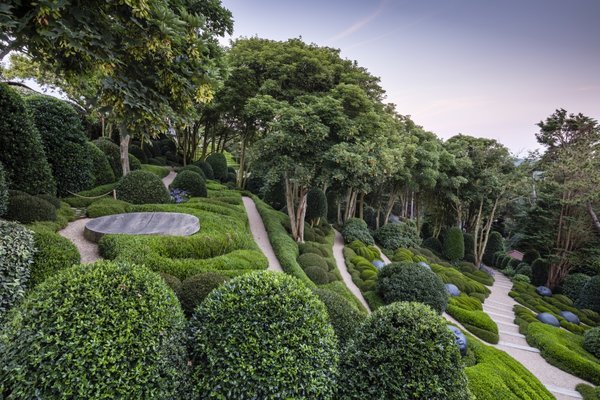 See the full story on Dwell.com: Need a Breather? Get Lost in This Mesmerizing Garden in France
Related stories:
How the Quest for Sustainability Fuels Gloster's Production and Minimalist Modern Designs
This Shady Oasis Is a Garden, Garage, and Office All Rolled Into One
Flexform Boldly Takes On the Great Outdoors With Launch of Covet-Worthy New Furniture Collection