Most homes we come across on a daily basis have a floor plan where it is the living area, kitchen and dining room that occupy the lower levels and the upper floors are dedicated to private areas. Yet, the Lofthouse I designed by Marc Koehler Architects in Amsterdam turns this idea upside down with two bedrooms and bathrooms on the ground floor and the living area and public spaces on the upper levels. This gives the homeowners a chance to enjoy lovely views of the city as they spend most of their time in the living space and kitchen. But the real highlight of this residence with a prefab structural frame is the central atrium-styled stairwell that feels like a walkway in the sky!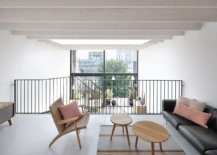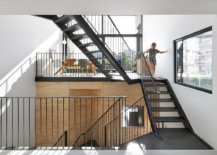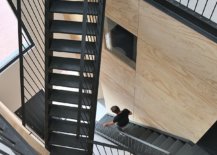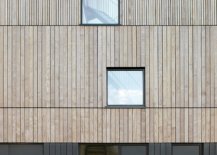 The continuous metallic staircase is absolutely jaw-dropping and feels like sculptural masterpiece even as it seamlessly connects all the levels. The style inside the house is modern-industrial with wood, metal and glass being used in a balanced fashion and ample natural light shaping a cheerful and healthy living environment. The prefab wooden structure used for the loft allows for easy development and evolution of different levels and also reduces construction time as well as costs, making it a cost-effective and planet-friendly home. A beautiful, multi-level residence ideal for urban lifestyle! [Photography: Filip Dujardin]
This industrial location inspired the architect to design a sturdy framework with large glazed surfaces and black opaque, painted hardwood frames. Besides being sturdy, the house also emanates a serene atmosphere. The house has a refined wooden wall cladding, the transition from coarse to fine resulting in a façade with a layered and surprising appearance. The façade is covered with a preserved Radiata Pine softwood
You're reading Durable Dutch Loft Scales Up the Prefab Frame with an Exceptional Interior, originally posted on Decoist. If you enjoyed this post, be sure to follow Decoist on Twitter, Facebook and Pinterest.