Not everyone has enough space or an additional room in the house for a dedicated walk-in closet. But those who do often tend to opt for a look that is modern, understated and filled with neutral hues. Admittedly, that works more times than not but there are occasions when we are left searching for something brilliant; a style that moves away from the mundane and gives the closet an identity of its own. That is where eclectic style comes to your rescue with the way in which it can bring together many different elements without ever seeming out of place.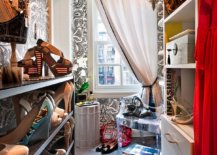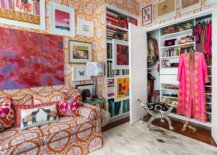 The eclectic closet comes in a wide range of sizes and with different style influences. But today we are focusing on spacious walk-in closets that combine an air of luxury with plenty of color and an unmistakable personality. The best eclectic closets feel brilliant, are engaging and yet they do not leave you overwhelmed with too much color. Some embrace rugged industrial influences while others are injected with beach style overtones and modernity. This is a look at the very best eclectic closets –
An Infusion of Color
There is no shortage of color when it comes to eclectic style and you can use everything ranging from bright pink and bold purple to gorgeous greens and daring reds in here. In the large walk-in closet this infusion of color comes in the form of the many cabinets, shelves and the central bench that provides a seating option. Of course, you can also use wallpaper and paint to add color to this space as well. No matter which approach you use, it is important to not use more than three or four colors in here. If you prefer a walk-in closet with neutral hues, then a carpet or rug along with drapes and other removable fixtures in bold color should do the trick.
Space and Shelving for YOU!
You want to design a walk-in closet that is ideal for you instead of a cookie-cutter model that is more universal. If you are a DIY enthusiast with decent skill, then you can even craft some of the floating shelves and cabinets in wood for the closet all on your own. Depending on the collection in your wardrobe, your footwear and how you change your clothing with change of seasons, you can opt for open and closed shelving. Mirrored closet doors are a popular choice in here and they create visual space and give even the small walk-in closet a larger persona.
Beyond the Spacious Walk-in Closet
We completely understand that not everyone has space to spare for a large, luxurious walk-in closet and that is why we want to share inspirations for a smaller eclectic closet that still packs quite a punch. This works even better when you have a bedroom in eclectic style and at times your collection of clothes, jewelry and shoes can add to the vivacious appeal of the closet. Some are simple enough to recreate in even the tiniest of bedrooms while others might need some smart modular solutions to get done. No matter which approach you choose, you are assured of a fabulous little closet.
You're reading Luxurious and Edgy Eclectic Closets that are Just Spectacular!, originally posted on Decoist. If you enjoyed this post, be sure to follow Decoist on Twitter, Facebook and Pinterest.