When it comes to design and décor inspiration there are plenty of things that come to our mind before we ever start thinking about homes that have wheelchair access. Most of us tend to take it for granted that the staircase is the only way to move between two different levels of the house. Designed to meet the needs of busy couple in London and to accommodate their son who uses a wheelchair the Beyond Barriers house in Hendon is exactly what its name suggests. It is Amos Goldreich Architecture who designed a new private first floor wing for this 1950's home while also renovating its lower level living area and adding a smart rear extension.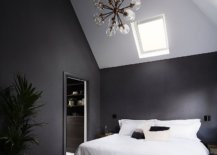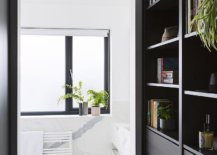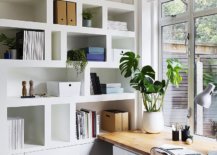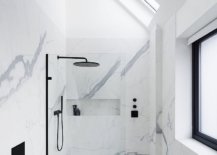 It I the first floor private level that was the focus of the makeover with the homeowners wanting a secluded and luxurious retreat that included a master bedroom, master en-suite, walk-in closet and a space to rest and relax after a long, hard day. More importantly, a secret door in the wardrobe of the master suite opens to give access to the lift that connects this floor with other levels of the house. This makes for easy wheelchair access – a feature that is consistently maintained even with the other modern makeovers and additions inside this classic British home. It is dark grays and white that shape the bedroom while Bianco venato marble adds luxury to the bathrooms and the custom walk-in wardrobe. [Photography: Ollie Hammick]
Elsewhere in the property, the house received a full internal refurbishment including a new office that repurposed an underused living space. Another smaller extension was added to the rear of the property creating a new en-suite for the family's teenage daughter. The existing ground floor WC was enlarged and made accessible and a new skylight was added that brought much-needed light into the entrance.
You're reading Beyond Barriers: Contemporary Private Wing with Smart Wheelchair Access, originally posted on Decoist. If you enjoyed this post, be sure to follow Decoist on Twitter, Facebook and Pinterest.