For many families, Thanksgiving is the start of the holiday season and families choose to celebrate that by sharing a festive feast with their loved ones. If you're the one hosting the family this year, part of your duty as a good host is to set the perfect table display. When it comes to Thanksgiving table decor ideas, there are a number of themes you could choose from or elements to incorporate to create that festive feeling in your home.
You Can Tailor Your Table To Your Style
You might be someone who prefers the minimalistic approach and always sticks to pattern-free china and linens, or maybe you're the person that covers their table in pinecones and colorful leaves; there's no wrong way to do it if you're happy with it. You're the host, which means you get to decide what kind of decor is right for you. Getting inspired can be the toughest part, which is where Decoist is coming in to help you get started on building your Thanksgiving table.
The Fall Floral Arrangement
For those who want to keep their table decor simple this year, you can't go wrong with a floral arrangement filled with autumnal colors. Fall hues like vibrant yellow, cranberry red, or persimmon orange make for a beautiful centerpiece that sets the right mood without requiring too much effort. For an added sparkle, you can add hints of gold glitter or ribbon to the arrangement as well. You can also swap out your usual glass vase for something more festive like a pumpkin.
The Classic Cornucopia
The cornucopia is meant to symbolize a plentiful harvest and an abundance of food, which is why it's often associated with Thanksgiving. Having a cornucopia in the center of your table immediately gets everyone in the mood to feast, and that's without even filling it. Once you've got your wicker basket (or whatever material you choose for your cornucopia), you can fill it with a number of different things. You could create a fresh floral arrangement, or go for fake flowers that will last longer. You might also choose to fill it with food rather than flowers.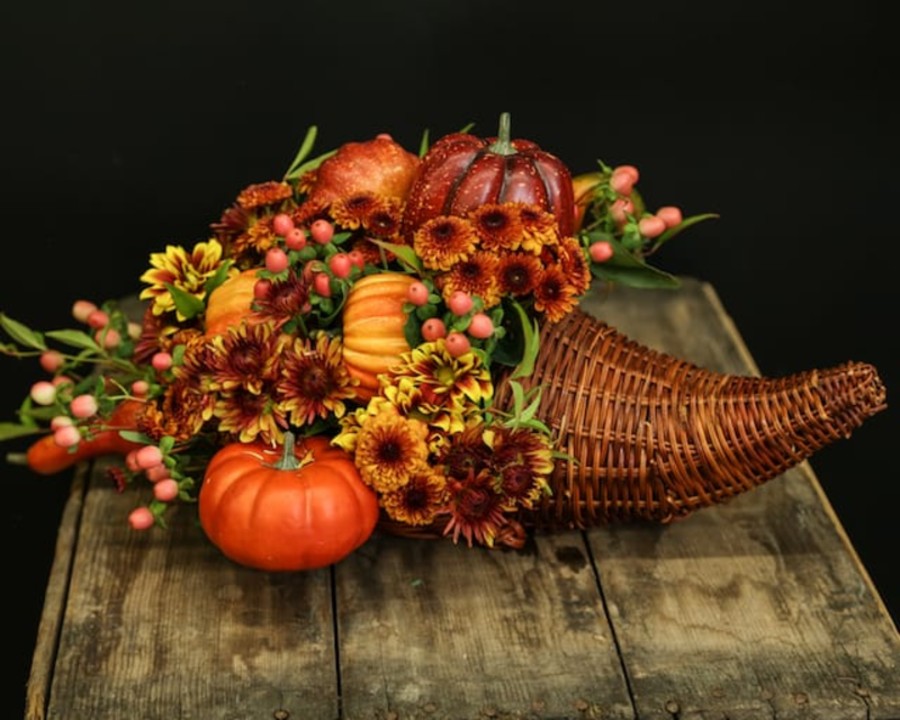 Embrace the Outdoors
If you're lucky enough to live in a place where there won't be snow on the ground for Thanksgiving, you might consider hosting the family outside. Let the fall colors inspire you and embrace the natural seasonal accents around you. Pine cones, small pumpkins, or brightly colored leaves dispersed on the table are all classic fall decorations.
For more ideas on how to host your Thanksgiving dinner outside, check out these outdoor table setting ideas.
Paint your own Pumpkins
You don't need to settle for a plain old pumpkin or gourd in the center of your table. Painting pumpkins is becoming increasingly popular and is a great way to get your kids involved in the decorating process. For a classic look, you could paint your pumpkins white or gold, even adding some gold or silver glitter for extra sparkle. If you're looking for something more eye-catching, you could go for a brighter color, or let your kids draw their own designs.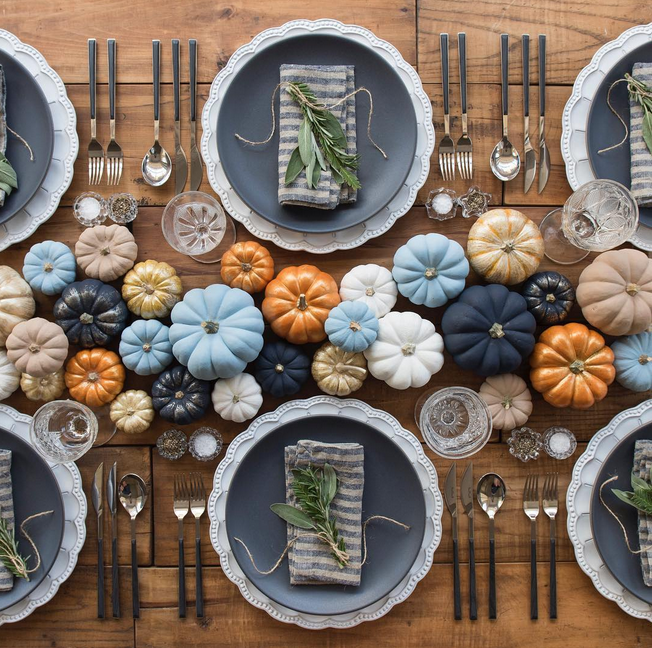 Let the Linen Do the Work
Setting the perfect Thanksgiving table can be as simple as choosing the right linens. Even if you're using the same utensils and plates that you use every other day of the week, displaying them on the right tablecloth or placemat does a lot of the heavy lifting. Break out those napkins with the embroidered leaves or the tablecloth in that perfect fall shade of burnt orange that you probably wouldn't use any other day of the year. Don't be afraid to mix your colors either. Layer those gold placemats over a red tablecloth; play around with it until you find something you like!
Neutrals are Never a Bad Idea
A more subtle option for your table setting this holiday season is to take the neutrals route. Let the food be your focal point and opt for neutral place settings using table runners or placemats made of materials such as burlap or lighter-colored linen. Wooden serving dishes and beige or cream-colored dishes will create a warm atmosphere at the table without distracting from the incredible feast you spent hours slaving over.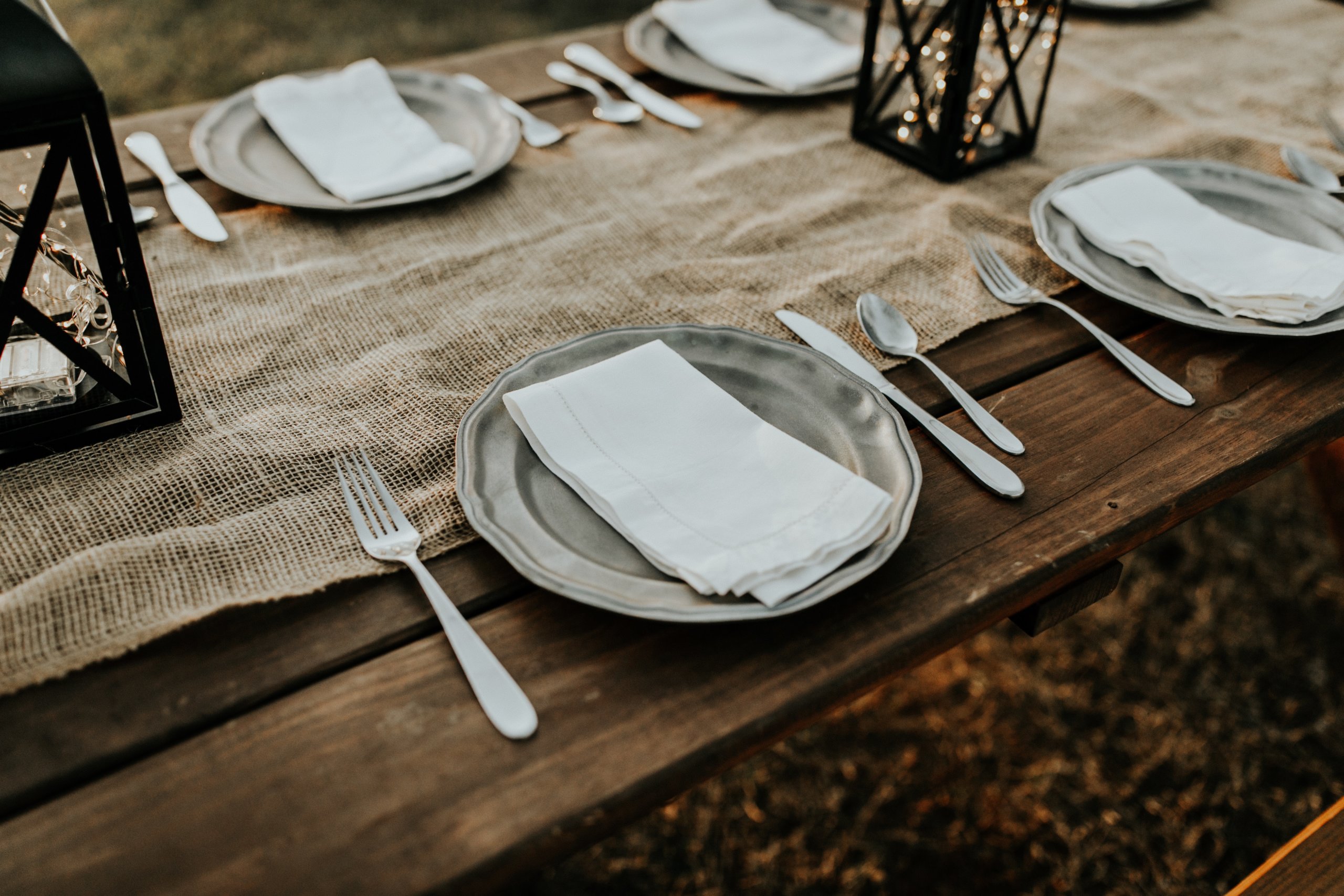 Mismatched Doesn't Have to Be a Mistake
Depending on how many people you're hosting for the holidays, you might not have enough of one plate pattern or napkin ring to give everyone the same. Rather than spending your time hunting down the pattern of a plate you bought four years ago, embrace the opportunity to mix and match. As long as it looks like it was done with intention, everyone will think you're eclectic—not disorganized. Alternate the plate and napkin choices at every other seat along with red or white wine glasses. As long as everyone's place setting matches one other person, you're in the clear.
Step Away from the Classic Fall Color Scheme
Opting for a classic fall color palette when planning your table decor is an easy win, but it's not the only way to create a beautiful table that will impress your in-laws. If you're tired of the same old fall foliage-inspired palette, you can swap out those choices for richer colors like turquoise or deep purples. Add in hints of crimson or orange to compliment your more off-brand colors so you still have those elements of classic coloring that people expect for the holidays.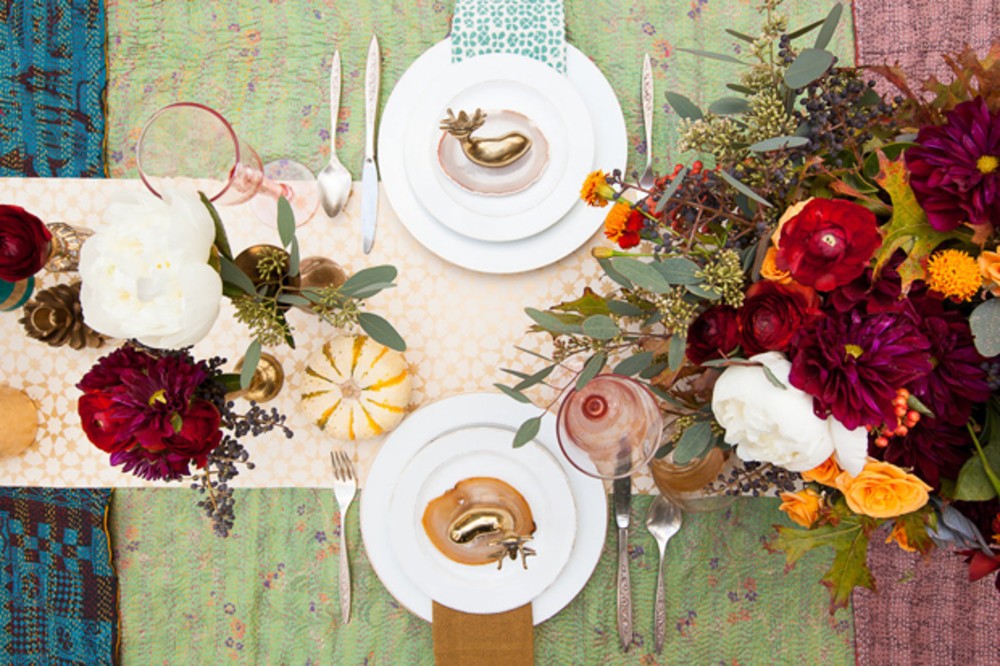 A Truly Edible Arrangement
Kill two birds with one stone by using actual fruits and vegetables to help decorate the center of your table, which you'll then be able to snack on later in the week. Pomegranates, pears, or persimmons (as well as foods that don't start with "P") are all good choices to be the star of the show. Add in smaller fruits like cranberries, all placed over a bed of leaves or berry branches for the perfect edible arrangement.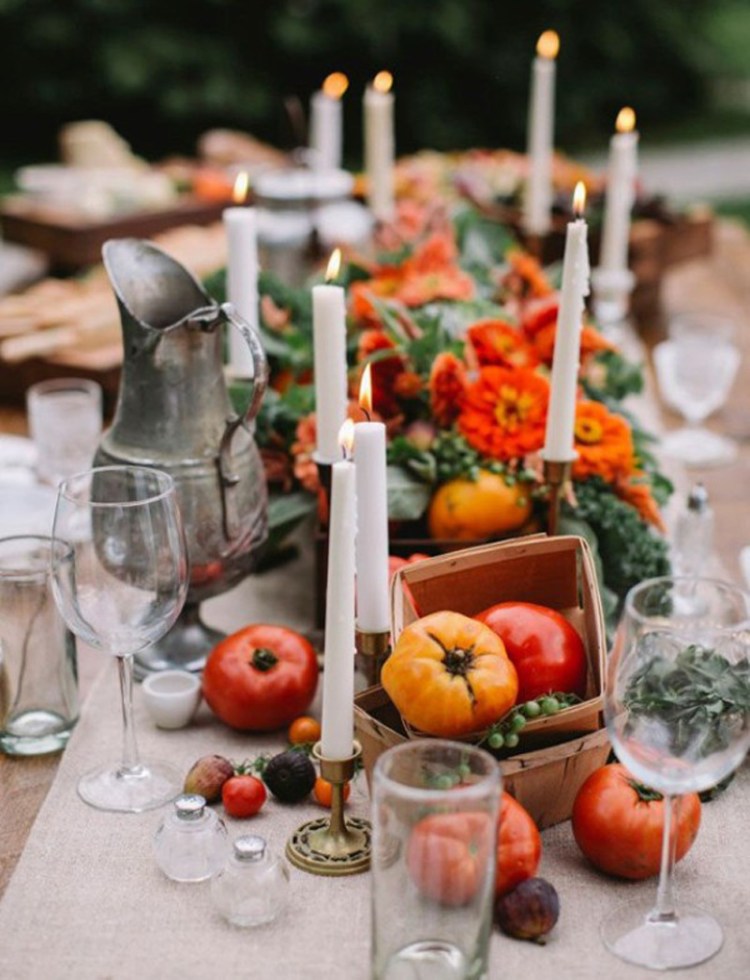 The More Plaid the Better
Well, that's not entirely true. There is such a thing as "too much plaid" but as long as you don't cover every inch of the table in your family's tartan, you'll be okay. Pairing plaid patterns with simple colors adds a rustic touch to your table without looking too busy. Matching a plaid table runner with more neutral place settings and dishes gives a classic fall look to your table. If you're partial to plaid, you could add elements like napkins or ribbons in a plaid pattern as well.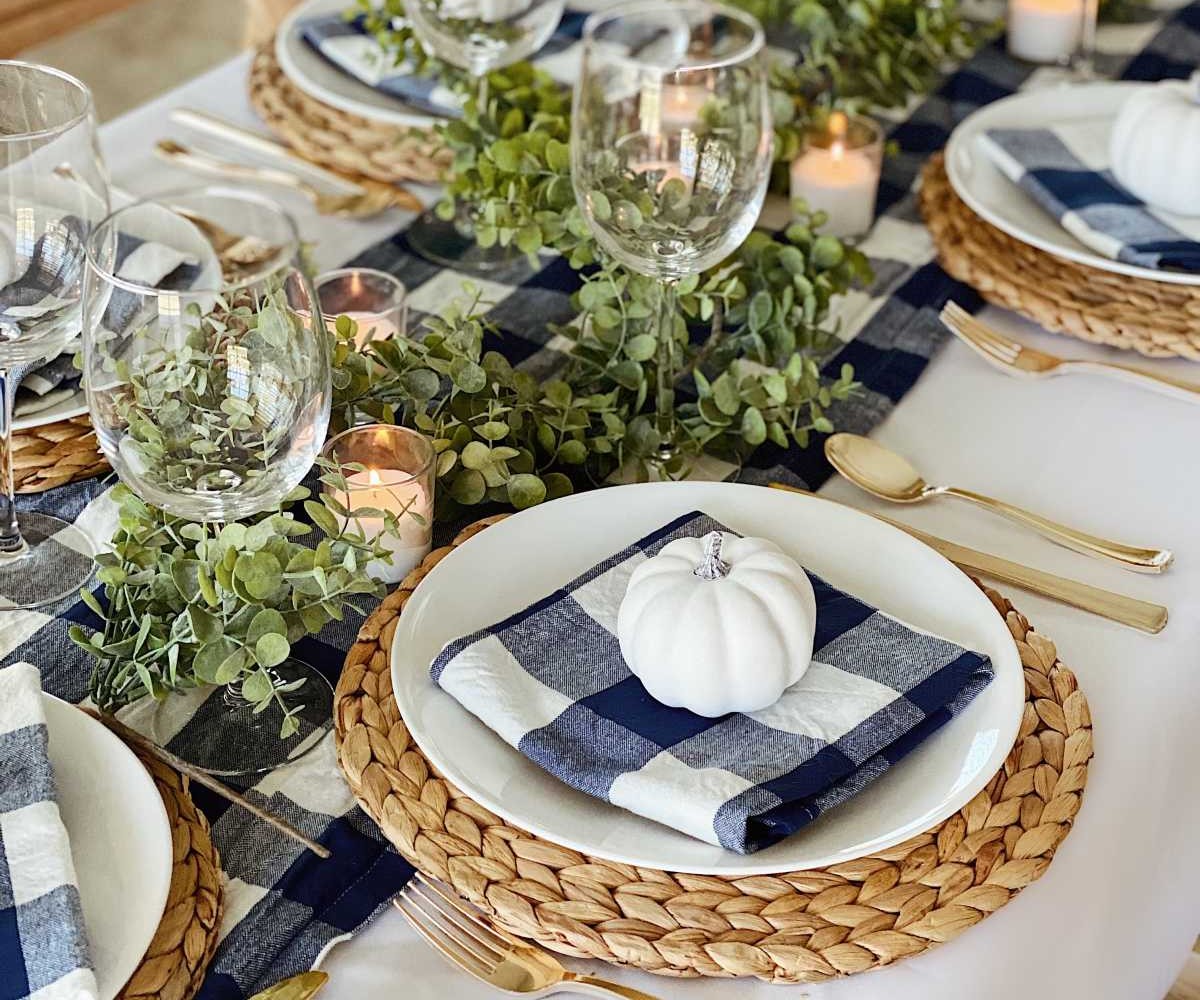 A Wreath Doesn't Always Need to be Hung
While you would typically hang a wreath on your front door or on a wall in your home, that Thanksgiving wreath with pinecones and gold ribbon is also a centerpiece waiting to happen. Nestle a few candles in the center of it or intertwine some fairy lights in the branches to create a festive, warm feature for your table.
Not Your Average Votive
A clear glass or crystal candle holder might seem too simple for your extravagant holiday table, but they leave you with options for how to decorate them. One simple option is to wrap ribbons around the votives that correspond with whatever fall color scheme you're working with. Another option is to forgo the candles altogether and fill the votives with strings of lights. A third option is to fill the votives halfway with small items like cranberries or acorns and let the candle rest on top.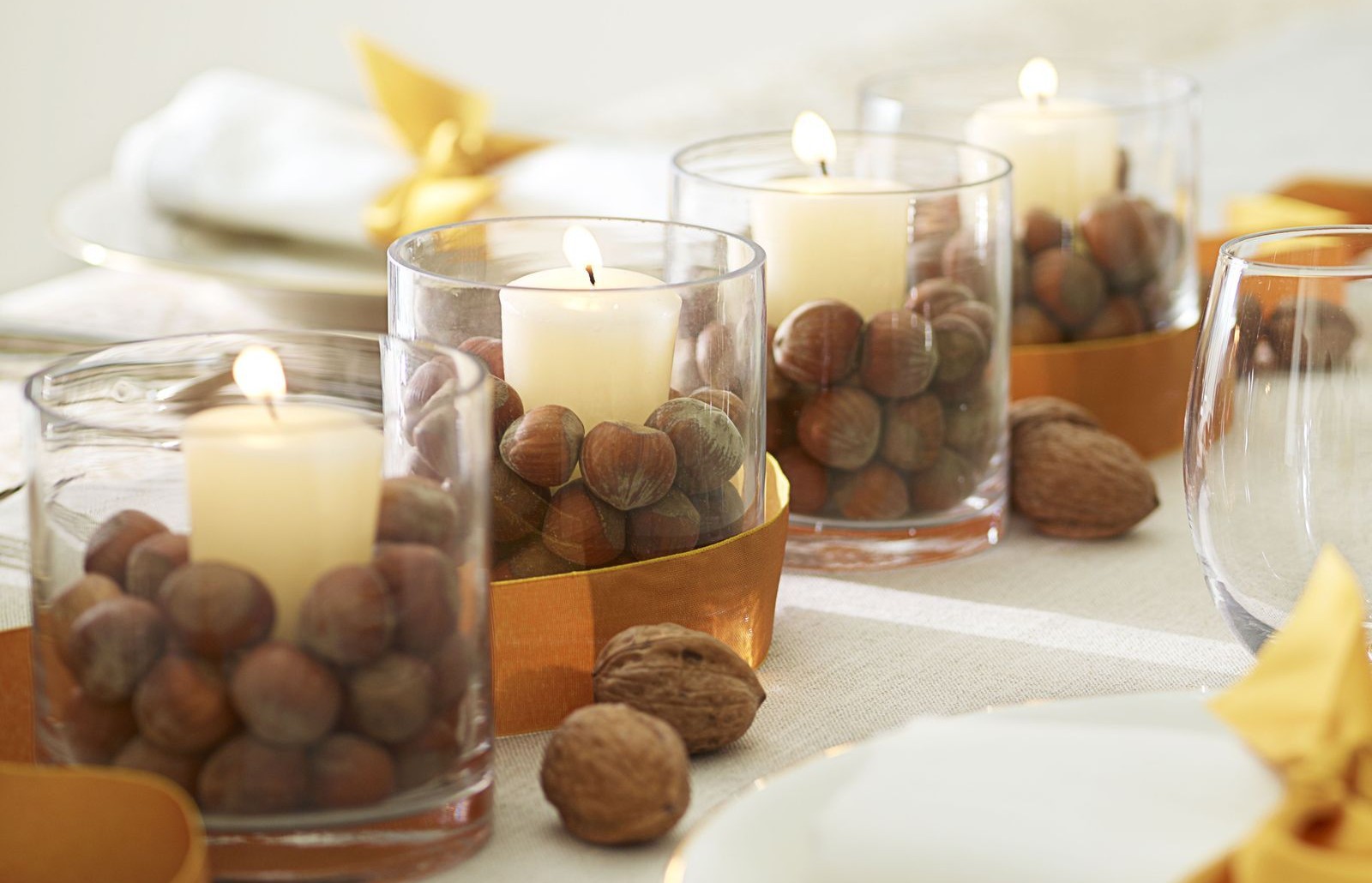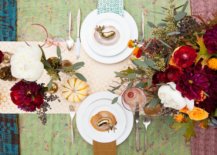 You're reading Thanksgiving Table Decor Ideas: The Best Choices For Your Festive Feast, originally posted on Decoist. If you enjoyed this post, be sure to follow Decoist on Twitter, Facebook and Pinterest.