adam waldron unveils CB100-E Electric Honda Motorcycle
British designer Adam Waldron has given new life to a classic 1980s CB100 Honda motorcycle, fitting it with a 2000w electric hub motor — creating a budget-friendly ride for the city. 'The overarching goal was to build a practical daily rider for less than £2000, do at least 50 miles on a single charge, and keep up with city traffic. The bike is ULEZ and congestion zone exempt, and because it is also considered a classic vehicle, it's also tax and MOT exempt. As a result, it's the best of both worlds; an original classic motorcycle from the 80s with minimal maintenance and all the modern conveniences of electric propulsion,' the designer shares.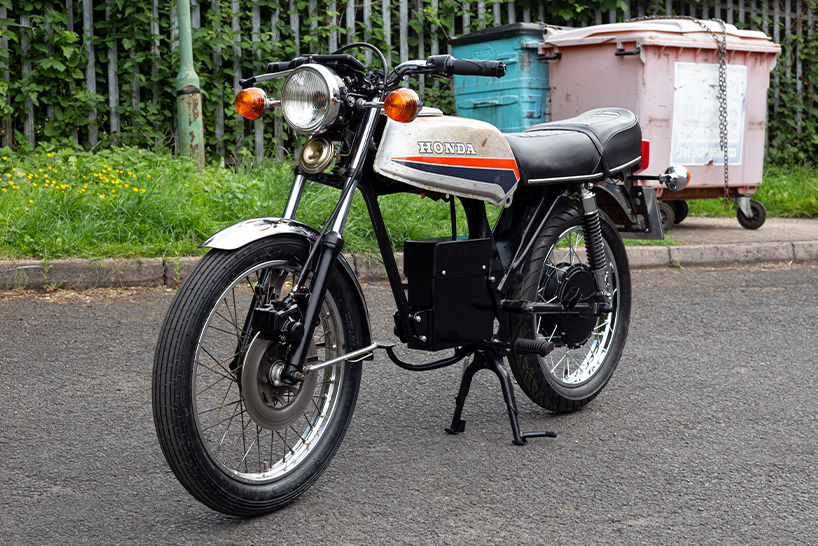 all images courtesy of Adam Waldron
fitting the 1980s classic ride with a battery box
Adam Waldron (see more here) sourced the bike from a failed cafe racer project with loads of spare parts. An e-bike specialist in China supplied the hub motor and battery — and where possible, the original Japanese part was used or repurposed — keeping as much of the motorcycle's originality and classic charm.
The petrol tank was cut out underneath to hide the controller, as well as the main wiring connecting the battery to the controls. Waldron then converted the original foot-controlled brake to a hydraulic unit and built a battery box to replace the original engine. The box helps complete the frame and not disrupt the bike's low center of gravity where the full weight of the engine once sat.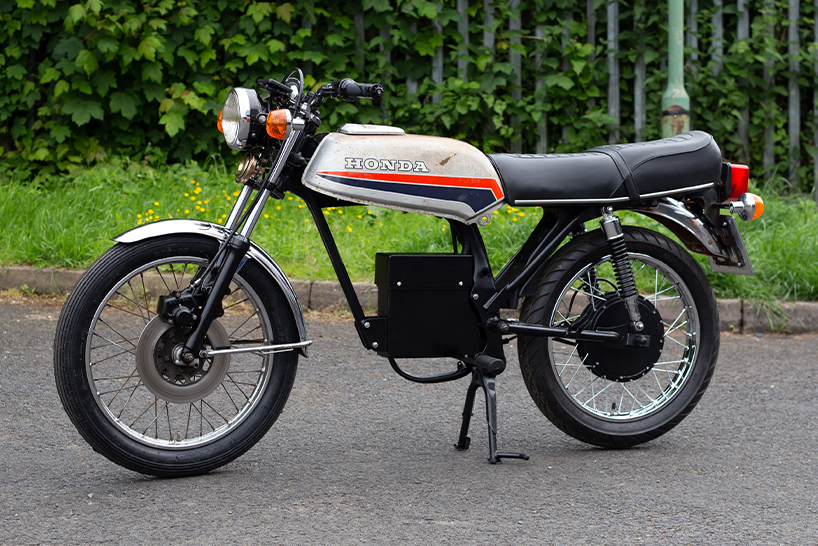 1980s classic Honda Motorcycle converted by Adam Waldron into a electric ride
easy, budget-friendly ride with an estimated 55mi range
Even with minimal motorcycle riding experience, the CB100-E Electric Honda Motorcycle is easy to steer via the conventional controls that mirror a standard road-going bike: Twist throttle, lever front brake, and foot rear brake.
General maintenance is also reduced thanks to a simplified driving system, devoid of a gearbox or an internal combustion engine, therefore improving the overall reliability of the classic bike. Finally, there is enough room for a pillion passenger, able to cruise up to 35mph, and has a range of approximately 55mi.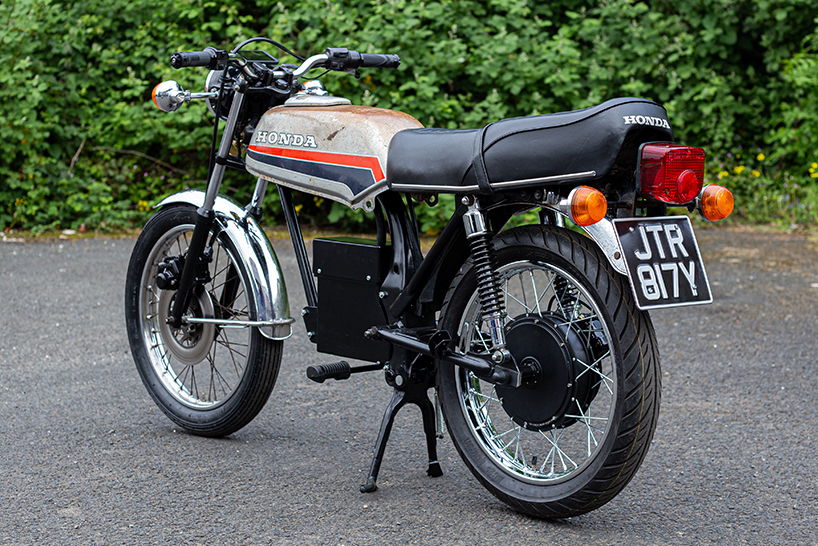 the original japanese part with the Honda logo was luckily preserved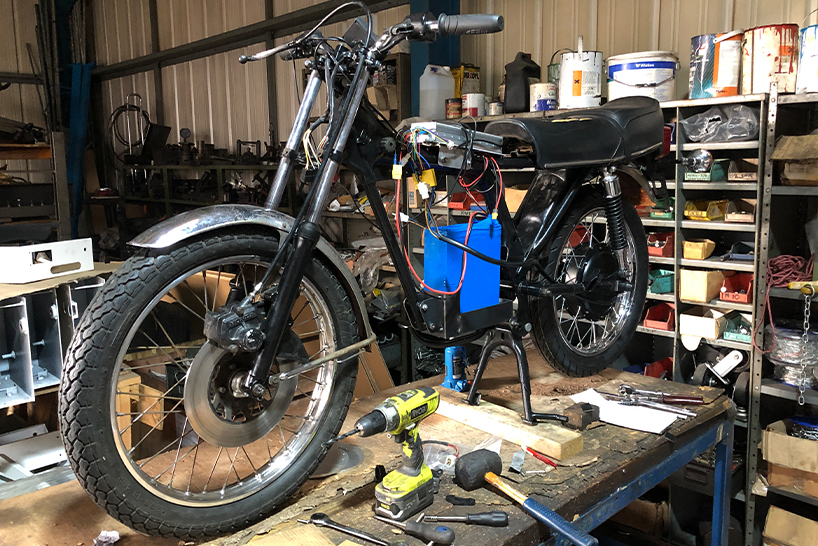 retrofitting in progress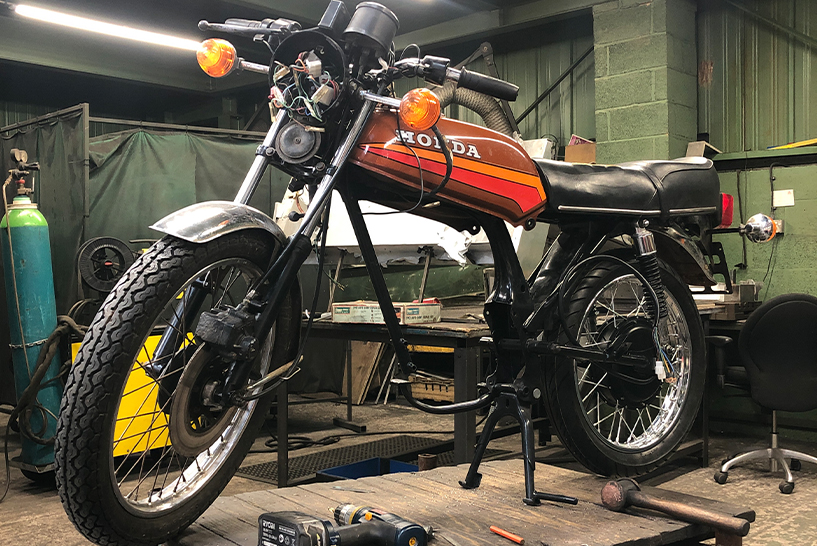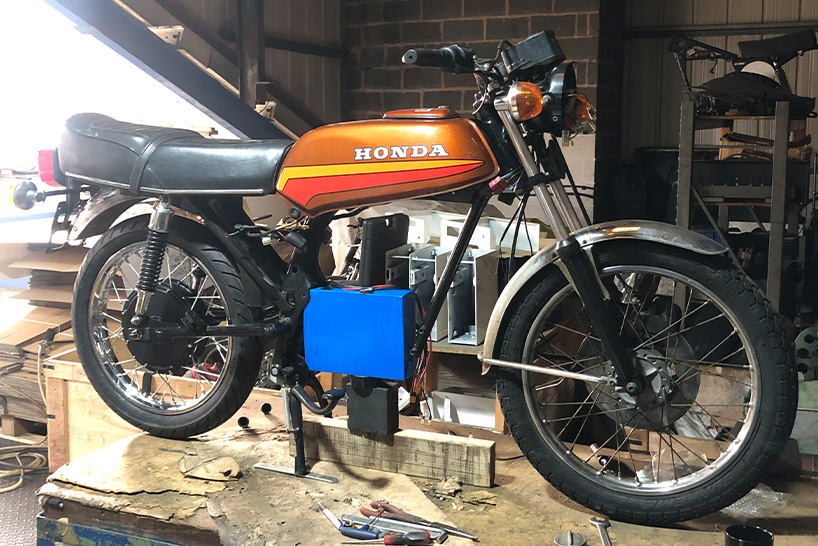 most of the original parts were in good condition