Destination Design: NICO in Sayulita, Mexico
Situated along the jungle-lined coast just an hour north of Puerto Vallarta in the bohemian surf town of Sayulita, Mexico, Seattle-based architecture and development firm, HYBRID in collaboration with Mexico City-based architecture firm Palma, have opened a 3,000-square-foot architectural rental operating on numerous levels of luxurious comforts.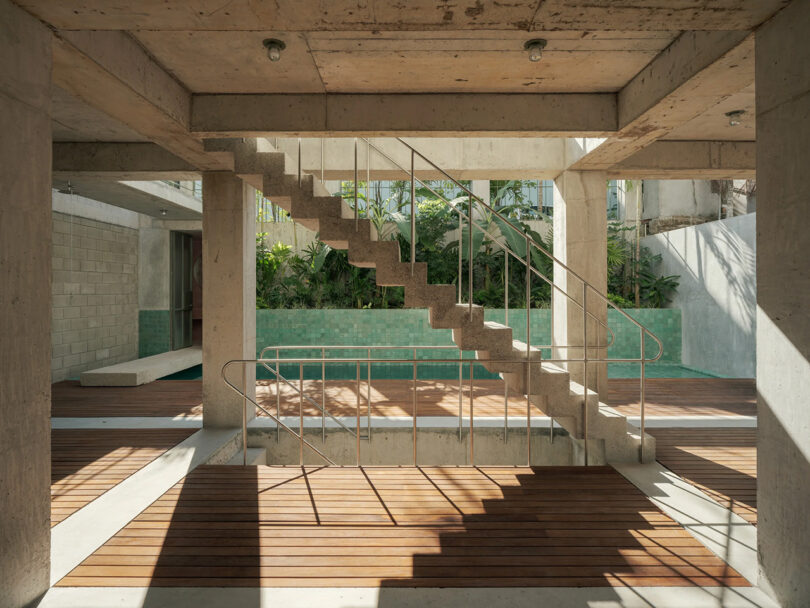 From street level, NICO Sayulita's front facing impression presents itself as a two-level structure. Only after guests cross a bridge over the main pool does the entirety of the structure reveal itself with a tiered sunken site imprint designed to disappear into the canopy of tropical foliage.
A series of elevated suites and open-air common spaces are connected by floating staircases in Escher-esque style. Indoor and outdoor spaces intermingle into a concrete grid structure, maximizing the welcome cooling effect of the ocean breeze across both private and shared spaces.
The efficient grid-like design allows for a "gradient of privacy and openness." Sections of the building can be connected or closed off in accordance of desired level of privacy, making the rental ideal for families or a large group of friends staying together.
NICO was conceived to offer a micro-boutique tropical getaway experience while retaining several hotel-style options to keep any stay north of just a typical home rental (suites can be rented in combination with the option to rent out the entire house). These include practical needs, including airport transportation, daily cleaning, and laundry services, but NICO's owners also remember being on vacation means feeling pampered, so there's also the option to hire the services of a bartender, chef, yoga instructor, massage therapists, surfing instructor, or a guide for local excursions.
"The suites are generally calming tranquil spaces with views to the jungle environment," says Robert Humble, Founding Partner and Design Principal at HYBRID. "A neutral color palette of concrete, steel, and wood imbues a sense of craft and refuge. The common spaces are more brightly colored and playful to excite the senses and create a memorable experience."
What: NICO
Where: Calle Loma Alta 7, 6373 Sayulita, Mexico
How much: Starting from $840/night for 5 bedrooms; 5-12 guests with 5-12 beds, 6 bathrooms
Highlights: A rooftop plunge pool offering spectacular views of the bay, and the Jungle suite's built-in concrete circular tub.
Design draw: The NICO's multi-tiered tropical modernist concrete structure interconnected by floating staircases is an inviting interplay between public and private spaces, the natural landscape in relation to its architectural imprint. Furnishings within are sourced from emerging Mexican designers.
Book it: NICO
Go virtually on vacation with more design destinations right here.