Leibal — Seosaeng House
Studio Weave
The post Seosaeng House appeared first on Leibal.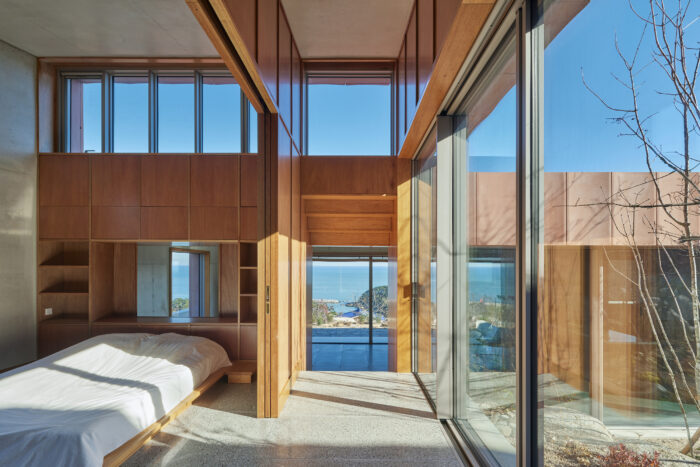 On the eastern peninsula of South Korea, Seosaeng House is a family residence created by London-based Studio Weave. Korean heritage and innovative architecture are skillfully merged here. Three terraces make up the house, which sits on a clifftop and provides magnificent views of the Eastern Sea. The terraces follow the site's natural slope. The courtyard garden is enclosed by the C-shaped floor plan. Pink-tinted concrete tiles cover the facade, while the wavy cladding merges in with the surroundings. The center courtyard gives a modern and traditional place for daily activities while the deep eaves offer shelter while maintaining Korean traditions.The home has an open-concept kitchen and living area with lots of natural light, making it appropriate for multigenerational living. Drawing inspiration from traditional Korean architecture, the materials used in Seosaeng House, such as Lauran ply and grey terrazzo flooring, reflect the influence that guided the architects' design choices. Korean architecture is renowned for its harmonious relationship with nature. Complementing this, the landscape design by Garden&Forest maximizes the site's features and microclimates, divided into sections to optimize their potential. Shrubs block wind, grasses accentuate the view, and plants protect the soil. Ferns thrive in the courtyard, and deciduous trees provide warmth and shade. A rear rock garden safeguards soil and adds color, harmoniously blending nature and architecture.
Seosaeng House embodies the essence of its name, "Seosaeng," which signifies "the brightening East" or "new life," perfectly capturing its harmonious connection with the surroundings. This integration of traditional Korean design and contemporary elements showcases Studio Weave's expertise and vision. The home provides a practical and flexible living space that values both innovation and uniqueness. Through careful orientation, material selection, and color scheme, this project successfully combines heritage and modernity.