The harsh landscape of Yucca Valley in California is snot something that is normally seen as one conducive for a lovely vacation home. But the Boulder2Sky House designed by Cocoon Commons + Associates alters that perception by creating a stunningly beautiful vacation home that completely opens up the interior to the view outside. This has been done by using glass in an extensive fashion with over 90 percent of the house being crafted using this material. Floor-to-ceiling glass walls on all sides create an atmosphere of relaxation even as drapes and movable partitions offer adequate privacy. The balance is truly impeccable!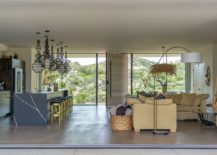 Another amazing feature of the residence is the smart way in which it uses many of the boulders around the house as part of the overall structural design. Boulders have been used to shape some of the rooms of the house even as an entire outdoor shower area sits behind a large boulder. The blend of rustic with contemporary is seamless and the open plan living area with kitchen, dining space and living area is the heart of the home.
RELATED: Cool Californian Home Offers Exquisite Views And Serenity With Style
The asymmetrical cantilevered roof complements the pool area outside, which also embraces the modern vibe of the setting. Relaxing, ergonomic and offering a perfect platform to take in the desert sights and sounds, this is a Californian house unlike any other! [Photography: Kyle Huber/ Joshua Cain]
RELATED: Dramatic Rio de Janeiro Home Enthralls With Amazing Ocean Views And Minimal Flair
You're reading Glass, Boulders and a Desert Landscape that Enthralls: Dramatic Californian Home, originally posted on Decoist. If you enjoyed this post, be sure to follow Decoist on Twitter, Facebook and Pinterest.