On San Juan's largest island, a beat-up cluster of cabins gain new life as a fun-filled and environmentally sensitive getaway for a family, their friends, and future generations.
Even after starting a family, a young couple in Washington never lost sight of their sense of adventure and lifelong pursuit of play. To better share their values and spend time with their extended friends and family, the couple purchased property with existing cabins on Orcas Island and tapped Seattle-based DeForest Architects to transform the site into a sustainable getaway that could be enjoyed by children and adults alike, for generations to come.
"[The clients] wanted to have a place to retreat and spend time together, a place where they could build a tradition with each other," says John Deforest, Principal of DeForest Architects. "They wanted a place to share with friends, a place for adventure and exploring, for being a kid again, for cooking together, experiencing nature, and being part of something bigger than themselves."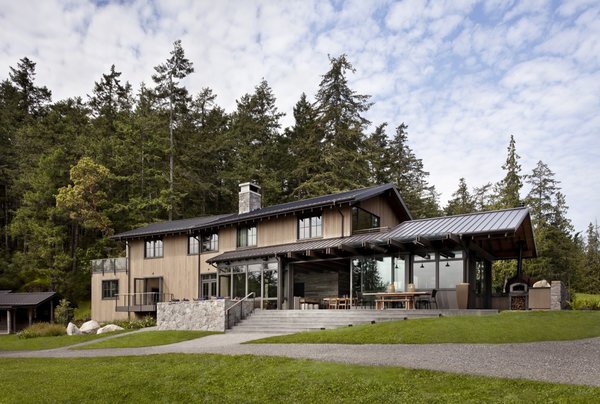 The couple had interviewed several architectural practices before selecting DeForest's firm. "I think our combination of creativity, collaboration, and sense of adventure was a really good match," explains DeForest. "For example, since one of their goals was to engage generations of visitors, we proposed a weekend-long series of 'Friends and Family' workshops that helped us all get to the heart of the project."
Nestled between a rocky outcropping at the edge of the woods and the water, the property the couple purchased came with a cluster of rustic cabins that were built in the early 20th century, as well as a larger main house and a large creosote shoreline bulkhead. Even though the buildings had been updated to modern living standards by previous owners, the existing structures were showing signs of aging and felt disconnected from not only each other, but also the surroundings—several cabins had been painted an incongruous yellow and the main building obstructed cabin views.
To reconnect the buildings with the landscape, the architects built the new main house away from the shoreline to provide the cabins with views of the water and create space for a sloped great lawn that would serve as a new outdoor gathering area. The existing cabins were also restored to evoke the island vernacular. To do this, the DeForest re-clad the structures in weathered materials like stained cedar and dark metal roofing to tie into the surrounding environment.
See the full story on Dwell.com: A Sustainable Island Retreat Boasts a Secret Slide and Ball Pit
Related stories:
Ever Wanted to Live in an Art Gallery?
You Won't Be Calling This House a "Man Cave"
A Minimal Yet Mighty Brooklyn Apartment