Eight shipping containers will be recycled into green-roofed homes for low-income residents in Aylesbury, England.
London-based Fraser Brown MacKenna Architects (FBM Architects) recently secured planning permission to build eco-friendly social housing from recycled secondhand shipping containers in Aylesbury, a Buckinghamshire town located an hour northwest of London.
The project is the latest effort by the Vale of Aylesbury Housing Trust to provide "quality affordable homes" to people in need. So far the nonprofit has developed over 7,000 affordable homes, and it hopes the green-roofed cargotecture homes will serve as an inspiring and replicable model for future development.
"The Vale of Aylesbury Housing Trust have a rolling program of regenerating problematic garage-sites within their portfolio and were interested in the use of off-site construction to accelerate the program and to reduce costs," says FBM Architects. "They also have a shared interest with us in the environmental benefits of reusing/upcycling existing structures."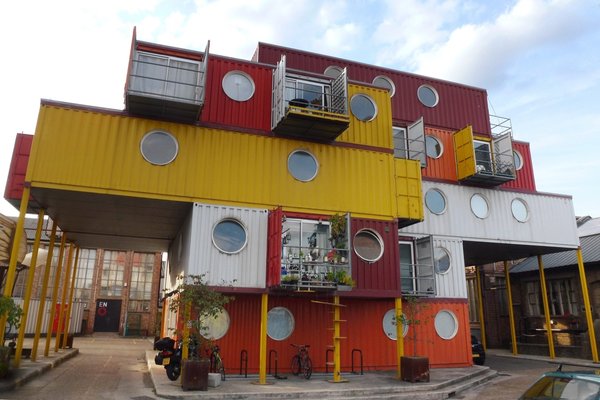 Container housing offers a suitable solution given the site's severely constrained developable area, which is located behind The Serpentine, a flagship affordable housing development in Aylesbury. "Standard-size flats would not have fit onto the site, rendering it undevelopable," adds the firm. "We took the view that it was better to innovate on a brownfield site than propose standard solutions on a greenfield site."
Asked about cost and installation times, FBM Architects turned to Henry Fraser, director of the shipping container design company Container City, who says: "Conversion times are naturally variable. We can do about 20,000 soft every six months including installation with a cost of approximately £120-150 per square foot."
See the full story on Dwell.com: Affordable Shipping Container Tiny Homes Get the Green Light in the UK
Related stories:
Now There's Proof That Tiny Homes Are Better Homes
This Newlywed Couple's 100-Square-Foot Cabin Is the Island Hideaway of Our Dreams
Here's Your Once-in-a-Lifetime Chance to Sleep Inside a Giant Avocado