A blend of the classic and the contemporary, the Cedar Lodges in Winchester, Hampshire feel modern and timeless at the same time. Designed by Adam Knibb Architects, these lovely British homes have a pod-like design on the outside when it comes to lower level while the upper space has a gable roof that gives it a unique appeal. The two houses have been covered using wood and zinc on the outside with the lower level holding the kitchen, dining area and living room and the upper level having two bedrooms, bathrooms and other private spaces. With the rectangular structures having place underneath for parking, there is no shortage of space here!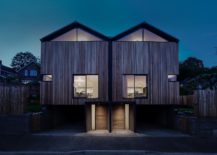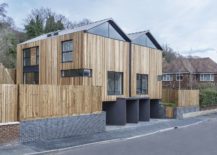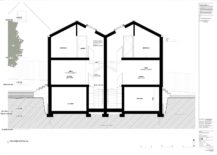 Controlled views combined with smart ventilation ensure that the homeowners have the perfect balance between privacy and a flood of natural light. Vertical timber cladding stands in contrast to the zinc roof and the glass windows that add to the appeal of the façade. On the inside, we have a wood and white color scheme taking over even as the décor is kept simple and minimal. Even though the plot is narrow, the houses maximize the space inside making most of every available inch. [Photography: Martin Gardner]
RELATED: Elevated Modern Home in Western Red Cedar Beats Noise and Visual Congestion
The developer didn't have a particular specification in mind about what type of house it should be, which was good because it allowed us to think quite dramatically about what we could put into the area to enhance it. The project team worked closely with the developers and local planners to create a building they felt could become a case study promoting contemporary architecture in the area.
RELATED: Shades of Cedar and Gable Roofs Create Modern Classic Home in Tennessee
You're reading Contemporary Cedar Lodges in Winchester with Striking Pod-Like Design, originally posted on Decoist. If you enjoyed this post, be sure to follow Decoist on Twitter, Facebook and Pinterest.