The garden for our home is an afterthought on most occasions. It is a feature that often complements the design of the house but is not the defining feature that sets it apart. Not in the case of the MeMo House in San Isidro, Argentina designed by BAM! Arquitectura though. This gorgeous contemporary home in concrete embraces greenery at every turn with a vertical garden that slopes its way across three different levels and offers eco-friendly goodness along with refreshing aesthetics. While concrete and a neutral color scheme shape the interior of the house, on the outside, it is the visual of the sloped green garden and the spacious rear deck that steal the show.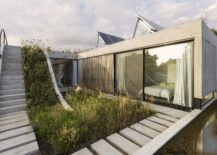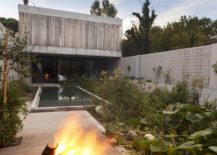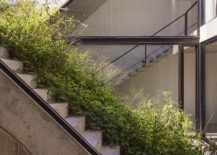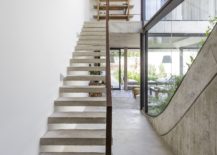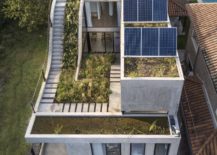 The sloping garden morphs into a full-fledged rooftop garden when it hits the top floor while the rear garden contains the pool, deck and the fire pit along with other smart features. On the ground floor, the garden meets the living room with sliding glass doors acting as an interface between the interior and the exterior. Solar panels on the rooftop provide green energy to the house and power both its heating and lighting needs even as additional green features give the house a high LEED rating.
RELATED: This Neglected Post-War Bondi House Gets a Modern makeover with Roof Garden
The upper level contains the master bedroom and bathrooms with white and concrete along with an accent wooden wall making a smart statement. Rainwater irrigation systems and passive cooling and heating techniques complete a home that is modern, planet-friendly and unique. [Photography: Jeremias Thomas]
RELATED: Stunning Mountain Views And A Wood-Clad Interior Shape Modern Swiss Home
You're reading Modern Concrete Home with a Fabulous Garden Spread Across Three Different Levels, originally posted on Decoist. If you enjoyed this post, be sure to follow Decoist on Twitter, Facebook and Pinterest.