We chat with designer Cas Holman, whose gender-neutral toys encourage new ways of thinking and collaborating, about the importance of play—for kids and adults alike.
As a designer, educator, and creator of objects for play, Cas Holman's work can be found in schools, museums, and playrooms around the globe. Holman's award-winning "tools for imagination," as she describes them, are interactive, gender neutral, thoughtfully crafted, and place emphasis on unstructured play rather than coming with restrictive instructions. Take Rigamajig, a large-scale building kit that Holman first dreamed up for the High Line Park in New York City, which encourages imaginative, collaborative play with materials that have real heft.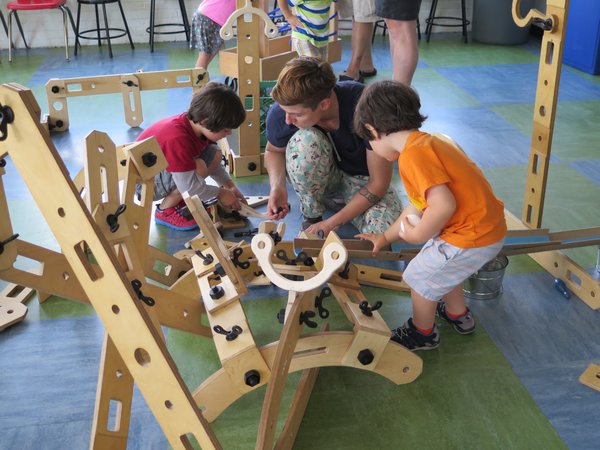 Holman is also highlighted in the second season of Abstract: The Art of Design, a Netflix documentary series that re-launched on September 25. To mark the occasion, we spoke to Holman about her work, which sits at the intersection of design, research, learning and education, craft, psychology—and of course, play.
In Abstract, you talk about finding inspiration in nature for a specific product. Where are you finding inspiration right now?
Holman: Mostly, watching kids play! We developed the Rigamajig Junior Spinning Tops Kit after seeing children make giant spinning tops with [Rigamajig]—so I came up with colors and shapes for them to experiment with. Now they'll be able to play with and test patterns, inertia, optical illusions, and hopefully sound.
I also get a lot of inspiration listening to teachers and early childhood specialists about what children are struggling with based on the world we've built. For example, my friend [and psychology professor at Temple University] Kathy Hirsh-Pasek tells me that digital natives have problems with impulse control, so now I'm thinking about how play can help them develop those skills. I hear from many teachers and early childhood psychologists about children lacking conflict resolution skills. Playing with Rigamajig helps those skills—basic communication and cooperation. We need to help them develop those skills early, and that happens in play.
Much of what I designed Rigamajig for was "as a tool for children to create," so as I see what they do with it, I get to respond and give them more based on what I observe. It's a dream. Like, I'm secretly collaborating remotely with hundreds of thousands of children. Each piece has something they'll understand is for them: a detail in how two pieces fit together, or a weird shape they discover that no one else notices. It's a wink to say, "Hey, I see you," or even better, "Hey, I understand you."
"Each piece…has a wink to say, 'Hey, I see you' or even better, 'Hey, I understand you.''

—Cas Holman
Can you tell us about some projects you're working on right now?
I'm currently teaching a new class with Alesdair Ittelson, a civil rights attorney and also my boyfriend. It's a graduate seminar called "Disobedient Creativity." It's been great to work with a small group of students to unpack what it means to design for impact, for social good. There is a lot of overlap in Alesdair's work as a civil rights attorney and mine as a designer, and we're seeing how those two lenses can inform the graduate students' projects and approaches.
In my studio, I'm thinking about and working on Rigamajig Workshop, a storage hub for the Basic Builder. It launched two months ago, but the marketing hasn't been easy, so I'm more involved with that than I would normally be. And we just launched on September 25 the Rigamajig Junior Spinning Tops Kit—so we now have a lower price point Rigamajig for folks to play with at home. That was really fun to design, but I was really slow with the colors and patterns.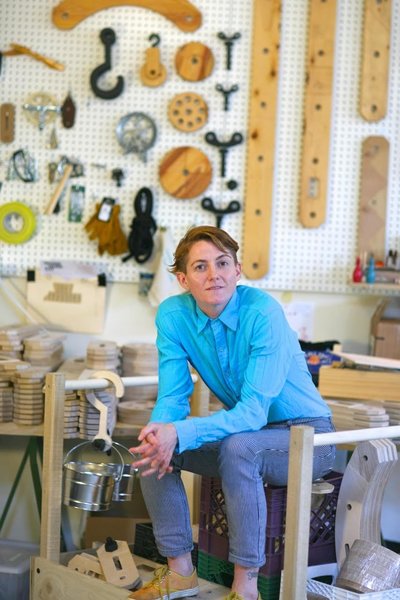 See the full story on Dwell.com: Toy Designer Cas Holman Is Obliterating Old Notions of Play
Related stories:
Designer Ini Archibong Finds A Patron in Actor Terry Crews
The Store That's Changing How City-Dwellers Buy Plants
How a Friendship Between Isamu Noguchi and Saburo Hasegawa Helped Shape Midcentury Design