Accent chairs do much more than provide seating. They can be used to create an intriguing focal point, reinforce a color scheme, or create a special place for relaxing and reflecting. Rather than being a part of a matching set, an accent chair is a unique addition that stands out from the crowd. Today we've rounded up 20 of our favorite accent chairs, organizing them by the current design trend they reflect. Pull up a chair and get ready to discover some bold pieces that have the power to transform your space… [Sarrono accent chair below from Anthropologie]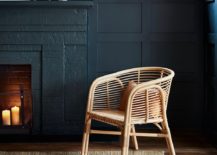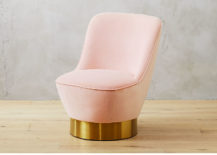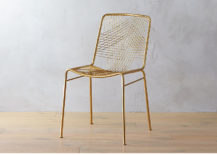 Earthy Materials
Many of today's most popular accent chairs are crafted from materials such as rattan and wicker. With an earthy style that's right at home in spaces ranging from the modern to the boho chic, these seating selections blend a breezy feel with a beautiful form. The Citizenry's Lombok Rattan Lounge Chair is handcrafted in Indonesia by the artisans of Cirebon. Architectural and sleek, this lounge chair showcases detailed braiding and weaving while creating a laid-back vibe: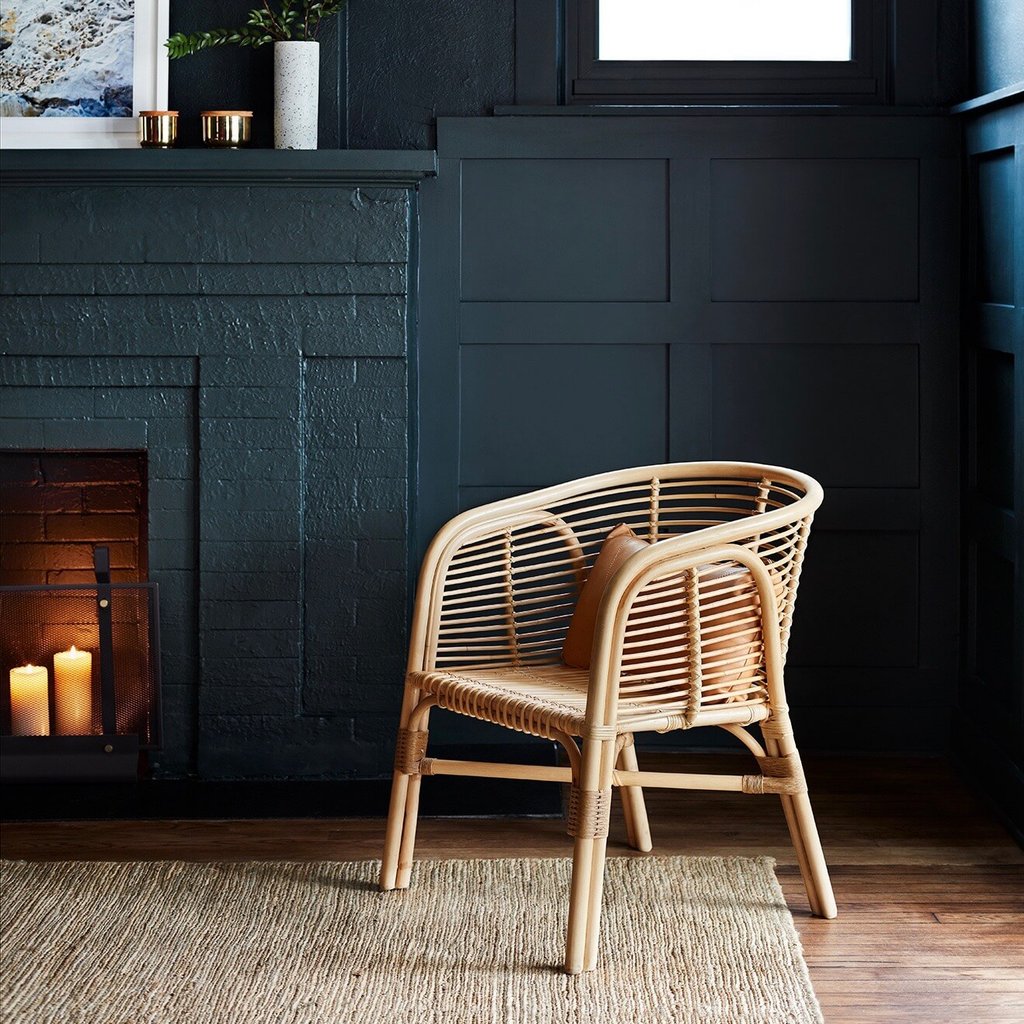 Urban Outfitters' Mikko Chair has a striking modern look, thanks to rattan curves. Cushions add comfort and style:
Also from Urban Outfitters is the Pierce Wicker Chair, featuring an eye-catching round form of woven rattan. Though the chair puts a modern spin on vintage style, it's definitely not your grandmother's wicker seating!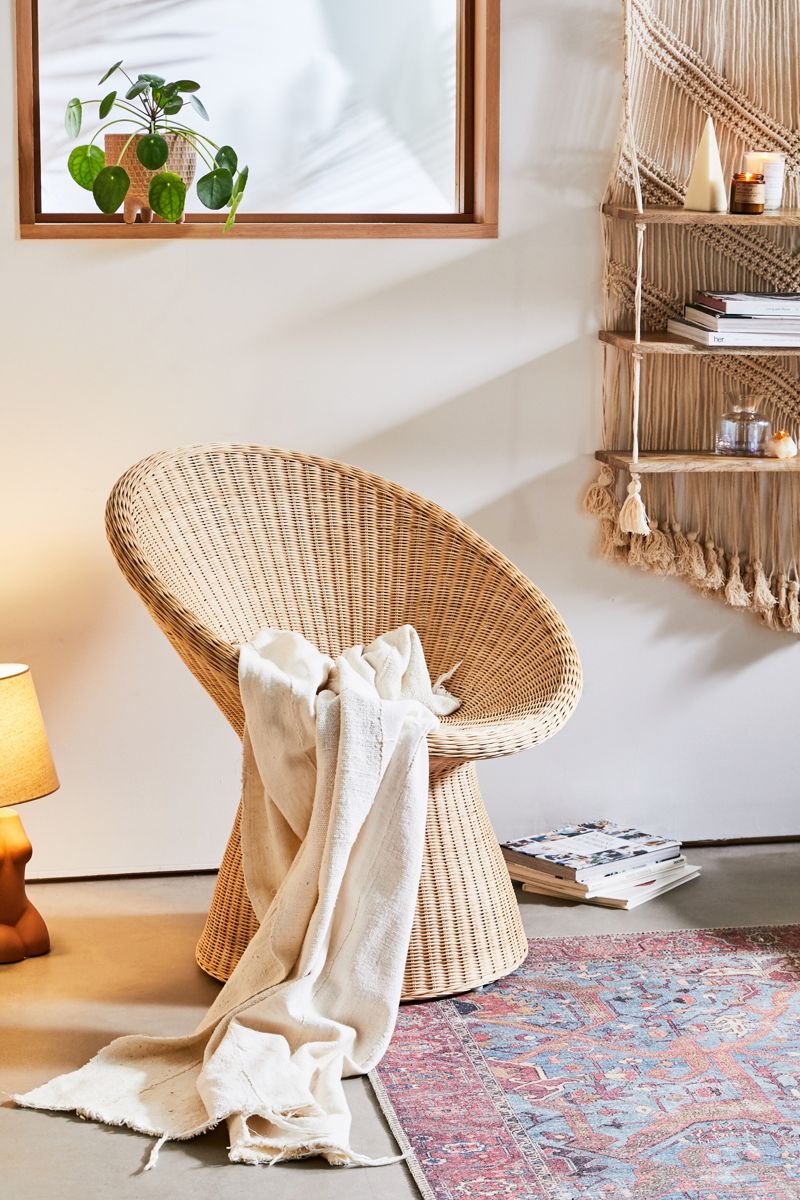 For more circular style, check out the Aldama Chair from The Citizenry. An Acapulco chair that showcases Mexican design at its finest (it's handcrafted in Leon), this piece uses leather instead of plastic to create a frame that's worthy of indoor use: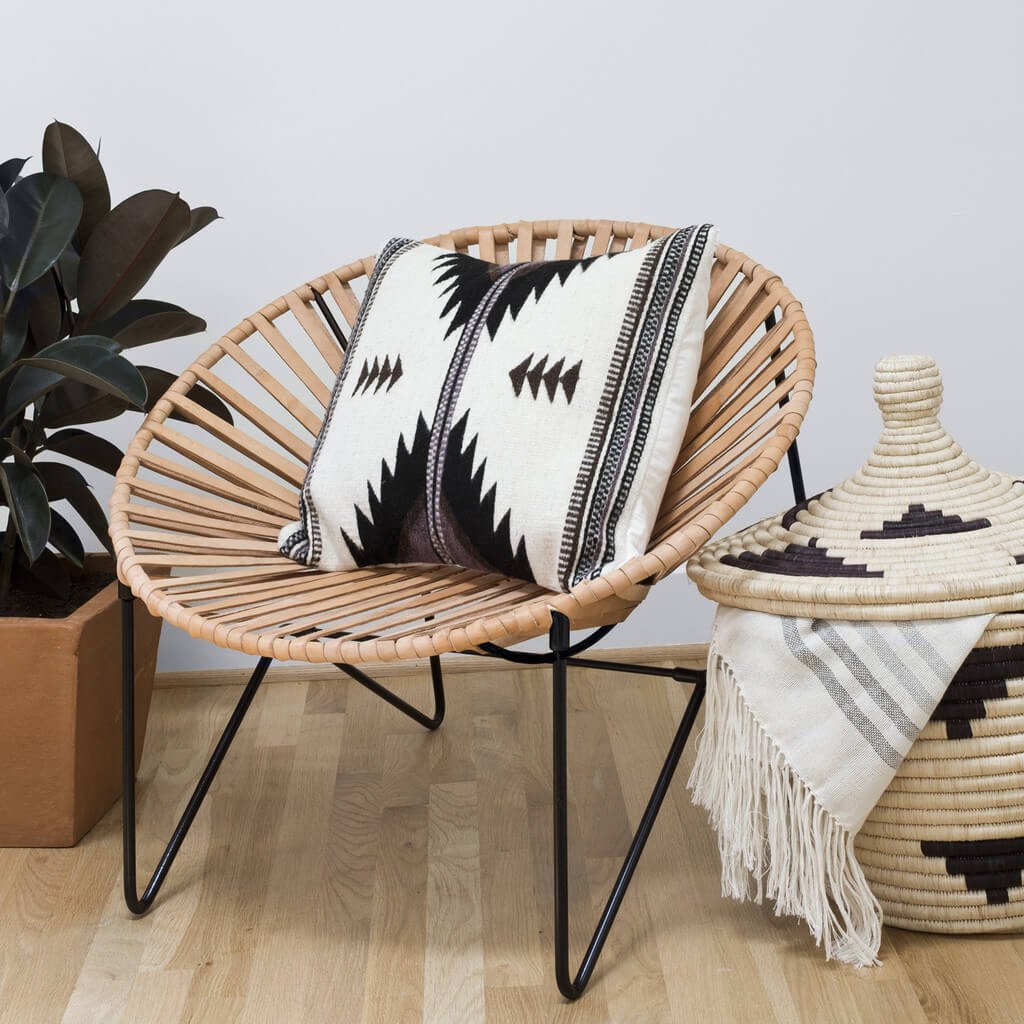 Woven rattan scores another hit with Anthropologie's Eden Accent Chair, designed by boho expert Justina Blakeney. A tiered, curved form creates a standout piece, while cushions add comfort. Did we mention that this chair has a full 360-swivel base?!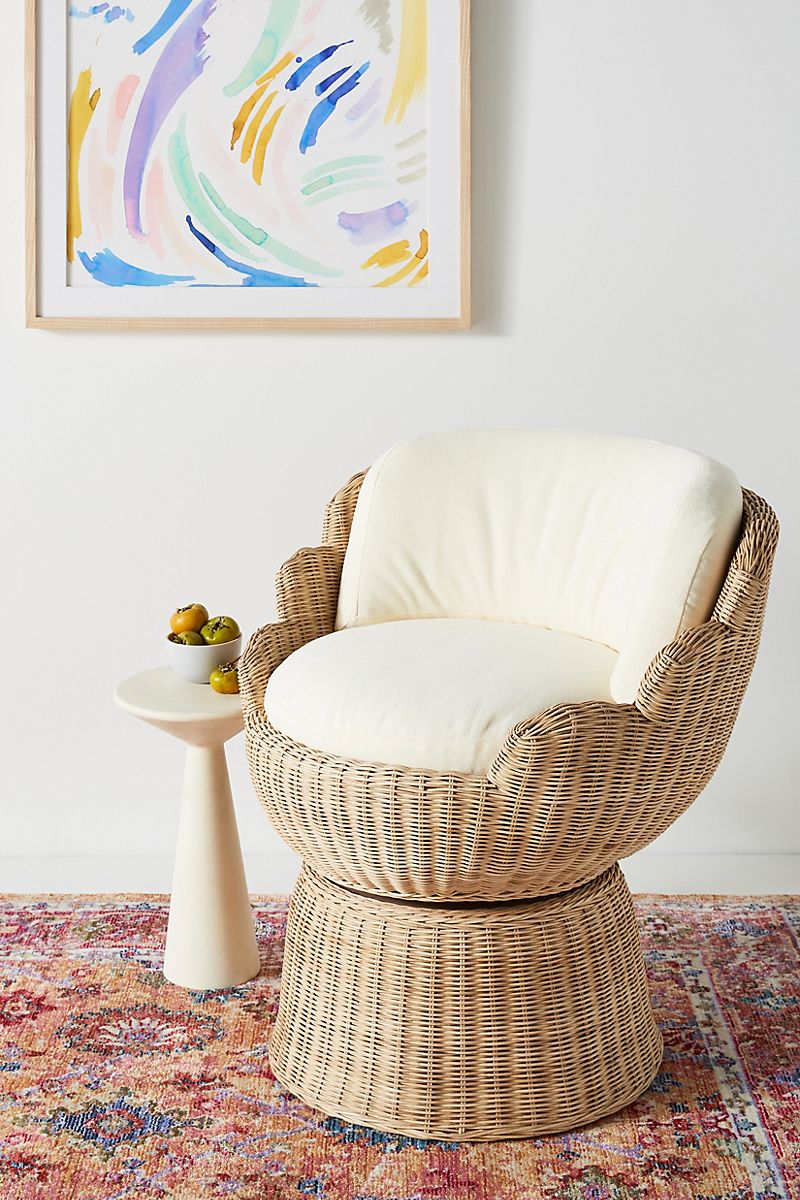 CB2's Woven Malawi Chair is made in Malawi, featuring a frame that's crafted from the solid wood of the indigenous blue gum tree. Rattan and bamboo detailing create an intricate design. Handcrafted by Malawi artisans, each chair takes 10 days to complete. A true work of art:
Brass Accents
Brass is definitely back! We've seen it on lighting fixtures, hardware and decor, so it makes sense that brass-accented furniture would be one of today's top design trends. Feminine and bold, CB2's Simone Blush Chair is sure to steal the spotlight. A version of the classic slipper chair, this piece designed by Brett Beldock features poly velvet fabric and a brass-finished base:
Another vision in pink, the Cynthia Petite Accent Chair from Anthropologie features slub cotton and rayon upholstery that creates a plush, vintage look. To top it all off, brass-plated metal legs achieve a gleaming finish. The perfect piece for cuddling up with a good book: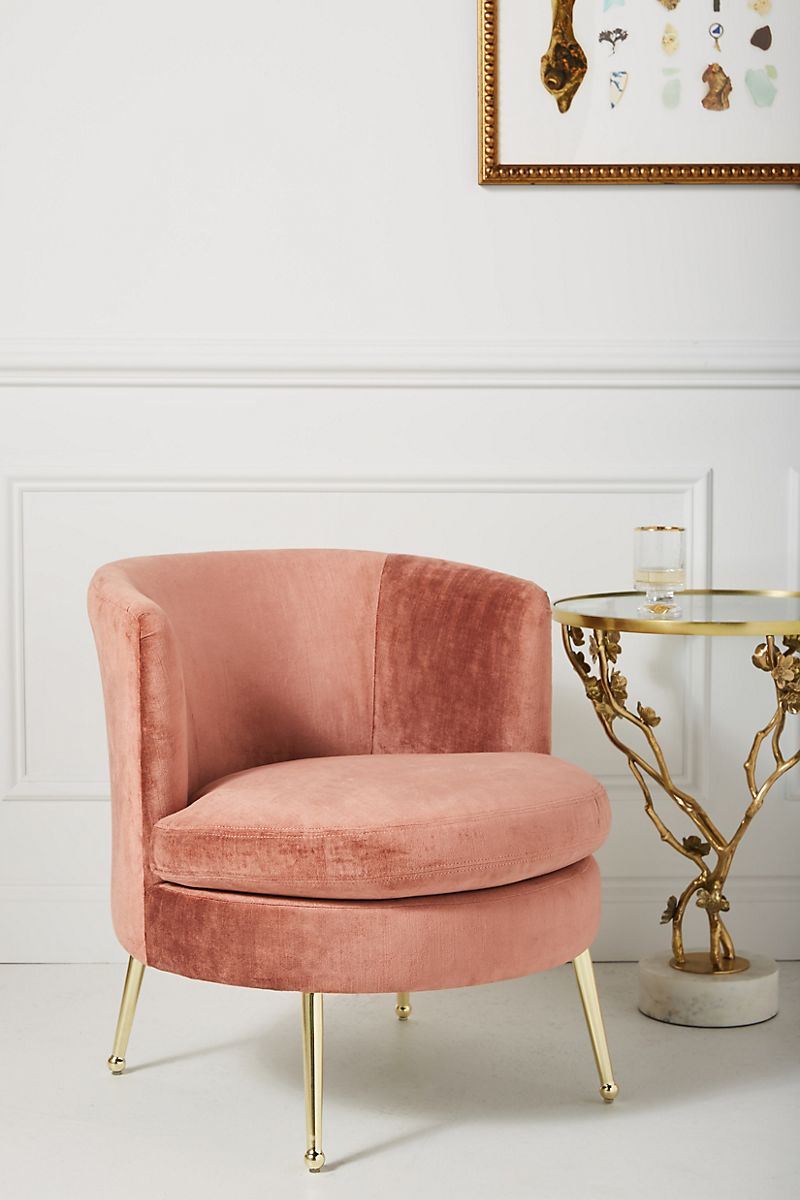 Crate & Barrel's Ambrosia Smoke Tub Chair has a Deco feel, a curved frame, and velvety grey fabric. A brass base beautifully offsets the smoky tone of the cushions:
Also from Crate & Barrel is the Aidan Velvet 38″ Tufted Chair, which is available with a brassy finish for its wooden tapered legs. Velvet fabric and a tufted back are other standout features. Available in a range of upholstery options, this piece is subtly powerful:
Rawr!!! CB2's Marais Cheetah Print Velvet Armchair with Brass Legs is streamlined and sleek, yet decadent with its cheetah-print velvet fabric. Designed by Brett Beldock, this chair also features slender brass legs that beautifully contrast the boxy frame: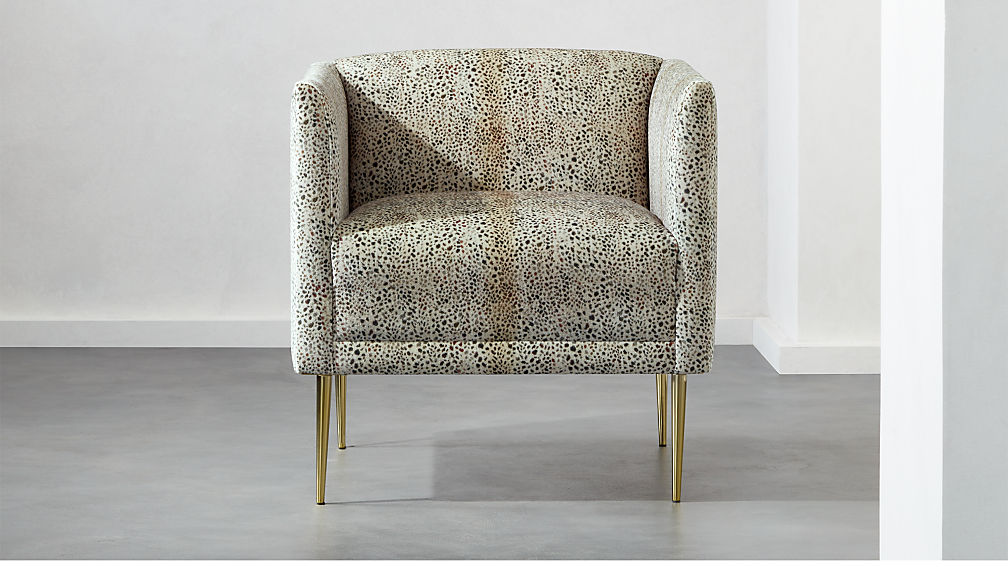 If you're really into brass, you'll love the fact that CB2's Alpha Brass Chair features brass lacquer throughout its design. While this piece works well as a dining chair, it also serves as an artistic accent chair in your room of choice. Linear goodness at its finest!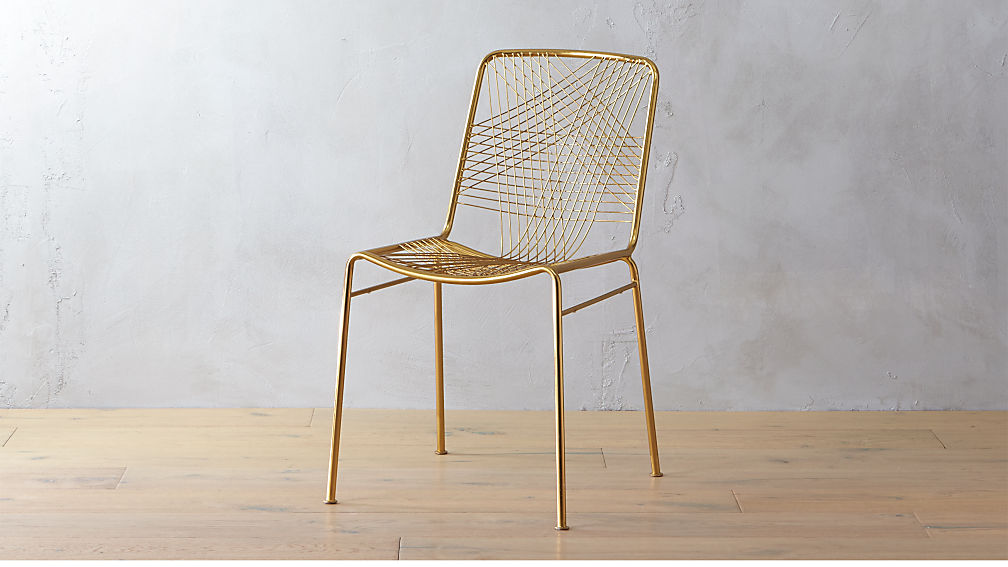 Sleek Silhouettes
Today's final featured accent chairs all fall into the "sleek" category. Curved, modern forms are infinitely popular in the accent chair realm, and when the look is this slick, you can get creative with the materials! CB2's Gwyneth Boucle Chair hails from the goop x CB2 collaboration (and is named for goop founder Gwyneth Paltrow). A mod form and textured fabric help define this irresistible swivel chair: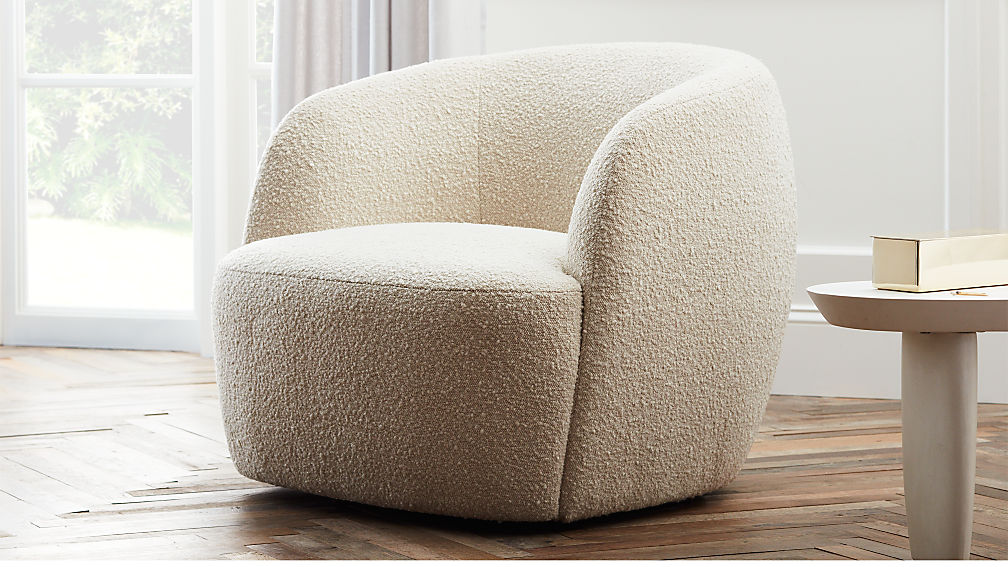 For another seating option that shines the spotlight on its fabric, check out the Floria Velvet Chair from Urban Outfitters. The tri-leg frame is entirely covered in plush velvet. Rust is the color of choice, giving the chair a rich look that's warm and inviting:
Also from Urban Outfitters, the Meara Dining Chair can double as an accent chair in spaces such as the bedroom. Don't be afraid the think outside of the box when it comes to hunting down your ideal accent chair, especially if you live in a compact space.
Another stellar UO find, the Selena Arm Chair  is a lovely shade of yellow, complete with tufted seams that give it a true Parisian vibe:
Urban Outfitters' Wanda Chair features a Mid-century modern look, complete with a wooden frame and a curved design. While the piece works well as a desk or table chair, it can also serve as a modern accent chair with retro style.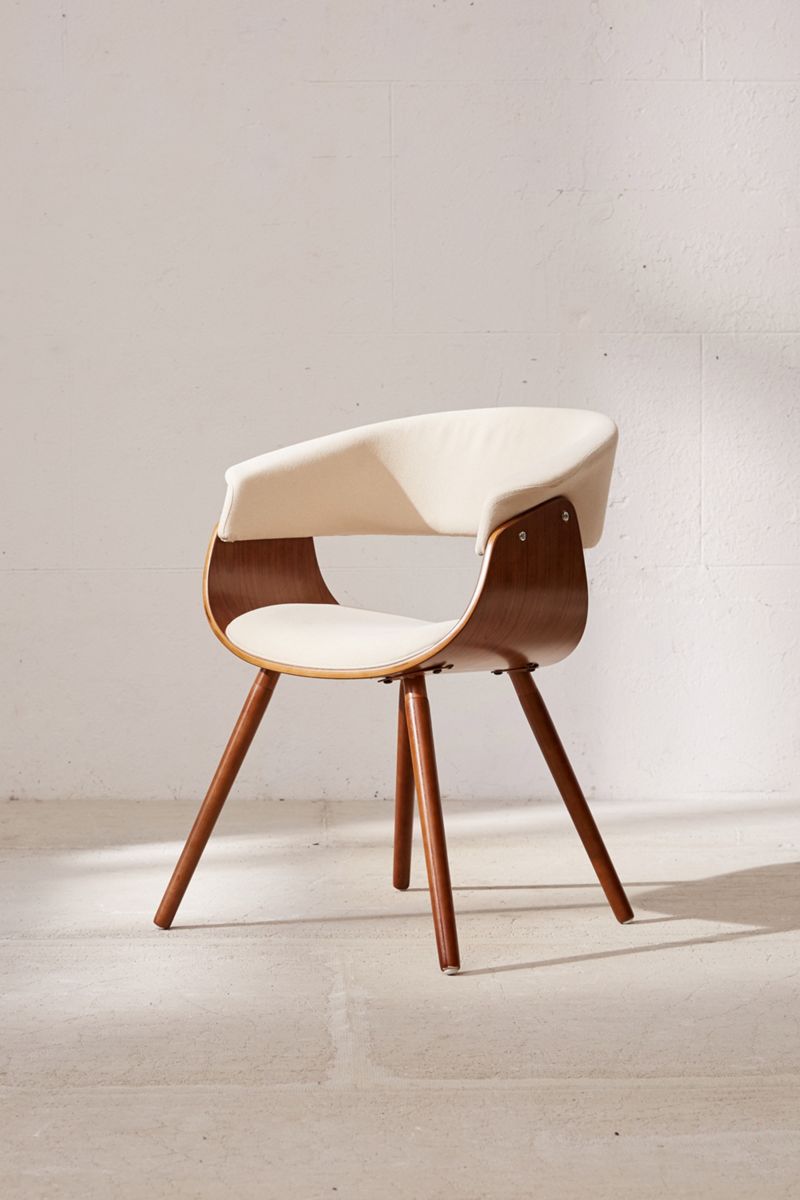 A true showpiece from design studio Fort Standard, the Cooperage Chair is offered in a variety of hardwoods, with a custom upholstered cushion option as well. While the piece works beautifully as a dining chair, its bold design makes it the perfect candidate for an accent chair that doubles as an art piece. As stated in the product description, the chair's name "references the traditional cooper's trade of making barrels and casks."
We leave you with one last accent chair that reminds us to embrace a good pattern! Anthropologie's Alaris Rug-Printed Petite Accent Chair is inspired by the craftsmanship of chindi rugs. An acacia wooden frame grounds this eye-catching piece:
When it comes to accent chairs, do you prefer earthy materials, brass accents or sleek design? Thanks for reading…
You're reading 20 Accent Chairs That Make a Bold Statement, originally posted on Decoist. If you enjoyed this post, be sure to follow Decoist on Twitter, Facebook and Pinterest.