New Zealand–based Build Tiny just unveiled the Kingfisher—a new two-bedroom tiny house that's at once stylish, practical, and flexible.
When Build Tiny director and designer Gina Stevens devised the new Kingfisher tiny house, her priorities were practicality and flexibility. "The open-plan design suits a wide range of people," Stevens says. "And the bookshelves and the lift-up cubby storage in the loft are super practical—as is the tall wardrobe and the platform that allows you to walk alongside the bed rather than crawl, like you have to do in many other tiny house loft bedrooms."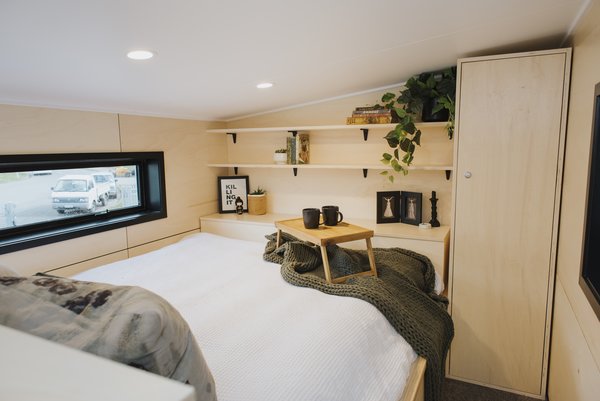 The home's appearance is practical, too—it's sided with gunmetal vinyl punctuated with caramel-colored cedar on the front facade. "The cladding needed to be lightweight in order to be driven easily on the road," Stevens says. "Vinyl is light, and cedar is a lightweight timber." The cedar is as attractive as it is practical—"it was also introduced to give the house warmth and architectural interest," Stevens says.
See the full story on Dwell.com: Just One Look at This New Tiny House Will Make You Want to Try Small Space Living
Related stories:
An Earthy Makeover Warms an Edwardian Home in Melbourne
A Minimalist, Scandinavian-Style Home Rises on a Flourishing Wisconsin Prairie
Top 5 Homes of the Week With Enviable Home Offices