Located in a town of 300, Scythe Barn is nothing short of picturesque with stacked stone walls and its own glass greenhouse.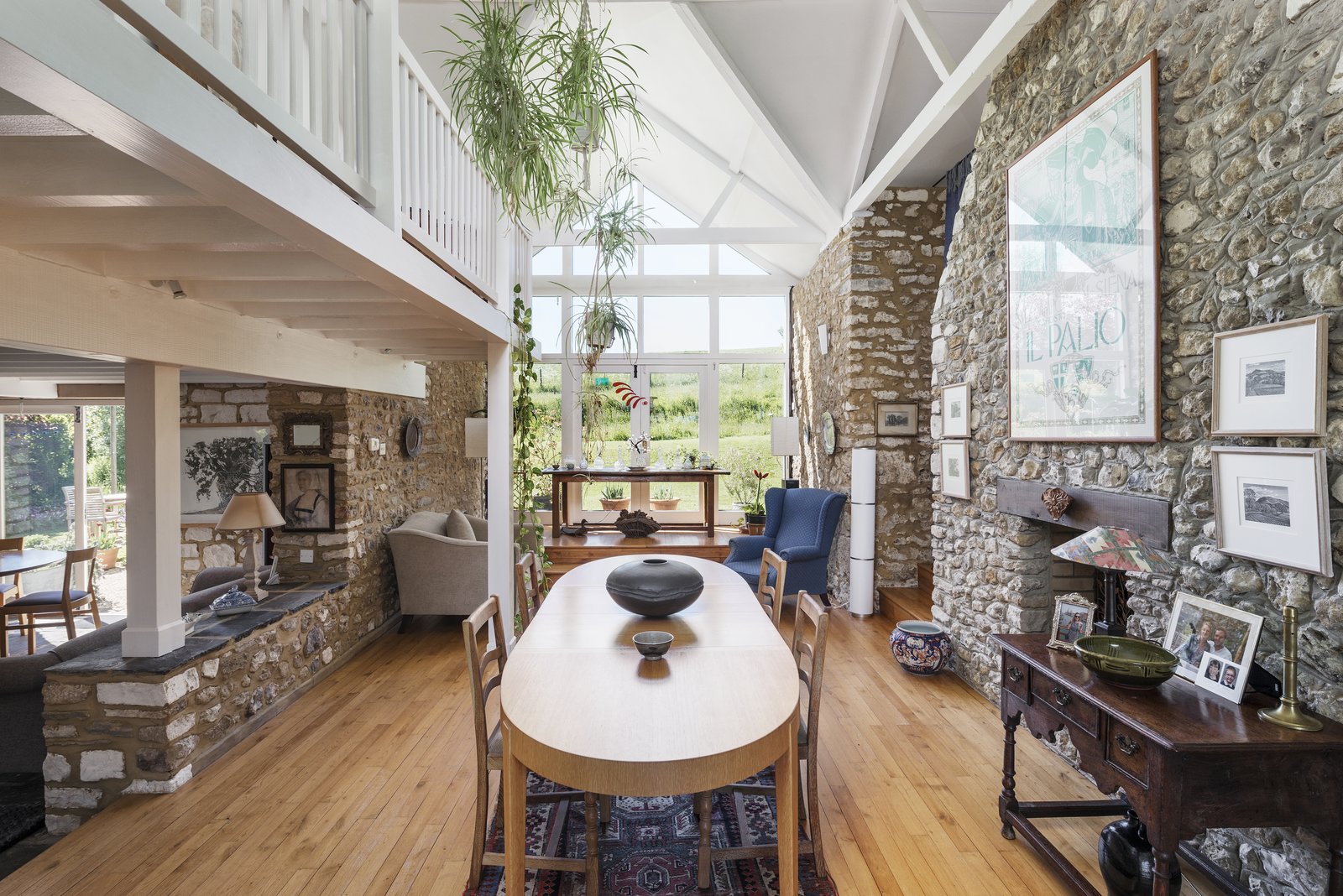 The tiny English village of Toller Porcorum in the West Dorset countryside, a couple of hours southwest of London, boasts some 160 households. For those seeking a pastoral outpost, this would be the place with its rolling hills and the newly listed Scythe Barn—a converted barn that mixes bespoke features with historic details such as original stone walls and soaring, timber ceilings.
Once used to house harvested crops for a neighboring farm, the residence now offers four bedrooms and approximately 2,500 square feet of living space. The oldest parts of the home predate 1766, including a voluminous central room that once formed the original barn. It's now a light-filled dining and sitting area bounded by a double-height stone chimney and floor-to-ceiling glazed doors.
A large kitchen and family room branch off either side of the central space, forming a cozy but spacious interior along the main floor. Also on this level is a small office and one of the home's bedrooms with an ensuite bathroom. Upstairs, a large loft provides a viewing platform and reading space from which the home's remaining three bedrooms branch off.
See the full story on Dwell.com: This Darling Converted Barn in an English Village Seeks £980K
Related stories:
Actor Jason Thompson Lists His Idyllic Perch in the Hollywood Hills for $1.3M
Arthur Elrod's Escape House in Palm Springs Lists for $2.85M
Fashion Designer Johnson Hartig Lists His Eclectic L.A. Home for $2.2M