This solar-powered, steel-clad home on wheels may be compact, but it doesn't lack in storage or functionality.
Wrapped in black corrugated metal, First Light is an off-grid tiny house imagined by architect Anna Farrow of First Light Studio and constructed by New Zealand–based company Build Tiny.
"With big French doors on one face and sliding windows on other, it can enjoy views from either direction," Farrow says. Not only do the large glass doors and windows connect First Light to the landscape, but they also offer an ethereal contrast to the black-painted steel siding that's at once elegant and industrial—the artful design is available for approximately $82,000; the off-grid solar package costs an additional $14,000.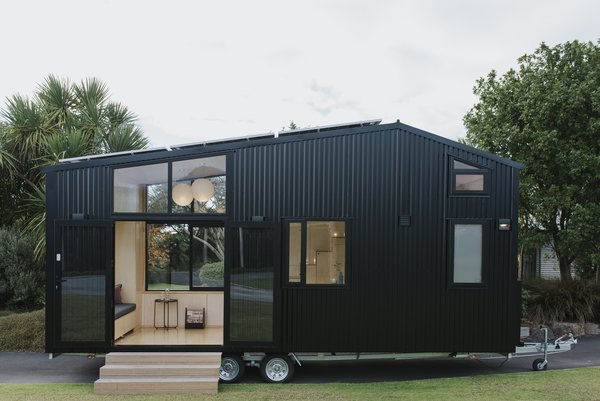 On the interior, Farrow selected poplar core plywood for the walls and the ceiling. "The floors and the stair treads are crafted with birch plywood," says Gina Stevens of Build Tiny. The light-toned wood supplies the home with a light and airy quality.
See the full story on Dwell.com: This Off-Grid Tiny Home Packs a Powerful Kitchen Into 183 Square Feet