It's time to start decorating for the holidays! While trees and garlands are some of the most beloved items to display, your tabletops and mantels are prime spots for holiday focal points. Christmas centerpieces range from the minimal to the decadent, including everything in between. From miniature trees to Scandinavian candelabras, today's post is packed with inspiration. Keep reading for decor suggestions, helpful tips, and lovely arrangements that will put you in the holiday spirit…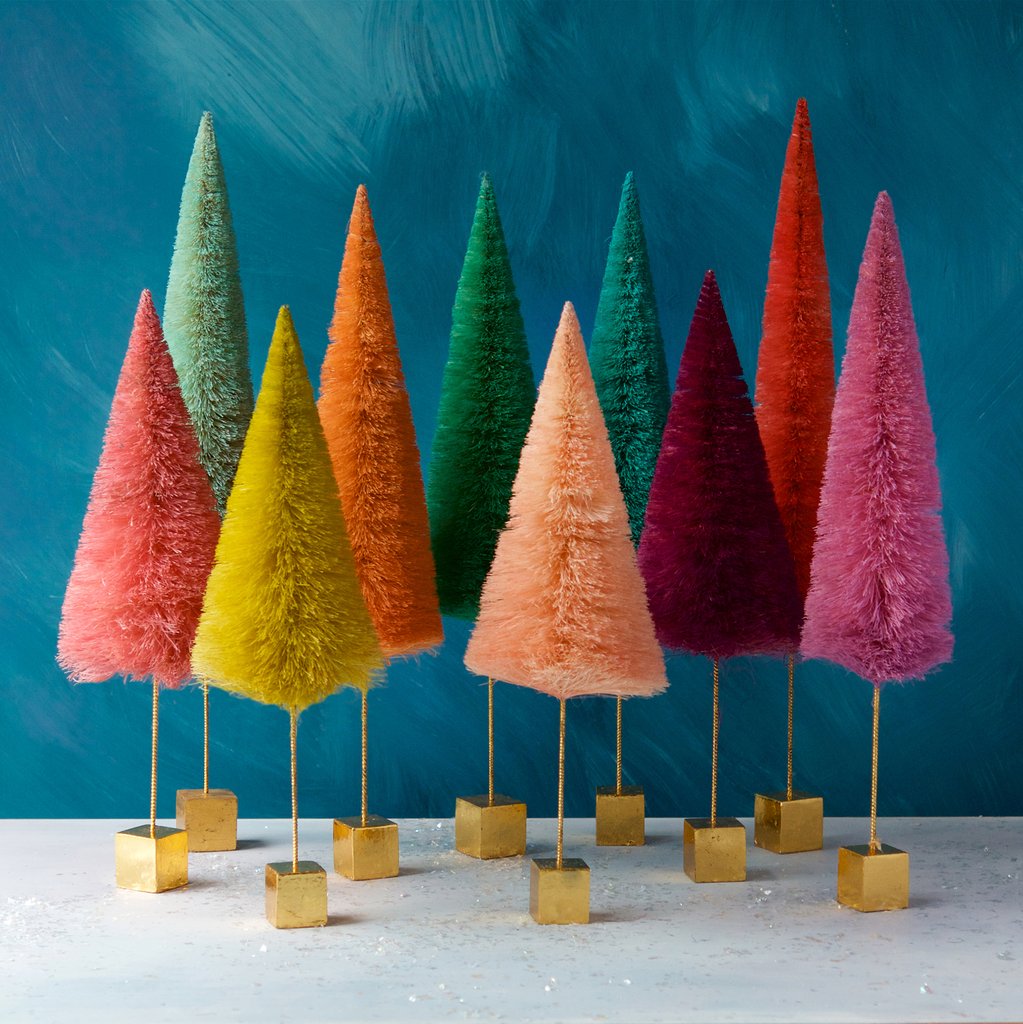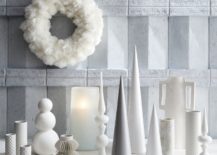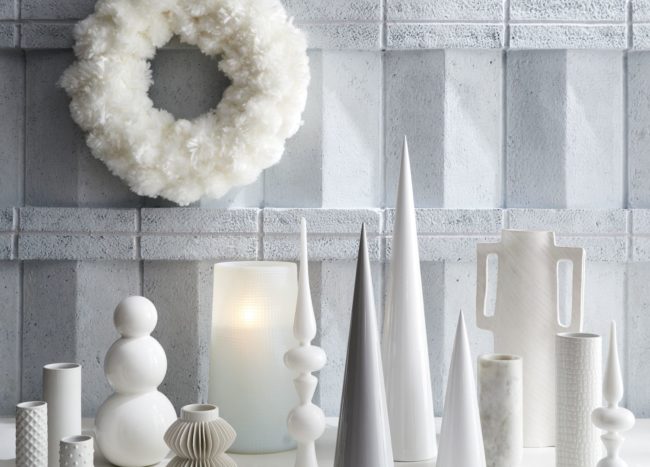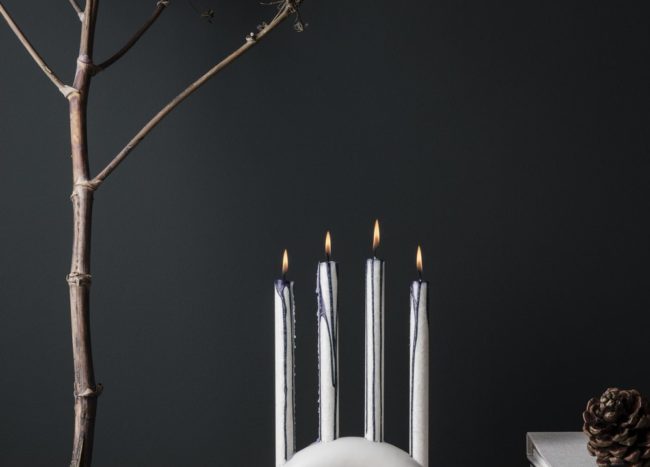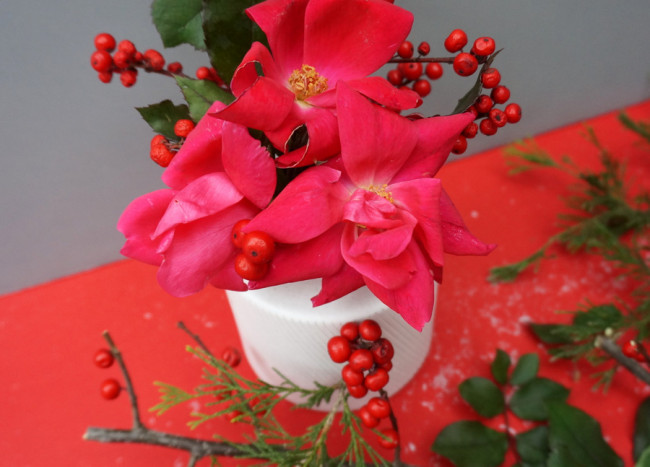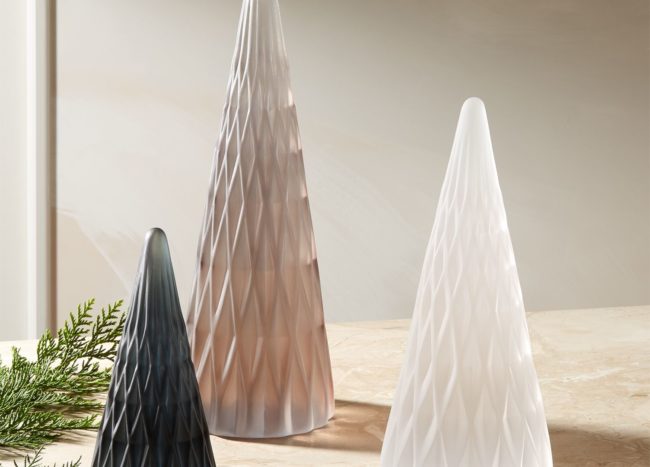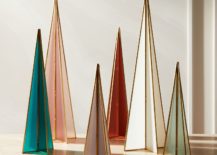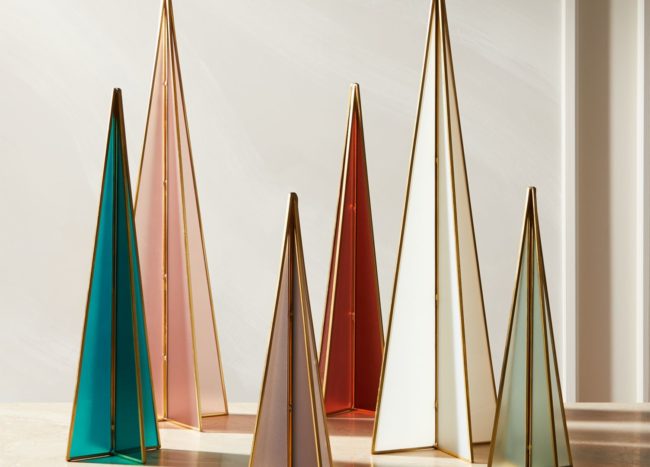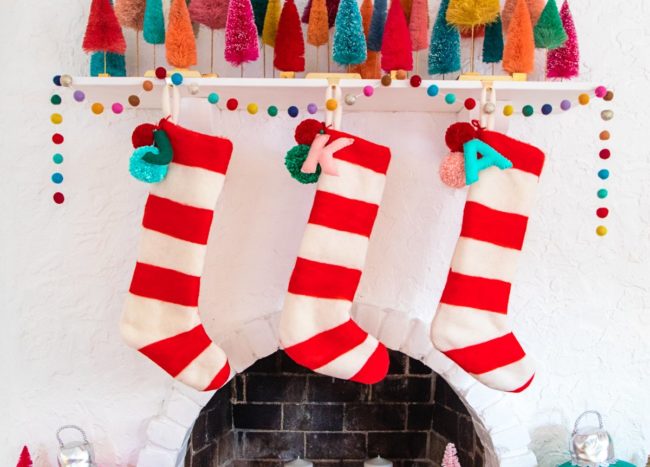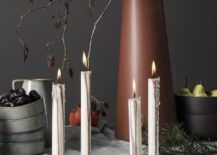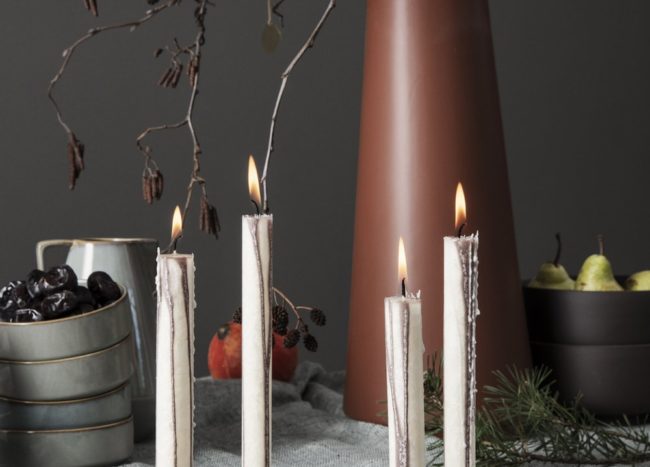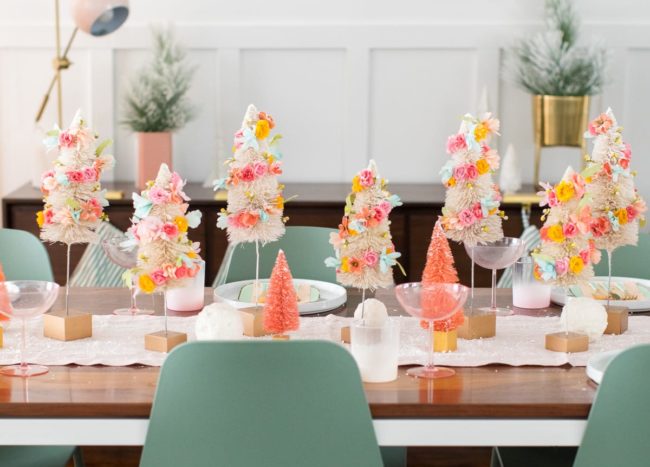 Light the Way
A popular choice for Christmas centerpieces on dining tables and mantels, candles add a warm glow. Even when not lit, they create a cozy feel by promising a night of candlelight in the near future. Modern design enthusiasts often gravitate toward Scandinavian candles and candleholders. Not only are they beautifully crafted, but their sculptural style is also ideal for creating artful vignettes. Available in black or white, ferm LIVING's Bow Candle Holder offers a sleek, curved marble form. Perfect for including in a grouping or displaying alone as a modern centerpiece:
Speaking of groupings, there's nothing like a little bit of height to bring a definitive focal point to a centerpiece that consists of more than one item. Put this Avant Candelabra in the center of your table, and you're set! A conical base and sculptural form make this powder-coated metal piece from ferm LIVING a true standout: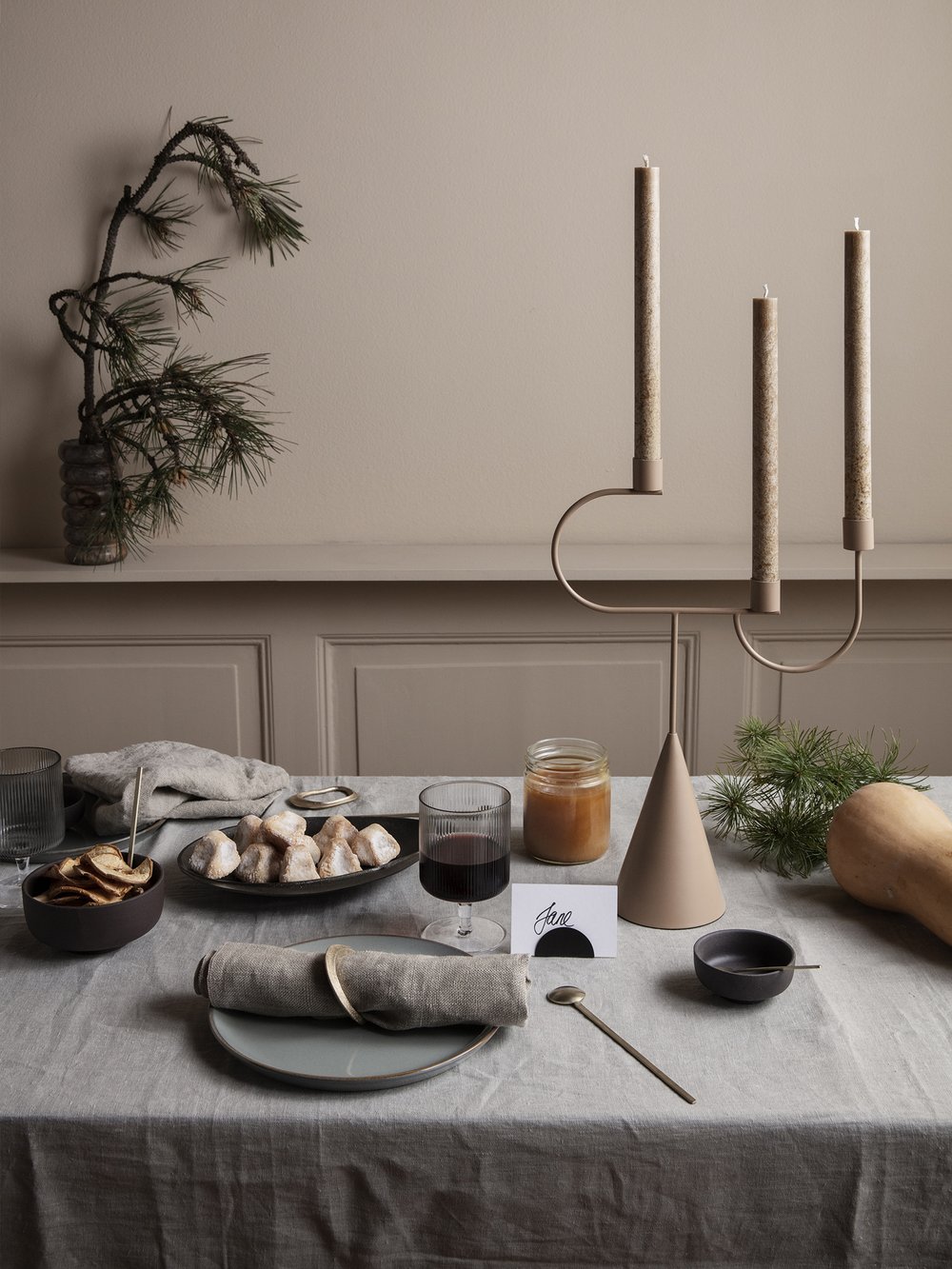 When it comes to choosing candles for your Christmas centerpiece, you can't go wrong with classic tapers. Then again, there's something special about candles with unexpected detailing, such as long, dark lines against a light background. An overall feeling of warmth is evoked by this modern centerpiece featuring two sets of Duo Candles, also from ferm LIVING: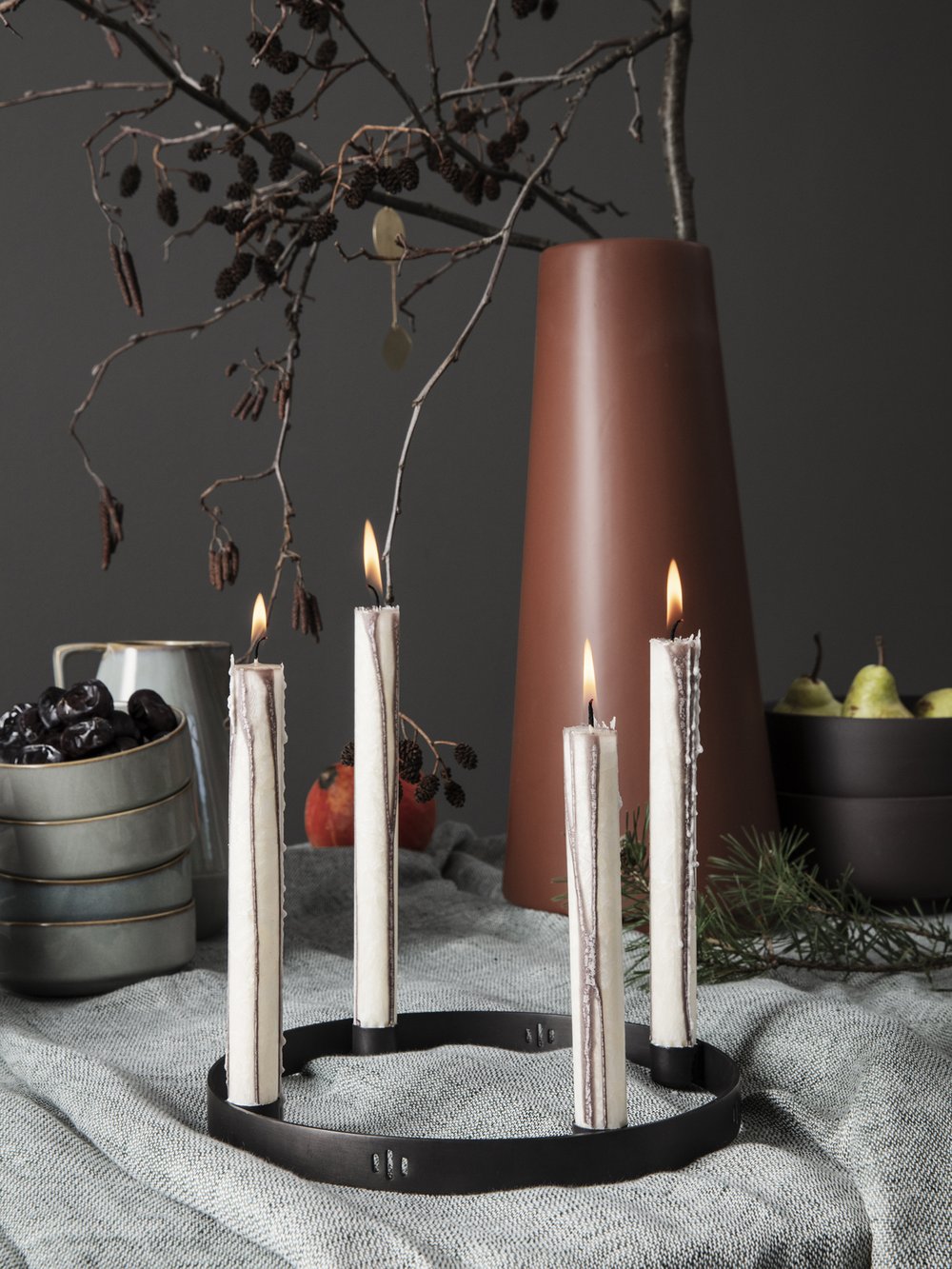 More Trees, Please
Mini trees are prime ingredients for Christmas centerpieces. From modern representations to vintage-style bottle brush trees, these decorations offer versatility and an equal variety of effects. For example, a grouping of modern holiday objects (all in white) results in a contemporary look. Conical trees combine with vases and other minimalist objects below, all from CB2:
If you're a fan of modern decor, you'll be delighted by the wide range of sleek tabletop Christmas tree options at the ready. Many are created as part of a collection, and you can purchase all of them for a complete set that features the perfect amount of complement and contrast. CB2's Flash Milk Glass Trees are available in a variety of colors and heights. Gold trim adds definition. Display a cluster on your dining table or mantel, and voila: instant centerpiece!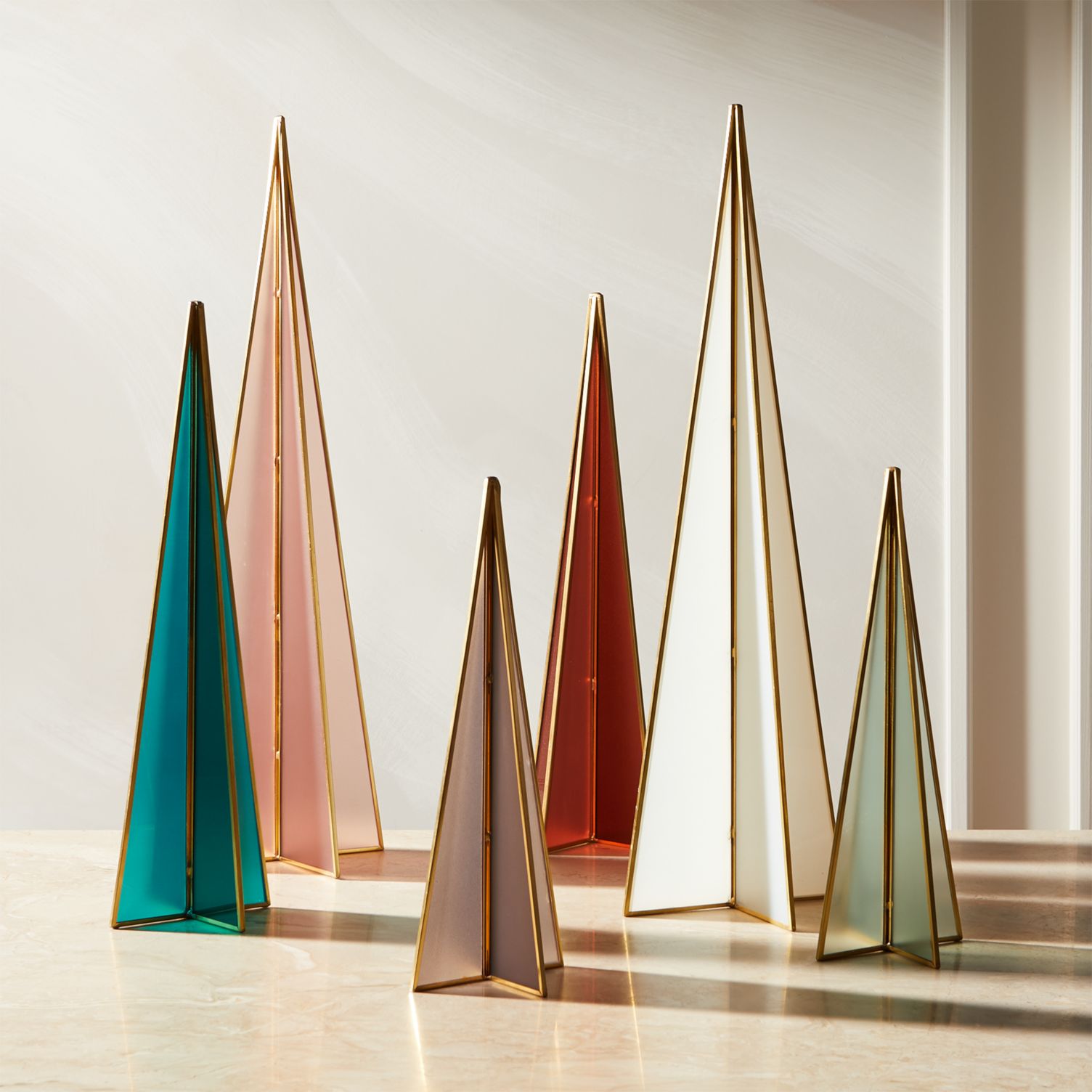 Some trees are offered as part of a set. One purchase and you're done! This set of 4 Paz Glass Trees is crafted from ultra-durable clear and white luster glass. A quartet of different heights creates plenty of visual interest, while a monochromatic palette adds sophistication:
When it comes to Christmas centerpieces, don't be afraid to get creative! If you're eager to dress up your grouping with just a touch of embellishment, note that even modern, minimal arrangements can benefit from some added greenery. Below we see CB2's faceted Frosted Resin Trees combined with an evergreen sprig. Even a little bit of foliage goes a long way:
From the modern to the vintage, bottle brush trees have made a comeback in recent years. Rather than remaining in their soft palettes of pink, silver, and white, a whole new batch of vibrant trees has entered the design realm. Many of them are hand-dyed sisal trees offered by artisans who take special care in curating vivid colors and painted bases. Check out this radiant mantle decor featured at Studio DIY, starring bottle brush trees from Glitterville Studios: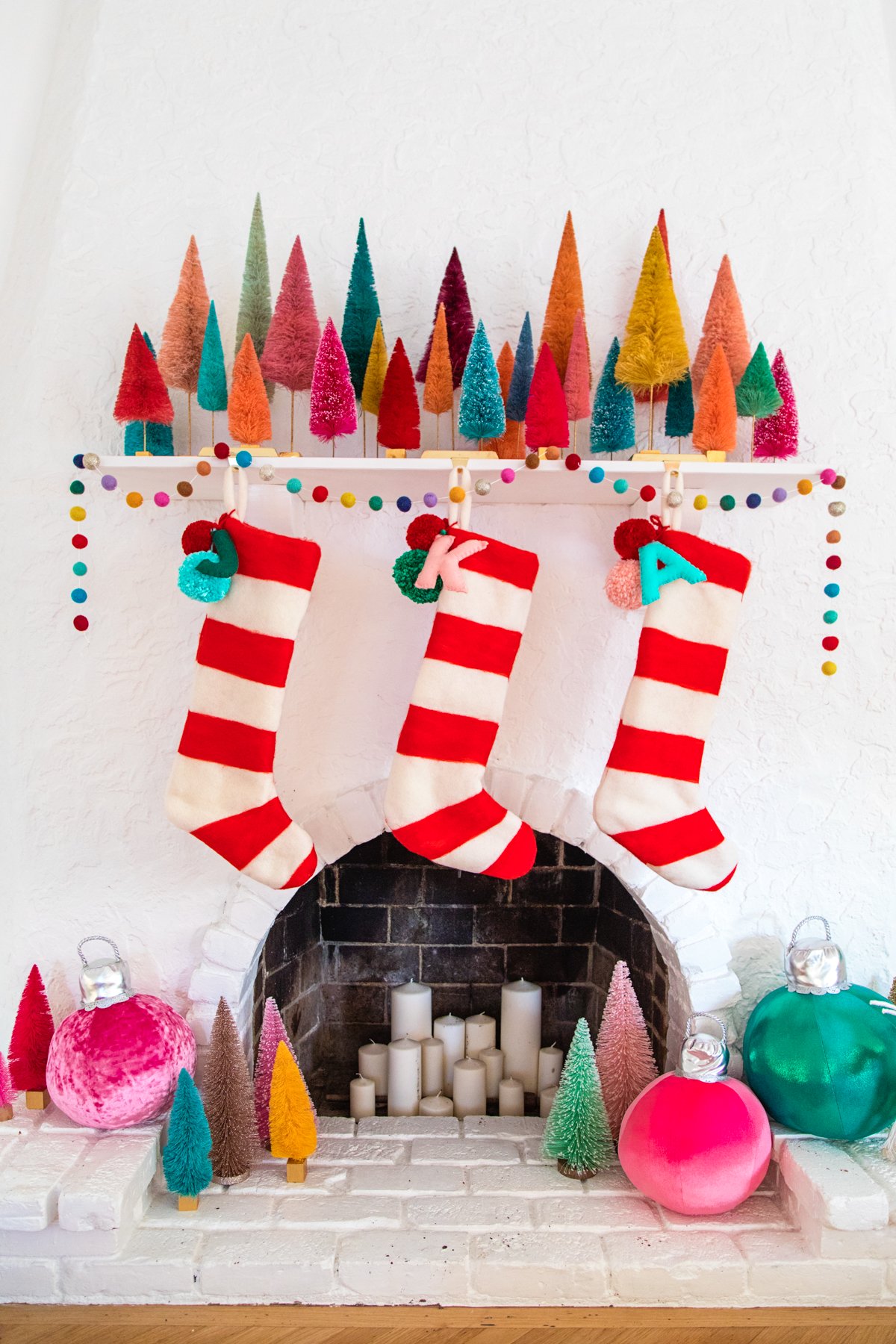 You can also put a DIY spin on sisal tree decor! Sugar & Cloth has taken the bottle brush tree to a new level by tucking faux flower buds into the bristles. The result: an enchanting spread that creates the appearance of floral garlands enveloping the trees. For added festivity, dust the entire vignette with faux snow! Check out the easy tutorial here:
Simple Statements
A wreath displayed against a gold-rimmed mirror. A cluster of pine cones enhanced by twinkle lights. Sometimes one powerful yet simple combination makes the biggest of statements. Don't hesitate to think outside of the box, bringing new life to items you already own. Recombining tried and true decorative pieces can achieve some unique and striking results. Below we see a holiday mantel at the office of design and wellness blogger/lifestyle expert Camille Styles. A silver wreath shines against the backdrop of an elegant mirror:
There's something so festive about the contrast between citrus fruit and greenery during the holidays. Perhaps it's the contrast of the green and the orange, or maybe it's the simple round forms of the produce displayed against the textured foliage. To craft your own delicious centerpiece, try placing oranges and greens in a white bowl. If you're feeling really creative, build a mandarin tower! Check out all of the DIY details at A Beautiful Mess:
Pine cones and twinkle lights are all it takes to unify this holiday table featuring dishware and decor from ferm LIVING. Earth tones abound, while holiday napkins and ornaments add festivity:
For a burst of color that celebrates the vibrancy of holiday red, check out our very own tutorial on how to use red berries to design an easy centerpiece. Below we see one of three ways to design a festive, berry-filled arrangement. Red roses and a white vase are the ingredients of choice:
As you craft your Christmas centerpieces, let your creativity shine. Don't fret about any single arrangement. Instead, have fun combining elements on surface tops, mixing and matching decor, and adding a few new items into the mix. On a budget? Foraging natural items from your own backyard is a great way to bring the outdoors inside and add fullness to your vignettes. Enjoy the process, and Happy Holidays!
You're reading Unique Christmas Centerpieces for Tabletops and Mantels, originally posted on Decoist. If you enjoyed this post, be sure to follow Decoist on Twitter, Facebook and Pinterest.