San Francisco–based chef Anthony Strong offers workshops on building a picturesque Tahoe lodge out of candy and gingerbread.
If building gingerbread houses is one of your holiday traditions—or one that you aspire to—then you may want to take a page from Anthony Strong's cookbook. The San Francisco–based chef and owner of Prairie, a modern Italian restaurant in the Mission, actually has a background in construction: the Minnesota native helped his father build everything from furniture to home additions, and was even the general contractor for Prairie. He discovered his knack for building gingerbread houses between jobs, and since then, his creations have evolved from more classic silhouettes to the current iteration—a midcentury-modern abode billed as a Lake Tahoe ski cabin.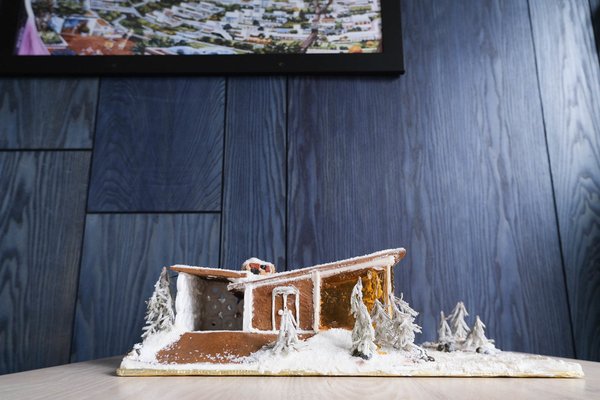 "I've been a fan of midcentury modern architecture since I moved to California from Iowa (farmhouses and red brick are okay, too) and encountered the style everywhere," says Strong.
See the full story on Dwell.com: A Bay Area Chef Builds a Midcentury Ski Cabin Out of Gingerbread
Related stories:
Muji Just Unveiled a New Prefab Home—and it's a Minimalist Dream Come True
ICON Unveils the World's First Village of Affordable 3D-Printed Homes in Mexico
Pharrell Williams' New Luxury Development Is Pitch Imperfect