No matter what the occasion is, nothing welcomes festive joy like a beautifully decorated home façade. It is the front lawn and porch that make the biggest impact when it comes to giving your home a festive makeover. Decorating the front porch for Christmas and the days leading up to it involves bright string lights, gorgeous garlands and plenty of red and a dash of green. It might seem a daunting task before you get started, but with smart planning, quick decorating solutions and some inspiration, your front porch can be the showstopper of the neighborhood!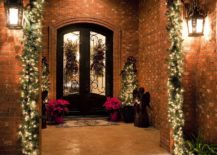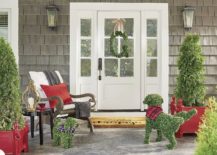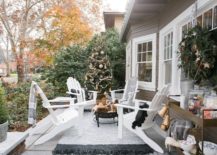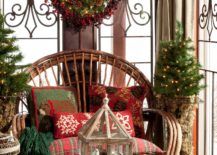 Christmas porch decorations depend on the style of your home, size of the front porch and the budget at your disposal. Time is also a key factor and with just a few days to go before Christmas Eve. This is why we have rounded up some of the most impressive porches decked out for the Holidays Season. You can borrow individual elements or mimic the entire setup to create a porch that is both unique and delightful. Step in to discover more –
Lighting, Garlands and Ample Green
Nothing encapsulates the merry spirit of the Holiday Season like string lights glittering ever so brightly on the front porch. You can decorate even the roof of your house with string lights while green garlands hung at the entrance add to the festive cheer. Combine the flowing green garlands, string lights and even a fabulous wreath or two with a crisp white backdrop on the porch to create the perfect entry with Holiday charm. If space on your front porch is limited, then adding an even layer of lighting with sconce lights and candles that gives it a more spacious visual appeal.
Relax on the Porch with Festive Spirit
For those with more space to spare on the front porch, it is time to take a part of the Holiday celebrations outdoors with chairs and sofas that embrace the season's colors. Changing out the old cushions with those in red and green or ones that come with Christmassy motifs can make a big difference without costing you a fortune. A Christmas tree on one side of the front porch with lovely lighting and flashy ornaments, a wreath in the backdrop and lantern style slights can usher in that dream, holidays look. DIY ideas like the custom mailbox filled with gifts is a surprise on the porch that everyone in the family would enjoy.
Curated Home Façade
If your front porch is ultra-small, then only decorating this section and leaving out the rest of your home's façade might not really be a smart idea. Use wreaths to decorate all the windows that face the street, extend the string lighting to every window sill and use garlands to weave together these elements and create a curated look. Hanging simple Christmas ornaments also adds glitter to the façade and does so on a budget. Time to welcome the Holidays gleefully!
You're reading Christmas Porch Decorations: From Garlands and Wreaths to Lights and Signs, originally posted on Decoist. If you enjoyed this post, be sure to follow Decoist on Twitter, Facebook and Pinterest.