Modeled after New England barns and surrounding a shared garden, these sustainable homes form a forward-thinking co-housing community.
In Great Barrington, Massachusetts, a trio of timber-framed houses peer out on a clearing previously occupied by an assemblage of 1940s and 1950s greenhouses that once served as nurseries for a florist. A developer and interior designer bought the lots in 2012 and hired Hillsdale, New York–based Grigori Fateyev of Art Forms Architecture to design a co-housing community of small-footprint, ecologically sustainable homes on the site.
The existing, preserved Victorian on the site was meant to provide shared amenities, but as contingencies pressed against plans, the collection took another form: a set of extremely energy-efficient, 2,000-square-foot homes adopting a near-passive building approach, oriented around an edible landscape on the edge of the Housatonic River.
The riverfront site brought zoning challenges—much of the lot was inside the 200-foot limit for new construction near the water. Demolition of the midcentury greenhouses allowed a grandfathered right to build, but the design had to be extremely sensitive to the landscape.
A Cooper Union graduate born in Saint Petersburg and a former architect at Rockwell Associates, Fateyev orchestrated a series of procedures before construction. He elevated the ground above flood levels and created a terraced catchment area for rain to filter through the soil. The city required room for fire trucks to enter and turn around, so he oriented the driveway around a large granite boulder left over from an old quarry. The rest of the yard is pricked with an edible landscape of fruit trees and plots forecasted for communal vegetable gardens.
"The idea was a series of overlapping loops that allow you to navigate the property in different modes," Fateyev says. "It was a balance between how much it would cost to construct versus how much site we were going to occupy…but also leaving enough room that you feel like you're surrounded by landscape."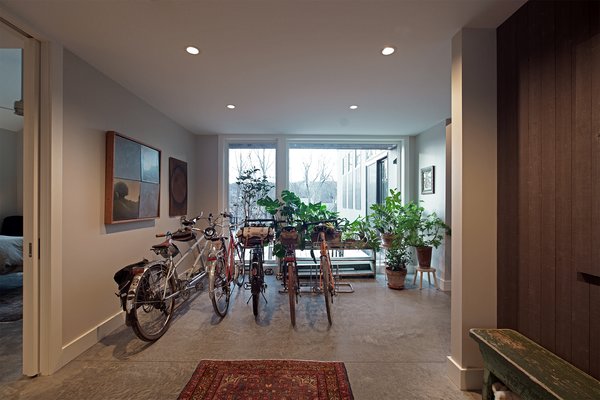 The dual high-gabled forms are modeled after New England barns updated for modern living, engineered to perform 50% better than the expanded energy-efficiency standard adopted by 186 towns in Massachusetts. A flat-roofed, glazed foyer forms a pergola-like element between the two gables. The peaked volumes are sheathed in stained tongue-and-groove cedar strapping that functions as a breathable rain screen.
Twelve-inch SIP panels insulate the rooftops. Three inches of foam cushion the walls, punctured by fiberglass-clad Marvin window frames. A layer of dense cellulose wraps around the walls and structural elements to provide a continuous thermal break. Inside, the larger peak is occupied by an open-plan kitchen, living, and dining room, conceived as a food-oriented social space for the household.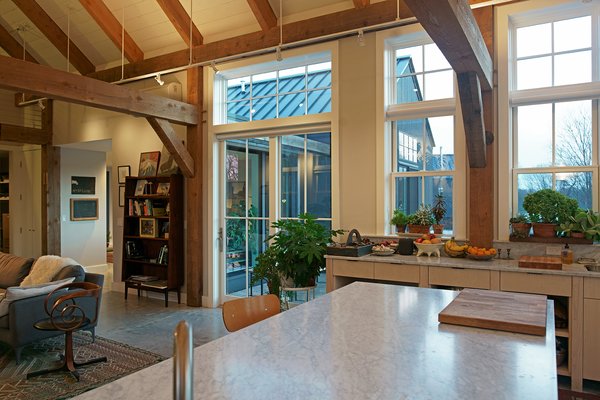 See the full story on Dwell.com: A Community of Eco-Friendly Cottages Pops Up in Massachusetts
Related stories:
This Shape-Shifting Pad in Hong Kong Challenges What You Think of Smart Homes
The Frank Lloyd Wright–Inspired Home in "Mrs. Maisel" Is a Stunner—and it's for Sale
Before & After: An Adirondacks Lake House Escapes its Amorphous Additions