The Victorian that's graced countless postcards needs a new owner to restore the interior.
One of San Francisco's famous Painted Ladies recently hit the market, offering buyers the rare opportunity to own one of seven iconic, Queen Anne–style Victorians across the street from Alamo Square. While the colorful exterior of 714 Steiner Street has stood by its siblings for countless photographs and television appearances over the years, the interior of this multifamily property is in need of a loving renovation.
The row of homes was built between 1892 and 1896 by developer Mathew Kavanaugh, and luckily, they all survived the San Francisco earthquake that happened just a few years later. Originally, Kavanaugh himself lived in the corner residence—sometimes referred to as the stepsister for its mismatching style—which was the most recent one of these Seven Sisters to be sold back in 2014. The current listing, located in the middle of the bunch, fits right in with its corresponding dentil molding, Palladian windows, and charming front stoop.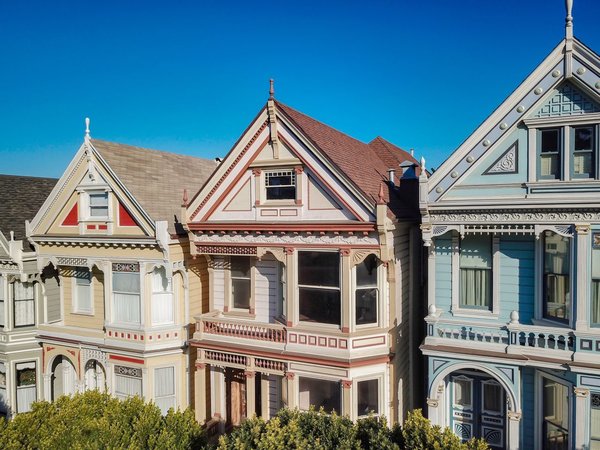 The three-story home offers 2,588 square feet of interior space and is currently arranged as two separate units. Offering numerous bedrooms and bathrooms between the different apartments, the interior will require extensive work to restore the home's original detailing. However, that probably won't stop someone from snagging up this rare piece of San Francisco real estate. Keep scrolling to see more of this famous address.
See the full story on Dwell.com: One of San Francisco's Instantly Recognizable Painted Ladies Lists for $2.75M
Related stories:
Whoopi Goldberg's Longtime L.A. Home Seeks to Trade Hands for $9.6M
Sweden's Ultra-Instagrammable Accordion House Just Hit the Market for $210K
This Winning Midcentury in Houston Can Be Yours for $260K