Seattle-based Coates Design Architects recently completed a unique project for a musician client, who tasked the firm with creating a special place where the music from her baby grand piano could resonate throughout the entire home. Coates Design, which offers architecture, programming and planning, interior design, and sustainability services, gladly took on the challenge.
The client, an accomplished musician and music teacher, was interested in a home built using shipping containers. To accomplish this and make use of the natural structural integrity of containers, Coates Design searched for ways to integrate them with as little alteration as possible. After considerable research, however, the most cost-effective solution to incorporating intact containers would be to use a traditional wood framing technique.
This presented the challenge of capturing the aesthetic of a shipping container while providing an open and spacious interior with good acoustics for the piano. To resolve this, the container stacks were widened somewhat, but the final design still reflects the original concept. The look is accentuated with industrial corrugated metal that will naturally rust over time as it's exposed to the elements.
Tall, exposed wood ceilings and trim complement the industrial nature of the containers, while bright splashes of color throughout the home further personalize the space.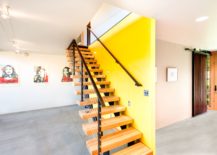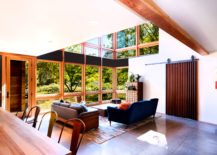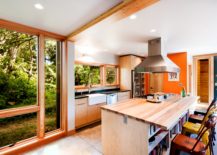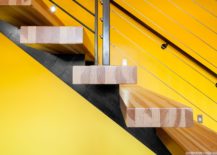 The baby grand piano will soon be placed in its custom-designed space where it can fill the home with beautiful music. Come back to Decoist for updated photos of the Musician Home once the piano is moved in.
You're reading Seattle-Area Architectural Firm Designs One-Of-A-Kind Container Home For Musician, originally posted on Decoist. If you enjoyed this post, be sure to follow Decoist on Twitter, Facebook and Pinterest.