There's a reason that Scandinavian interiors have caught the eye of design enthusiasts around the globe. The modernist principles developed by Nordic architects and designers nearly 100 years ago in the early 20th century have stood the test of time. That's because Scandinavian interiors intentionally look beyond contemporary fashion or trends and focus on humanism, functionality, and simplicity. We've identified six key design principles that will help you bring the beauty of the Scandinavian aesthetic into any space.
Work With Raw, Natural Materials
Natural materiality is a crucial component of Scandinavian interiors. Designing without artificial colors or textures ensures a timeless and authentic space.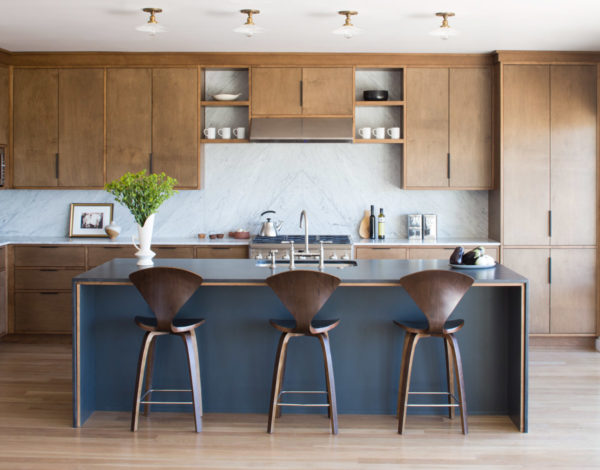 In this kitchen by Simo Design, natural wood cabinetry is used to bring a sense of warmth and richness to the space. This is contrasted by the white marble countertop and backsplash. Neither the cabinetry or the backsplash use excessive ornamentation, but rather let the quality materials speak for themselves. A timeless look is achieved by not altering these elements and simply celebrating their natural character.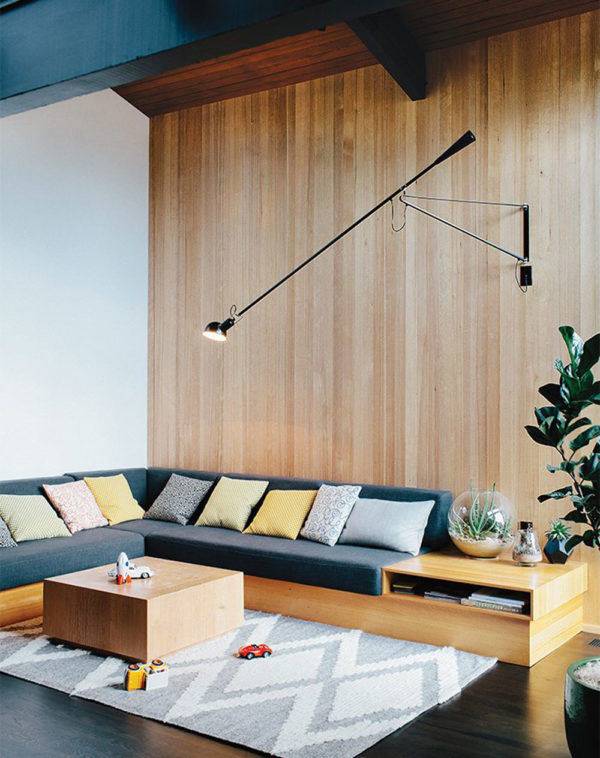 In this Portland home, restored hemlock wood is introduced on the walls of the living room. The wall brings both warmth and interest to the room, without distracting from the rest of the space. An excellent example of utilizing the authentic qualities of a material to highlight a design element, the natural grain of the wood brings a vertical interest, emphasizing the expansive height of the ceilings.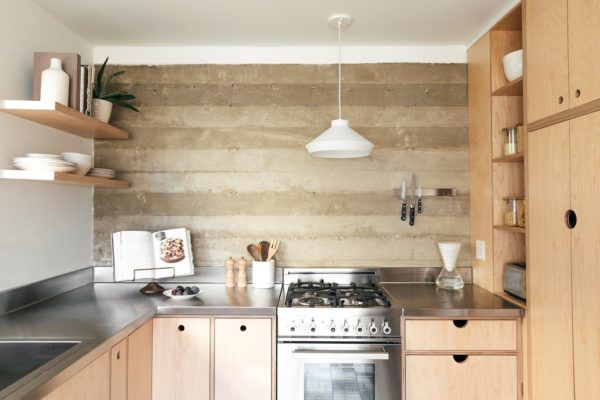 Before this basement kitchen renovation, this board-formed concrete was hidden behind drywall. When the designers exposed this material, rather than re-covering the wall, they decided to use the authentic texture as a design feature. The result is a beautiful contrast between the simplistic, custom-made cabinetry and the raw board-formed concrete.
Utilize A Neutral Palette
Similar to the concept of designing with natural materials, using a neutral color palette encourages a clean and classic look.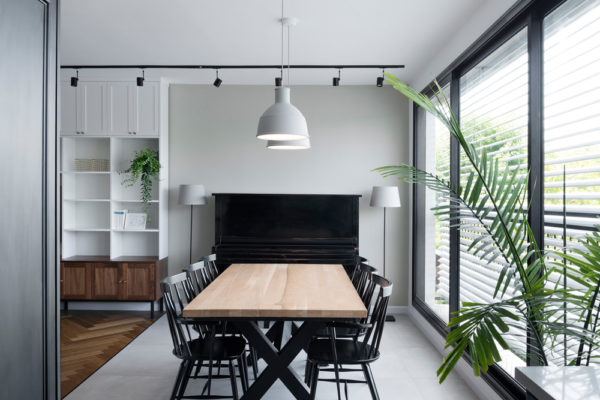 This modern Tel Aviv apartment proves that you don't necessarily need color for a room to be beautiful. By selecting black and white colors to complement the wood tones in this dining room, the design team at RUST has highlighted the modern simplicity and functionality of the space.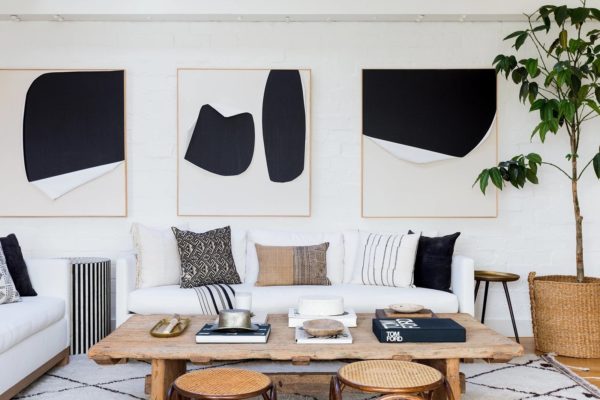 With this living room, JDP Interiors has proven that neutral doesn't have to mean boring at all. By designing the room around three bold, black and white paintings, they've created a space that's dramatic and eye-catching, without introducing unnecessary color.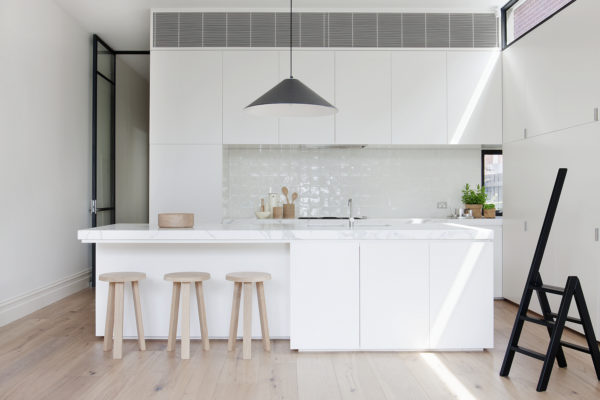 This kitchen will capture the heart of any Scandinavian design lover. Sticking with a nearly entirely white color palette, the texture of the materials is really what steals the show. Notice the glossiness of the tile backsplash contrasted by the matte finish of the cabinetry. Without saturated colors, a level of sophistication is felt in this space.
Focus On Functional Furniture
With Scandinavian furniture, form always follows function. You'll notice that these modern pieces are always thoughtfully designed to support comfort while maintaining minimalism.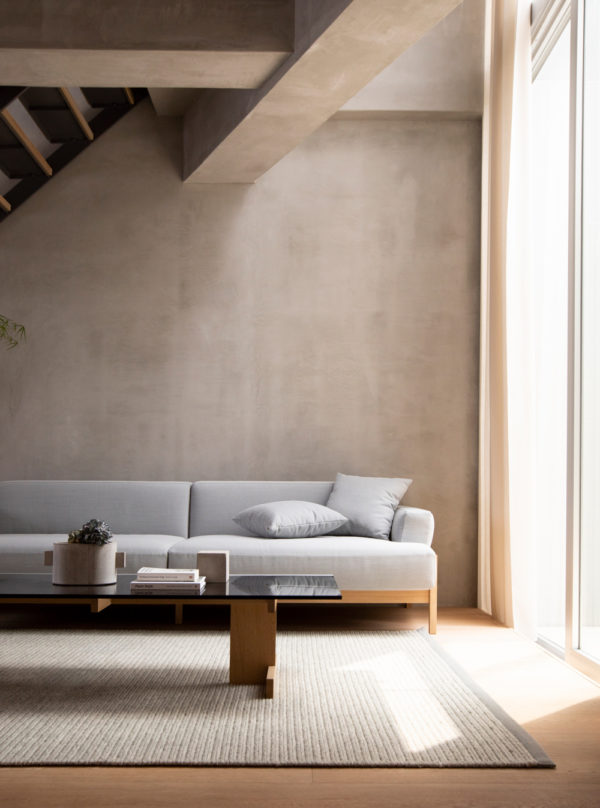 In this classically Scandinavian interior, the Copenhagen-based designers at Norm Architects in collaboration with Keiji Ashizawa selected a beautifully modern sofa to be the main feature of this space. The sofa's shape and materiality embrace comfort without sacrificing modern clean lines.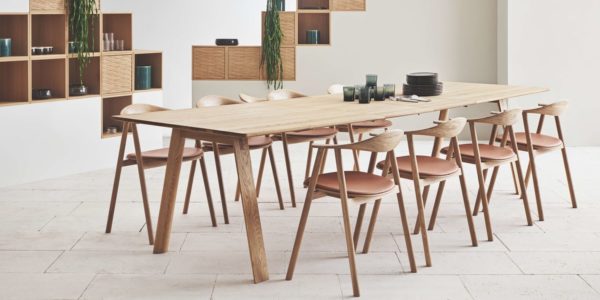 The furniture from Bolia never disappoints us Scandinavian enthusiasts. Here, the Chicago dining set is shown in all its beauty. The form of the chairs is carefully and intentionally designed to support human comfort while the leather upholstered seats and the lacquered oak structure will beautifully blend into any Scandinavian interior.
The built-to-last furniture and decor from HAY are go-to products for all Scandinavian spaces. Specifically, the "About A Chair" collection is a wonderful example of functional, minimal design. The shape and upholstery of this lounge chair is warm and inviting without any unnecessary ornament.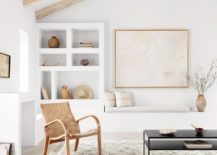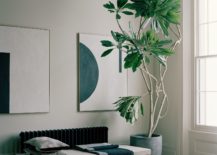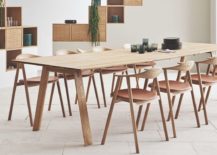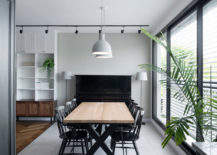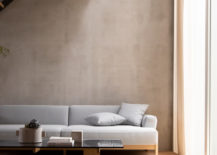 Introduce Greenery
Nordic interiors often incorporate indoor plants into their spaces. The greenery is sure to complement the natural materials while simultaneously bringing life and texture into the space.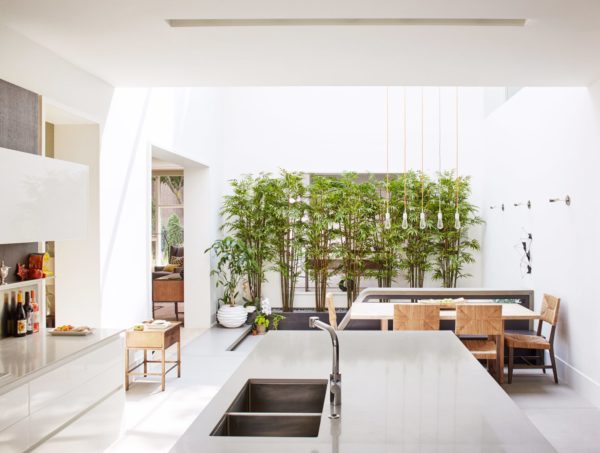 This bright and airy home designed by dSpace Studio is centered around a row of natural bamboo. Sunlight from the atrium is used not only to create a bright interior, but also as an opportunity to use plants as "natural art." The greenery offers interest, color, and texture in what would otherwise be an empty space.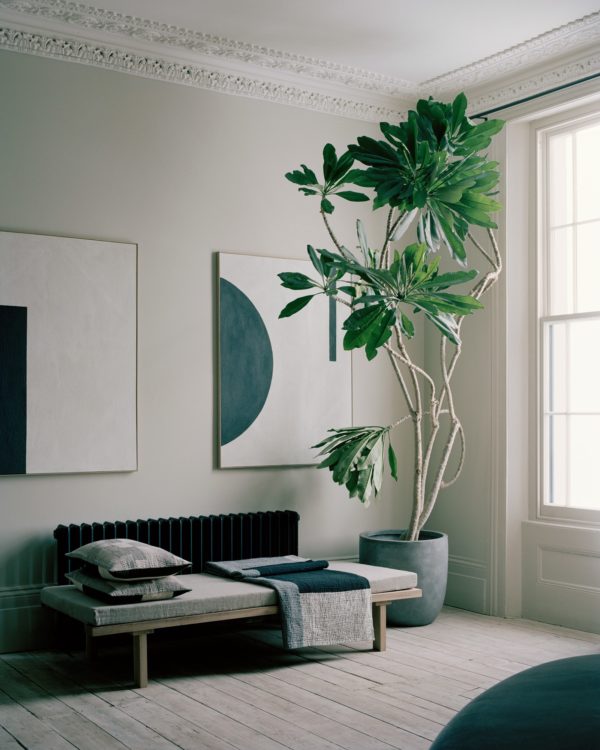 Here, greenery is used to really complete an interior. This living room designed by Coco Lapine uses a massive potted plant as the main feature of the space. The tree's height and organic shape beautifully complements the rest of the design elements.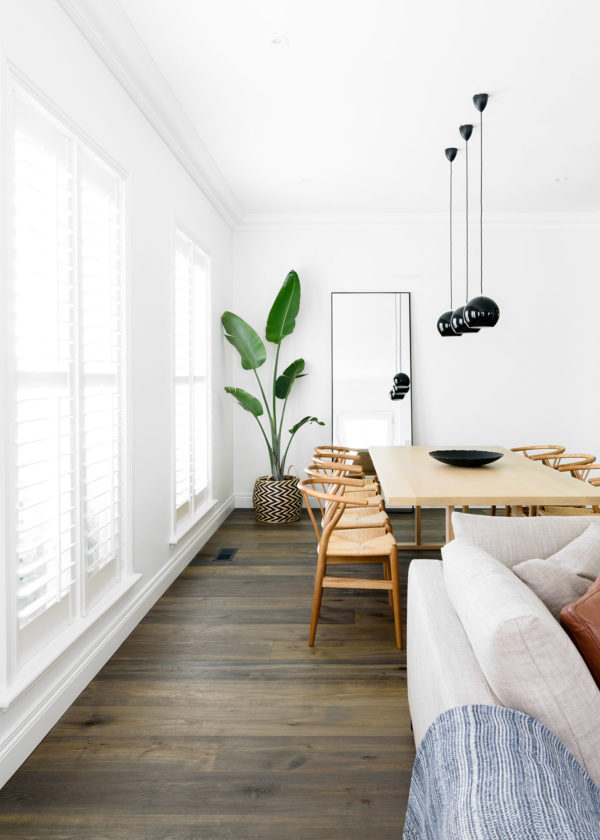 A simply stunning Scandinavian interior designed by Biasol uses greenery for points of interest in otherwise minimal spaces. Here, the corner of the dining room is occupied by a simple indoor plant that emphasizes a feeling of freshness in the home.
Embrace Hygge With Your Decor
"Hygge" is the famous concept behind Scandinavian design in all forms. Roughly translated from Norwegian and Danish to mean something like "coziness" with feelings of wellness and contentment, it's part of what sets Scandinavian interiors apart from other modernist movements. By keeping Hygge in mind when it comes to décor, your space will surely express Scandinavian design.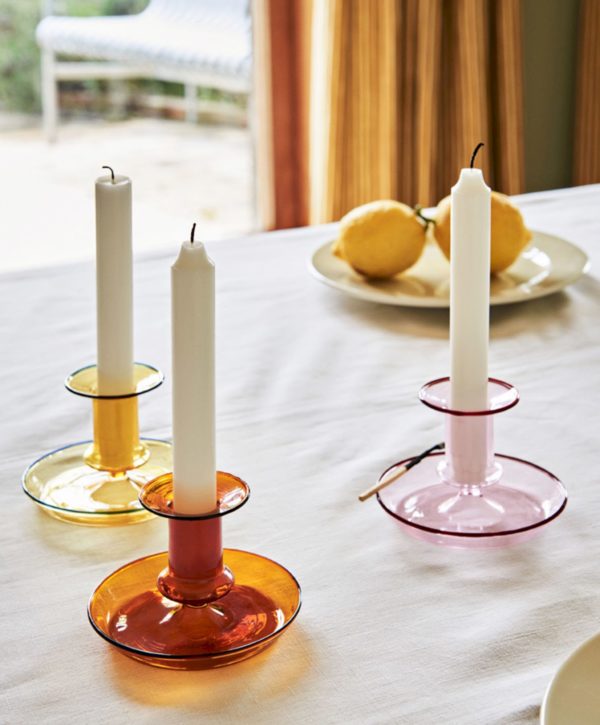 A huge part of embracing Hygge is centered around incorporating soft, warm lighting. These Flare Candleholders from HAY will help you do just that. As a bonus, they'll introduce just a small touch of desaturated color into your space while continuing to be completely Scandinavian modern.
Perhaps the epitome of Hygge is a cozy, soft, knitted blanket. One from The Cozie Shop is the perfect throw to cozy up with and read a good book. On top of that, it will bring a beautiful layer of texture into your space while complementing any Scandinavian piece you display it on.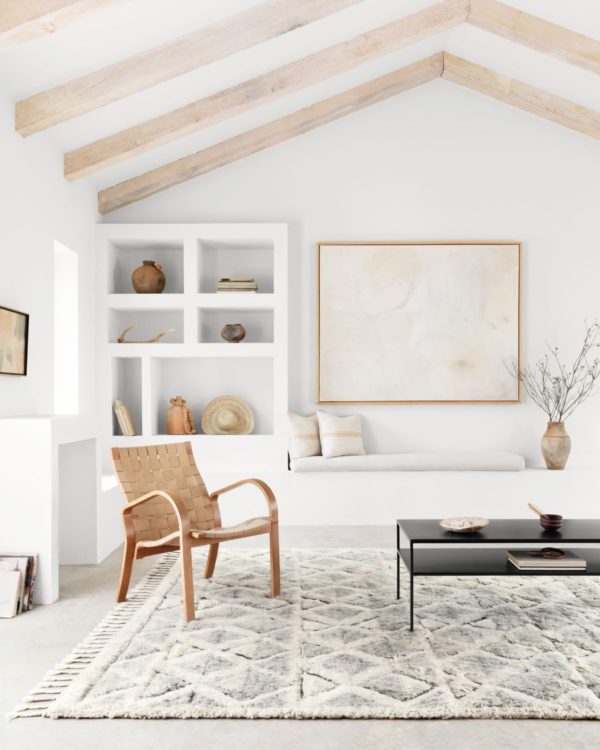 Finally, a key piece to support both physical and acoustic comfort in your space is a well-designed rug. Any piece from the Hygge collection from Loloi will bring a warmth to your home and truly enhance the coziness necessary to complete a modern Scandinavian interior.
You're reading Stylish Ways To Incorporate Scandinavian Design In Your Home, originally posted on Decoist. If you enjoyed this post, be sure to follow Decoist on Twitter, Facebook and Pinterest.