A totally transparent roof offers a clear but cozy view of the heavens for less than $90 a night.
Known as "Immerso Glamping", this alpine cabin, designed by Italian architects Fabio Vignolo and Francesca Turnaturi, is true to its name: it allows guests to go off the grid and reconnect with nature in an inventive way. While the prefabricated shelter is designed to be easily moveable, Immerso Glamping is currently located in the alpine village of Usseaux in Italy's Piedmont region. It is available to rent on Airbnb.
The original concept for the cabin stems from an experience the architects had designing and building shelters for an earthquake-effected community. They created a series of homes built out of CNC-cut, birch plywood panels; full-height windows; and a roof made out of plexiglass. The structures were flat-packed and could be easily assembled anywhere without the use of electric tools.
According to the architects: "Immerso offers an original experience following the international trend of glamping; it is linked to nature, and supported by sustainability and respect for the environment."
And although sleeping under the stars is definitely part of the attraction, the alpine cabin also comes complete with curtains to shade the windows just in case guests don't want to completely commune with the outdoors at all moments.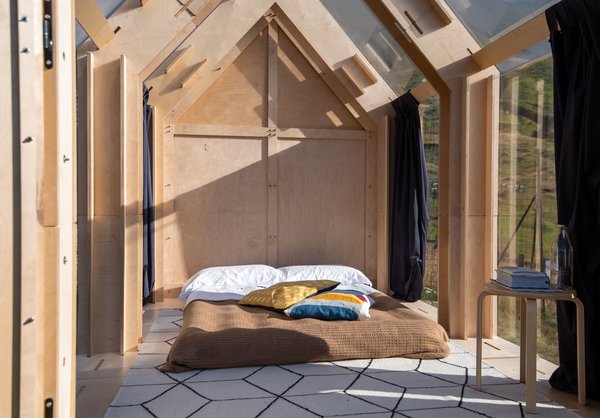 See the full story on Dwell.com: This Tiny Alpine Cabin Promises Better Star Gazing Than Your Local Planetarium