A sofa bed has the power to add both seating and sleeping space to your interior. Now more than ever, a range of stylish options presents design lovers with solutions for every budget. Are you wondering what differentiates a sofa bed from a sleeper sofa? Today we're rounding up a collection of diverse pieces, exploring the terminology to make your selection process easier, and getting a ton of styling inspiration from the photos that follow. Enjoy…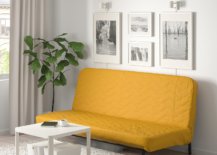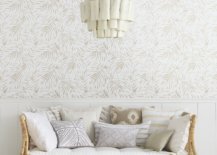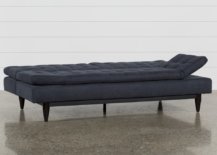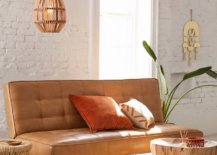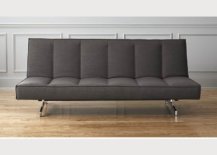 Sofa Bed or Other Sleeper?
Let's start with what makes a sofa bed a sofa bed. If you're looking for a definitive answer, keep in mind that retailers often use the terms "sofa bed", "sleeper sofa" and "futon" interchangeably. This can lead to confusion. While there don't seem to be any hard-and-fast rules, many people equate the terms "sofa bed" and "sleeper sofa" with one another, noting that these pieces include a pull-out mattress that is hidden inside the furnishing during the day. On the other hand, a futon folds out with no extra mattress involved. In other words, when it comes to futons, what you sit on is what you sleep on. [below: Novogratz convertible sofa from Wayfair]
In reality, many consider the process of pulling a concealed mattress out of a sofa to be cumbersome. Instead, we're seeing a lot of sleepers that involve one simple conversion to go from sofa to bed. This means that more and more items are being called "sofa beds", even if there isn't a mattress to pull out. The bottom line: Call it a sofa bed, a sleeper sofa, or a convertible sofa, that distinction is often up to the brand rather than a larger definition. There are plenty of other sleeping solutions as well, including daybeds, which can be used as beds, sofas (with the right backing and placement), and even loungers if they recline. Below we see the Luna Grey Daybed from Living Spaces: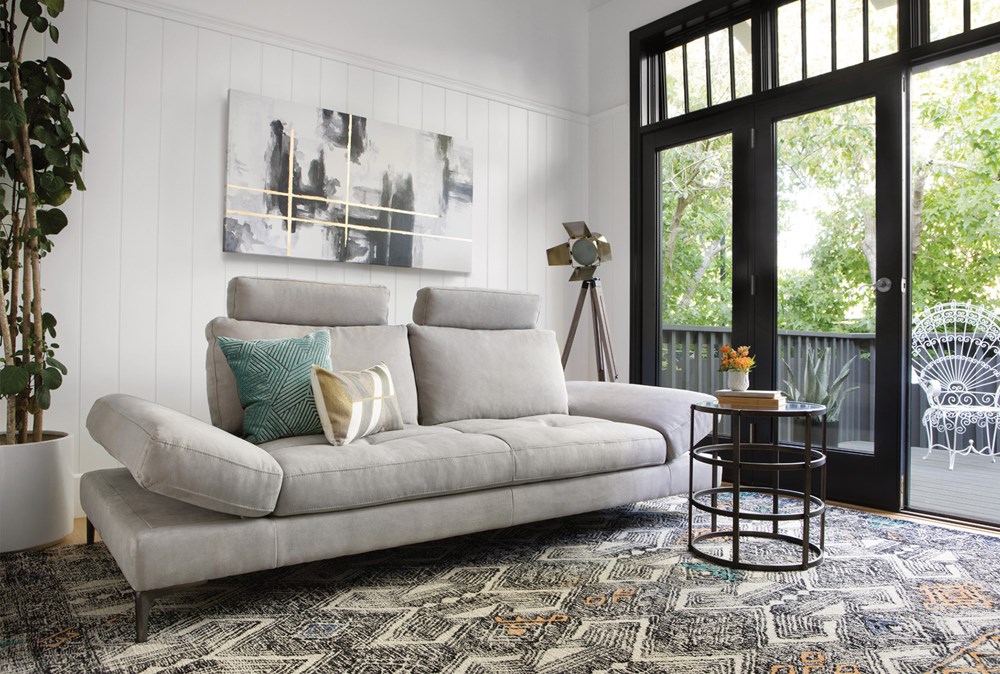 Serena & Lily's Avalon Daybed may not recline, but it can be pushed up against the wall to serve as a couch when comfy cushions are added. In other cases, it's used solely as a bed. Many people love the chic, inviting look that daybeds bring to the table. There's also no converting required when you take this piece from daytime seating use to nighttime sleeping use. Simply remove the cushions and you have a bed!
As an alternative, it may be nice to treat overnight guests to a more traditional sleeping arrangement that involves a cushier mattress. Bring on the sleeper sofa/sofa bed option, which is the true topic of today's post! There are plenty of interesting variations of sleeper sofas, including this Denver Trundle Sleeper Sofa from Anthropologie (complete with a pullout trundle bed):
But for those on more of a budget, or those looking for a more compact and easy-to-convert option, nothing beats a sofa bed that folds down with ease. Check out CB2's Flex Gravel Sleeper Sofa, shown below. You may be thinking, "But isn't this really a futon since it simply folds down?" See what we mean about the exact terminology being confusing? As a consumer, all you need to do is be clear about what you're looking for, and be open to the fact what you end up with may be called anything from a convertible sofa to a futon. Or even an "urban sofa bed".
If you have any questions, speak with a representative from the brand before ordering online, or check out the piece in person to see how you can convert it from sofa to sleeper. Below we see the Flex Sleeper Sofa again, this time in a subtle shade of blue. You don't have to sacrifice style for a sofa that doubles as a sleeper!
Sofa Bed Options
Now that we've gotten into the terminology and understand that there doesn't seem to be one universal definition of the phrase "sofa bed", let's simply focus on a few fun products. Below you'll find a roundup of sofa beds, all of which easily fold down to convert to sleepers. First up is BALKARP from IKEA:
Note how a simple fold downward flattens this sofa so it becomes a bed. Also check out the thickness of the "mattress" and the sleek silhouette. In fact, this "mattress" is thicker than some pullout mattresses that accompany more involved sleeper sofas:
Next up is Living Spaces' Peggy Gray Convertible Sofa. It's a sofa, lounger and bed in one! It's hard to beat multi-functional furnishings. A split-back design with adjustable wings enables you to modify everything the way you see fit. A powder-coated metal frame and pressure-relief foam core cushion (with a memory foam comfort layer) are other highlights: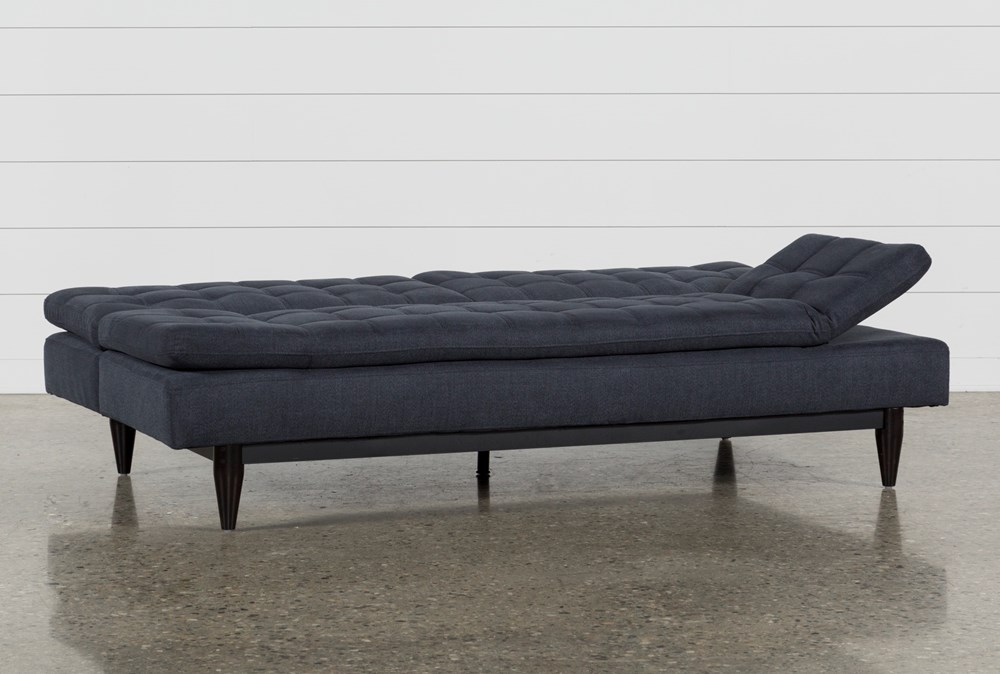 IKEA's NYHAMN sleeper sofa transforms to a bed with a simple click-clack mechanism. You don't even need to remove the cover! There's even space under the sofa for storage baskets. You can choose from different mattress and cover options to get the perfect fit for your space, and more than one cover means that you can change the look whenever you feel like a room makeover. Convenient and creative!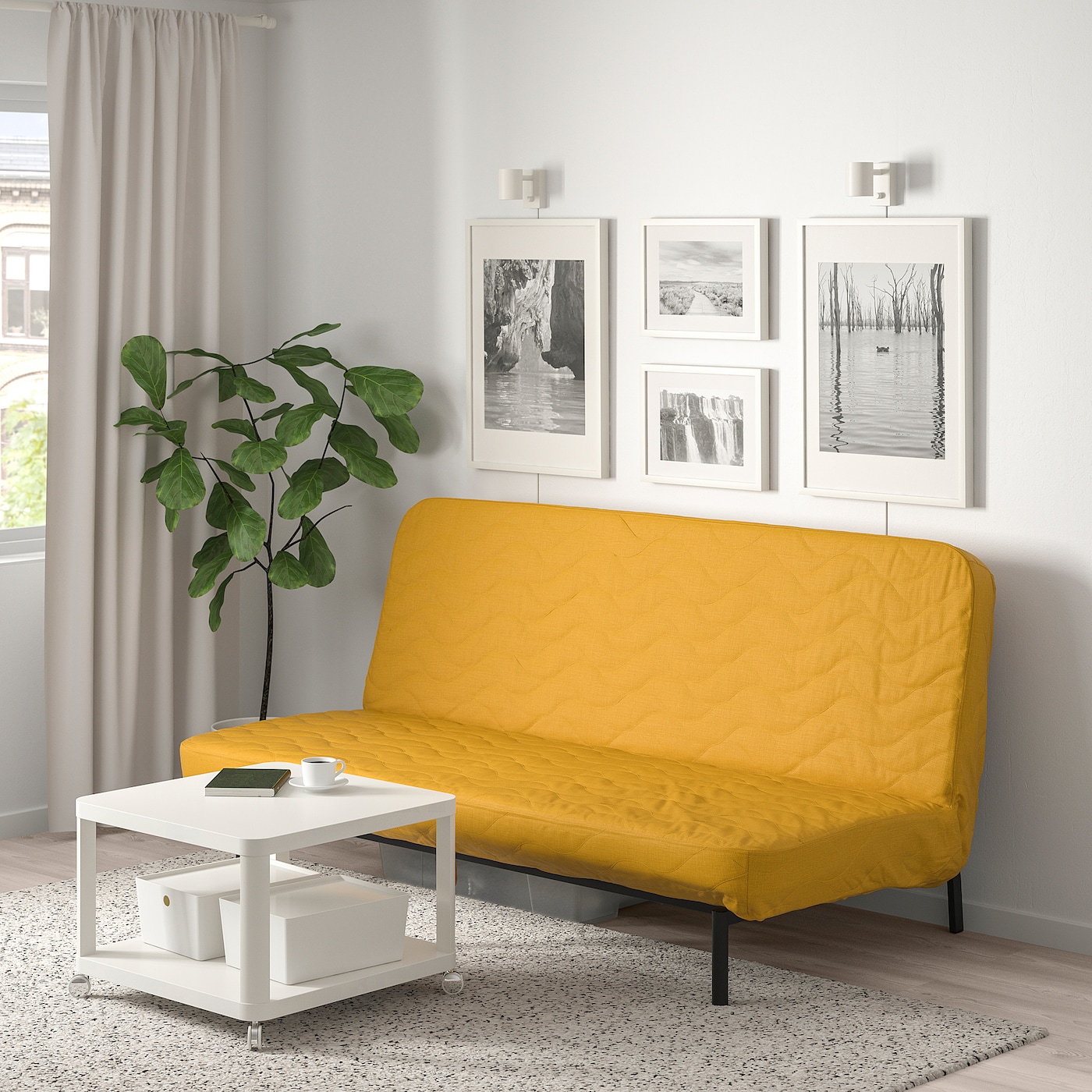 Featured here and at the top of the post is Apt2B's Amalfi Urban Sofa Bed, which takes sofa bed style to new heights. At the time of this post, it's on backorder due to its undeniable popularity. And we can see why! With a sleek, modern look that can go glam or minimalist, this piece features a special folding design, as well as a hidden storage compartment in the base.
Below we see how the piece folds down into a bed. The styling in these photos shows how a pop or two of color can give your sofa bed personality and make it a perfect fit for your interior. Grey is one of the most popular color choices for sleepers, but rest assured that a throw pillow and a comfy blanket in the shade of your choice can make all the difference!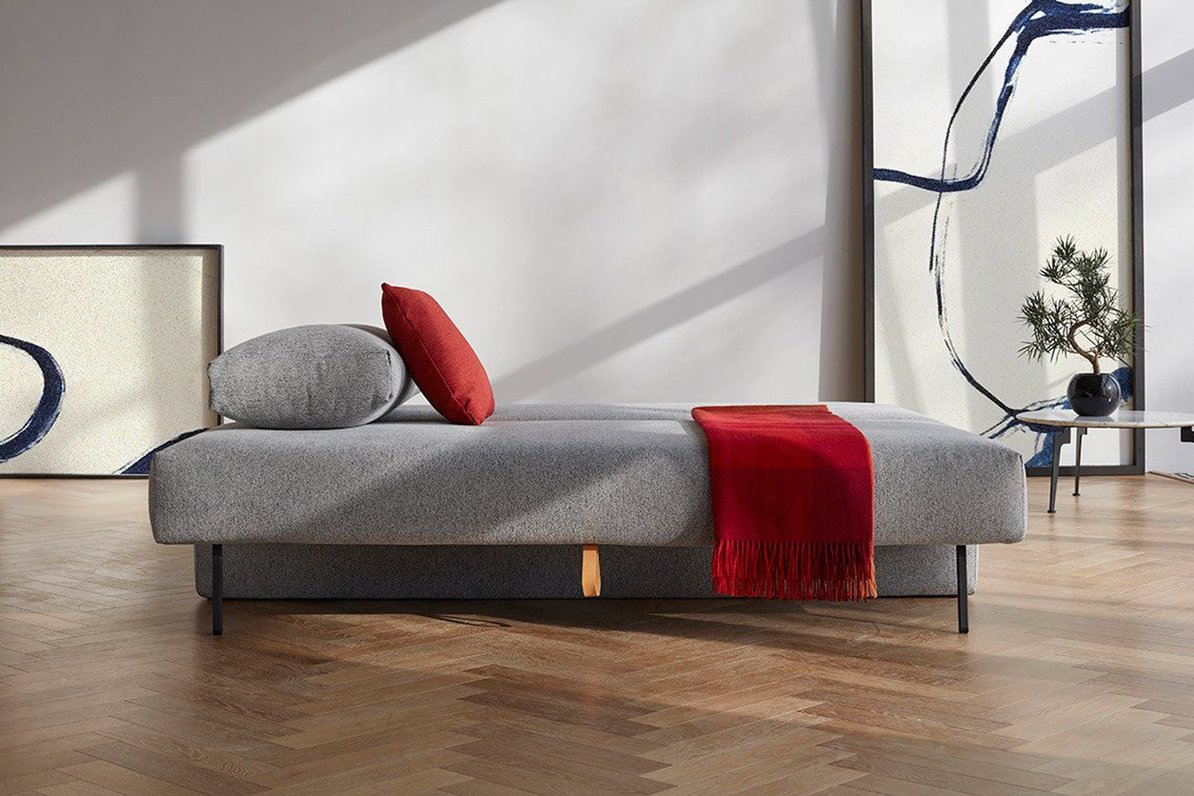 Next up is Urban Outfitters' Brenna Convertible Sofa, a faux leather piece with allover tufting. Rubberwood legs in a natural finish enhance the neutral, high-end look of the piece. The perfect blend of function and style! You can accessorize it with a range of earthy decor items to play up a boho eclectic look, or you can keep this item in strictly modern territory by keeping the rest of the room clean-lined. You decide!
Living Spaces' Paige Blue Convertible Sofa Chaise not only features an enticing shade of blue, it showcases the ability to transform from a seat to a bed in three easy steps. Individual pocket coils encased in pressure-relief foam make up the cushion, and did we mention that the piece can function as a 5-position chaise? Also available in light grey.
Below we see an image of the sofa chaise converting into a bed. The split-back design is highlighted: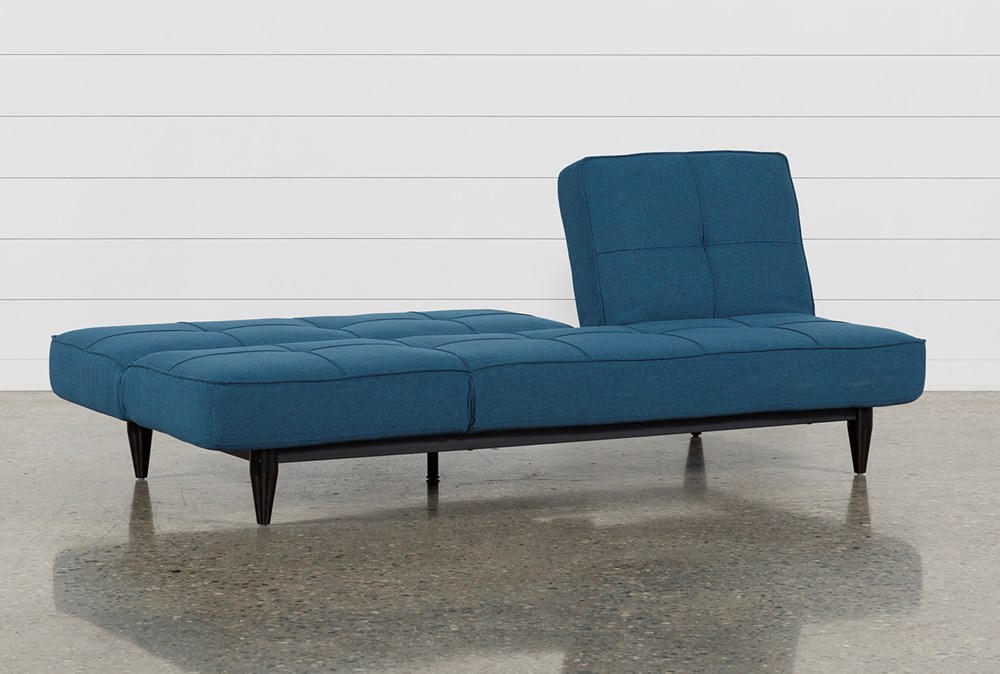 We hope today's post has proven that sofa beds have the power to add an undeniably stylish element to your space. What was once a plethora of bulky pullout sofas has now given way to more urban, modern selections that are easy to maneuver and easy to accessorize. Happy decorating!
You're reading Sofa Bed Solutions for Design Lovers, originally posted on Decoist. If you enjoyed this post, be sure to follow Decoist on Twitter, Facebook and Pinterest.