FIG Interior Design and JAM Architecture team up to fill a lackluster unit with sweeping curves and luxe finishes that honor the building's historic Art Deco exterior.
If you had walked through this apartment in downtown Brooklyn in 2018, you'd be forgiven for not realizing the pedigree of the site. It's located within a landmark 1929 building that's an iconic example of the Art Deco style, however the interior finishes—leftover from when the building was converted to condos in the late aughts, were bland and uninspired.
This particular top-floor apartment also suffered from a strange layout and water damage from a burst pipe. The owners, a Scandinavian family, asked interior designer Nina Garbiras of FIG Interior Design and architect Joseph McGuier of JAM Architecture, to intervene. "The top of these buildings are a little bit weird to begin with, and they just sort of made sense of it as best they could when they redeveloped it into condos," says McGuier.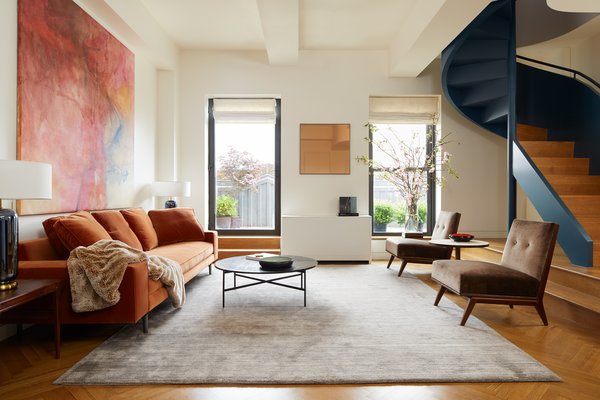 "The clients loved the fact that it's an Art Deco building, so they were quite eager to have the redesign reflect that," says Garbiras. "At the same time, they didn't want to do vintage Deco—they wanted to do a more modern, contemporary Deco."
To that end, Art Deco detailing was subtly threaded throughout the home— such as the fluted glass doors, vintage furnishings, white oak floors laid in a herringbone pattern, and rich, jewel-toned color palette. Curving elements are a repeated motif—from the ceiling soffits that hide pipes to the kitchen cabinetry, and the dramatic spiral staircase. "The curves kept multiplying," says McGuier.
Before: Entry and Bedroom
See the full story on Dwell.com: Before & After: A Gut Reno Restores Gatsby Glamour to This Art Deco Brooklyn Loft
Related stories:
A Bright-Yellow Floor Beams New Life Into an Auckland Bungalow
An Architectural "Gorge" Splits This Australian Home in Half
A Couple Cuts Their Commute and Designs All Day