Easter is around the corner, and the spring collections have been revealed! There are so many beautiful color palettes to celebrate this time of year, and Easter gives us a chance to enjoy the wonder of spring while spending time with the people we care about. Design lovers will be happy to know that there's no shortage of interesting seasonal decor this year. From on-trend dried florals to a range of unique DIY projects, 'tis the season for putting your Easter decor on display.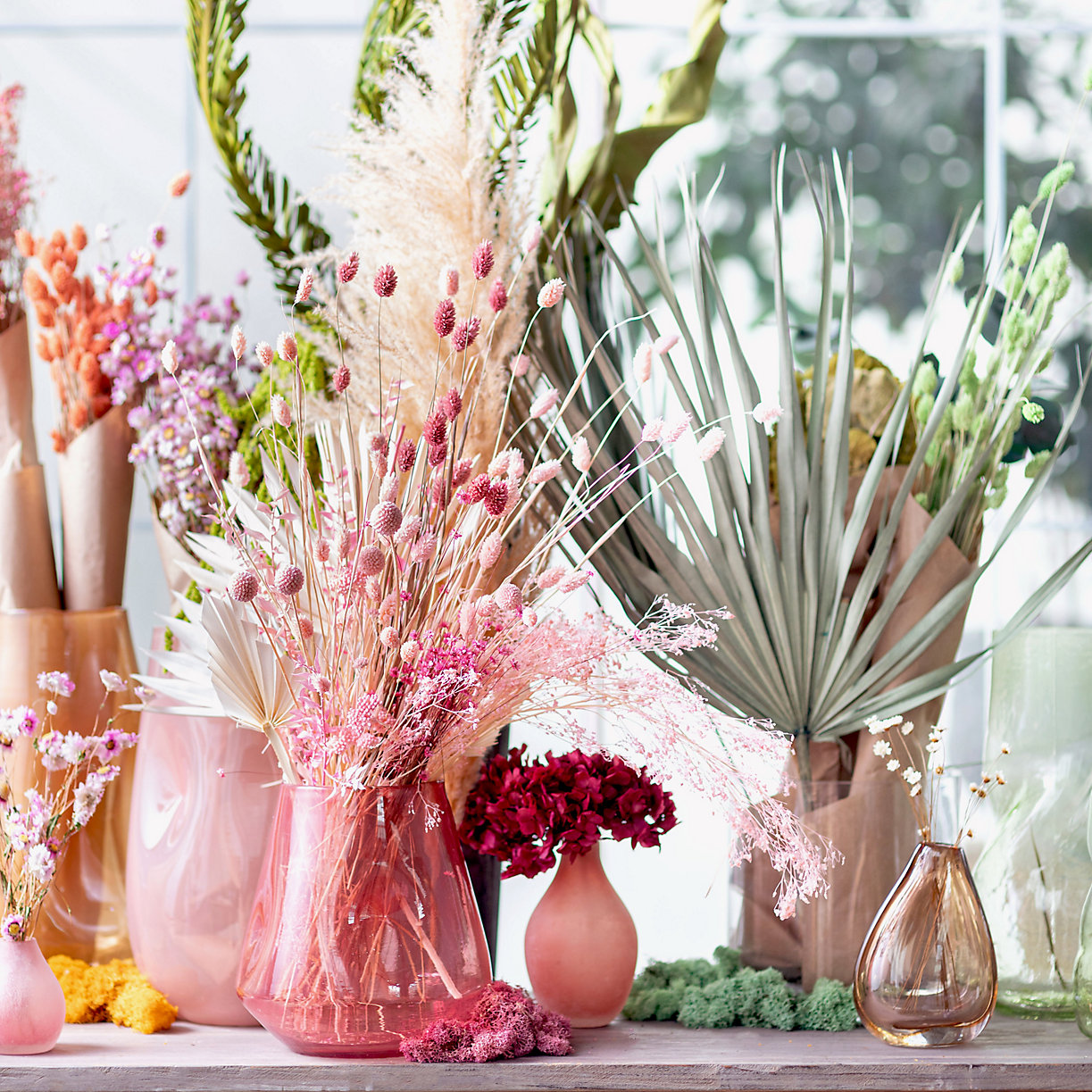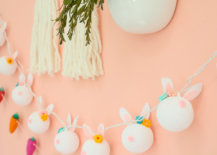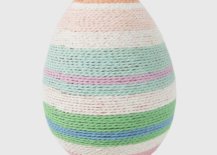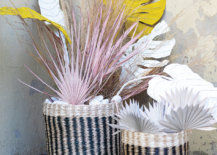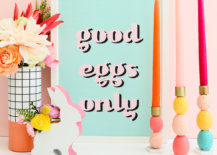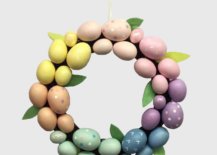 Setting the Stage
When it comes to creating a memorable Easter Sunday for the people you care about, there's a range of decor possibilities for evoking a festive mood. This table setting from Sugar & Cloth features the brand's own Entertaining & Parties collection, available through Amazon. From pastel pink scalloped serving trays to modern cupcake stands, there are many fun accents for design lovers to enjoy while setting the Easter table. Check out all the details on how this one came together here.
Yarn is a major design tool in today's world of decor. From wall hangings to pom poms, texture is everywhere you look. This yarn-wrapped egg from Spritz (available at Target) is perfect for a spring tabletop, and its soft hues are varied enough to blend with a range of palettes:
For more pastel goodness from Spritz, this Easter egg wreath is complete with a gradient of soft colors, plus subtle designs that add a dash of whimsy. Some eggs have a glittery coating for extra sparkle, and felt leaves sprinkled throughout the design add a green touch that gives a true nod to spring. Perfect for any door or window in your home!
Hearth & Hand's version of an Easter basket involves a metal frame with a touch of wood on the handle. Fill with paper shred and wooden eggs, and you have a minimalist yet charming take on spring's biggest holiday. Since this basket isn't Easter-specific, it can be used for storage and decoration long after your Sunday celebration comes and goes.
A artful rabbit can decorate the entrance to your front door with the help of Anthropologie's Bunny Doormat, made from coir and coconut fiber. With a look that's perfect for those who love boho chic design (or eclectic style in general), this doormat is as stylish as it is sturdy:
On-Trend Florals
Dried florals have become such a popular option for design lovers, they're frequently used by top florists for special events such as weddings. The best part: they won't wilt! Since more and more design lovers are embracing dried flowers, it makes sense that they would be a big part of this year's spring decor offerings. Terrain is heavily featuring them in their spring collection, and we're loving the look. Note how well these dried tropical plants pair with earthy baskets. The look is perfect for spring holidays such as Easter, yet you can continue to enjoy the plants once the day has come and gone.
If you're feeling crafty, consider grouping dried flowers in artistic arrangements with the help of floral wire. Adhere them to furnishings and other surfaces that are in need of embellishment. Details at Terrain. More DIY fun will follow in the next section.
Terrain also offers an abundance of fresh flowers, and it's hard to go wrong with flowering branches. The salmon color of these beautiful quince branches instantly channels brighter days ahead, and the stems are particularly fetching when placed in a favorite vase. No embellishment necessary!
Colorful DIY Projects
We end today's post with a roundup of DIY projects that celebrate the colorful side of Easter. A good DIY endeavor allows you to put your own special stamp on the holiday. Plus, DIY solutions can be more budget-friendly, and more interesting in terms of results. For starters, this vibrant project from Camille Styles takes dyed Easter eggs to new heights. Using both white and brown eggs along with food coloring in red, pink and purple, the look of radishes is beautifully achieved. Get all of the DIY details (along with a helpful video) here.
Maker and designer Kara Whitten has created a slew of Easter DIY projects for her blog Kailo Chic. These DIY Speckled Egg Candle Holders can take your Easter centerpiece to the next level. Crafting them is easier than you might think. Speckled foam eggs, a dowel for support, a copper pipe end cap and hex marble tiles are the main ingredients needed for this radiant project. With marble and gold-toned accents, these candle holders are perfectly on-trend for the modern home, yet they have the power to complement a variety of design styles.
Also from Kailo Chic, this DIY Flower Crown Bunny String Light Garland showcases current trends such as flower crowns and string light garlands! Not only is it perfect for Easter, it's lovely enough to display in a child's room all year long. Plus, there's so much styling inspiration to enjoy in the photos of Kailo Chic! Bring on the wall hangings and planters.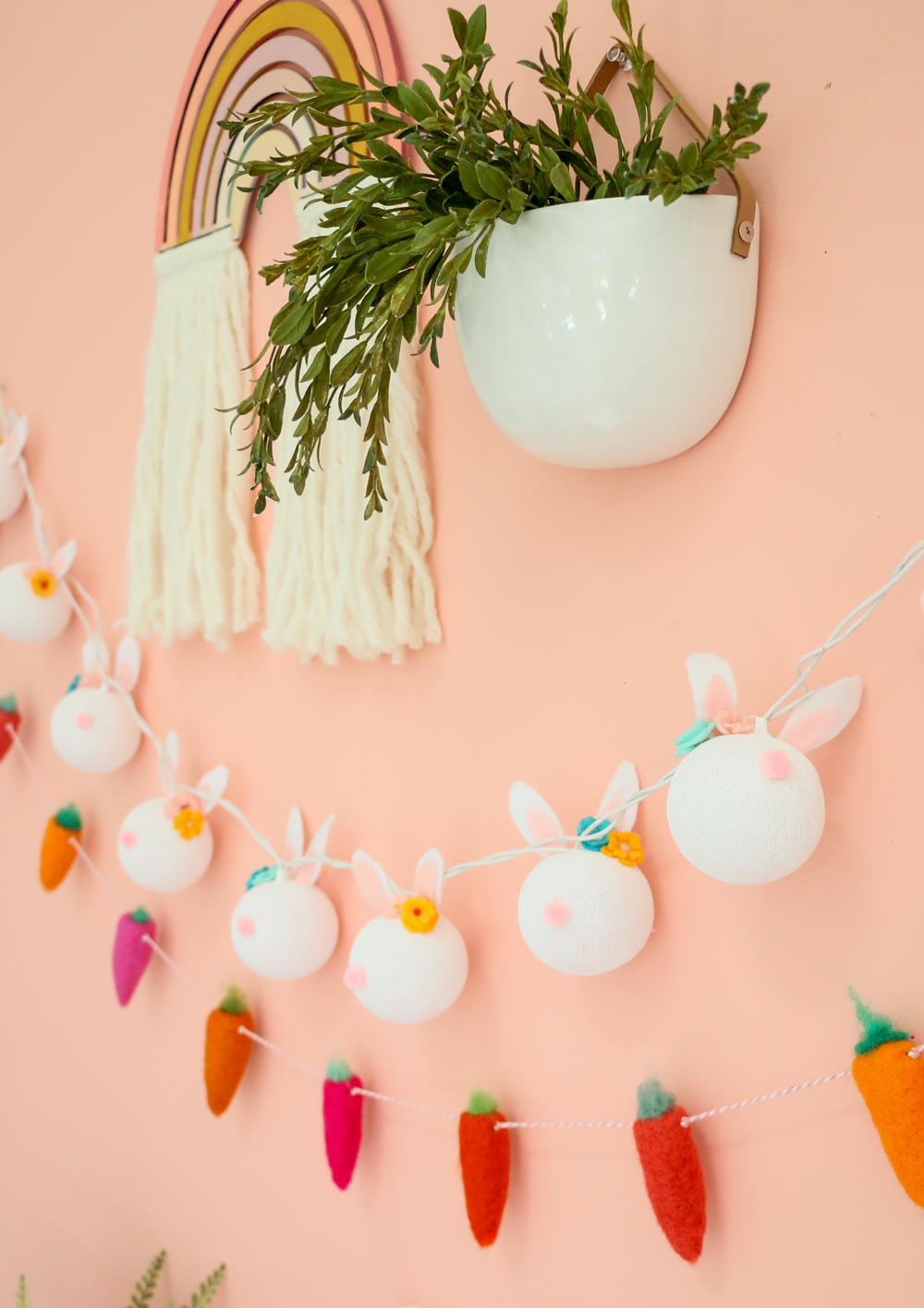 Dyeing Easter eggs is a DIY favorite. While there are many quick ways to get the job done, this natural-dye Easter egg project from A Beautiful Mess is all about enjoying the process of preparing natural ingredients and letting them wash over your eggs to create a stunning palette. Beets, red cabbage, black beans and turmeric are just a few of the many ingredients you can use to get beautiful end results: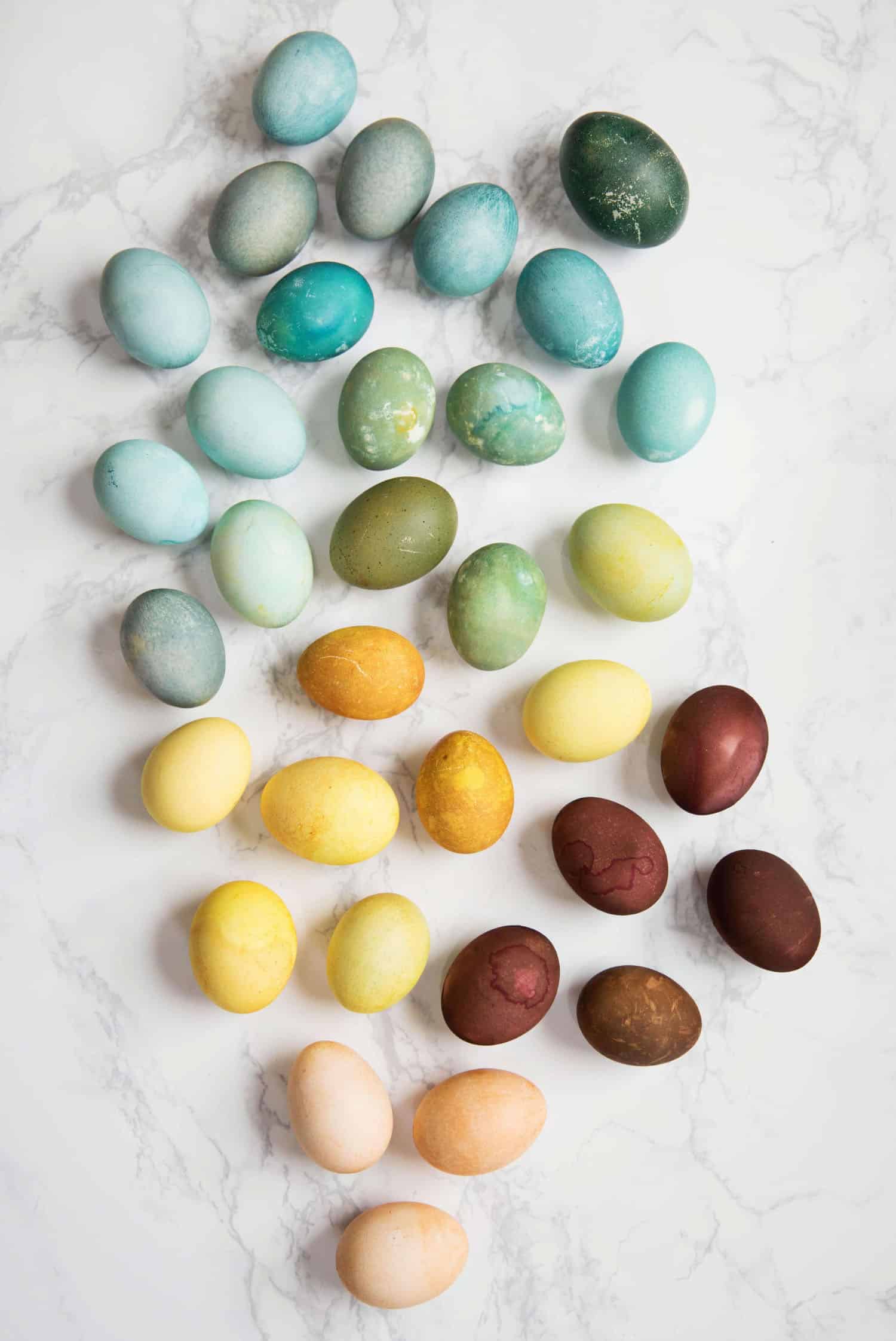 Whether your Easter is bustling or low-key, take joy in creating a beautiful day for your nearest and dearest. From affordable decor options to special DIY projects, there are design solutions for any budget and timeframe. Your Easter decor should reflect your style and be stress-free.
Instead of obsessing over details, menus and frills, have an overall focus of making the day a special one. Gravitate toward the colors that inspire you, the textures that comfort you, and the overall sense of what this holiday means to you. Planning takes time, but thanks to a wealth of design inspiration at our fingertips, you can have a lot of fun along the way! We at Decoist wish you and yours a colorful Easter and spring!
You're reading Easter Decor Ideas for Design Lovers, originally posted on Decoist. If you enjoyed this post, be sure to follow Decoist on Twitter, Facebook and Pinterest.