Measured Architecture opens up a '50s split-level to spectacular views.
Architect Clinton Cuddington didn't even have to visit this 1950s split-level home in North Vancouver to have a good idea of what it was like, so common is this housing style in the region. "It falls within a very distinct typology of building, which was indicative of the '50s and British Columbia," says Cuddington, who leads Measured Architecture.
A site visit soon confirmed Cuddington's hunch, as the entry to the long and lean home immediately opens onto a stair landing. "In this typology of structure, you enter mid-span and you rise up to the living, or you descend down into the basement," says Cuddington. "A version of it in Vancouver is called the 'Vancouver Special.'"
"The first impression on the walkthrough was that it had these incredible, long views. It's a long view that rivals Versailles," says Cuddington with a laugh. "So, we immediately started to think about the ways in which the building could be responsive to the site."
The homeowners, a couple with two children, relished the deep, tree-lined lot. They needed better sightlines to the yard, not just for their enjoyment, but for safety as well, since bears are common in the neighborhood. Measured Architecture responded by installing floor-to-ceiling sliders and windows all along the rear, creating unimpeded views from the kitchen and dining room.
Before: Rear Facade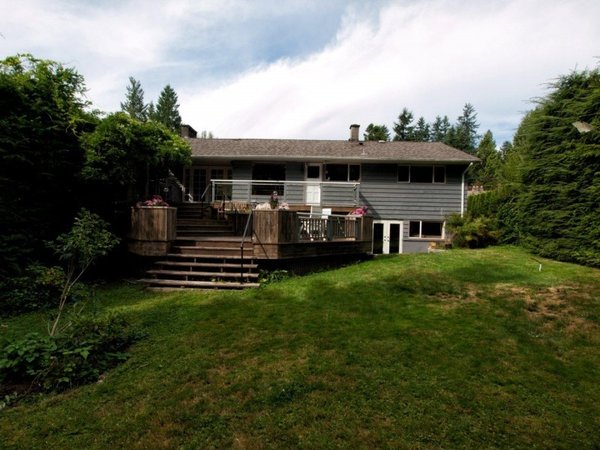 After: Rear Facade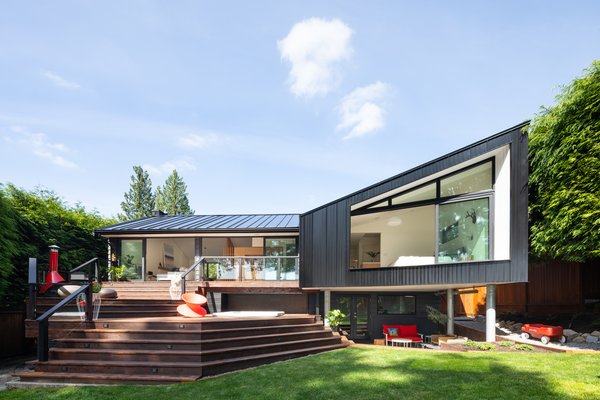 See the full story on Dwell.com: Before & After: A Humdrum Midcentury in Vancouver Gets an Origami-Like Addition