There are plenty of different ways in which we have already seen attics being revamped to meet the demands of homeowners who wish to utilize the additional space. But this attic apartment renovation in Madrid is something truly exceptional and showcases an entirely new possibility. Designed by Marcos Duffo and Mariana de Delás, the apartment was previously a poorly planned unit with multiple unnecessary internal partitions. This create a cluttered and boring living environment that was just not practical. Its new owner wanted an attic apartment that was ideal for rental purposes and that gave birth to this novel idea where one seems to find a home inside the apartment shell!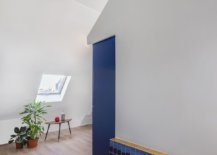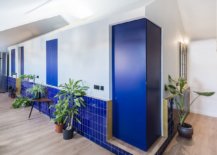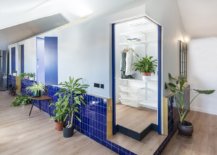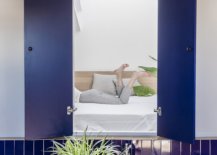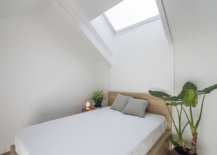 The projected started with the removal of all internal partitions and old, non-essential features and a change in the size and number of the skylights used. This automatically improved ventilation indoors and offered a more spacious and visually cheerful setting to work with. The 58-square-meter apartment space was divided into two zones – the public area that was left open and would contain the kitchen dining and the living area and the private zone with two ensuite bedrooms. But it is the execution of this simple plan that leaves you spellbound.
An entirely new volume with its own slanted roof and skylights was designed and was covered in white and bright blue to usher in a vibrant Mediterranean style. This completely transformed the once dingy attic home and wit two small, space-savvy bedrooms that feature attached bathrooms, the ingenious room-within-a-room steals the spotlight almost instantly! [Photography: Imagen Subliminal]
You're reading Creating a Private Home Within a Home: Chic Attic Apartment in Madrid, originally posted on Decoist. If you enjoyed this post, be sure to follow Decoist on Twitter, Facebook and Pinterest.