Not only are IKEA rugs affordable, their accessibility and appeal repeatedly put them in the spotlight, especially when it comes to room makeovers. The most popular IKEA rug with design bloggers is STOCKHOLM (shown below), as the staggered black-and-white stripe motif is compatible with a range of palettes and design styles. Some would go as far as to call this rug a design staple. Today we're featuring four of IKEA's versatile rugs and sharing ideas of how to showcase each of them in your home. Great design doesn't have to cost a fortune!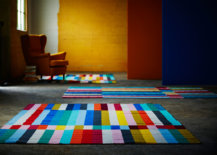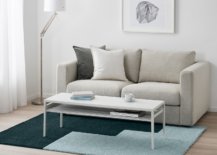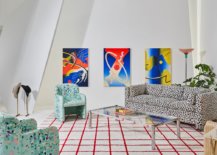 STOCKHOLM
As mentioned, STOCKHOLM is the unofficial IKEA rug for design lovers. It's a basic black and white stripe, yet the broken stripe pattern adds another level of interest. STOCKHOLM's biggest claim to fame is its versatility. Because it's so classic and clean-lined, it can blend with a range of decorative styles, from the traditional to the modern. It can veer minimalist or high end. It's universally loved yet it's anything but boring. [photo below by Minette Hand via Apartment Therapy]
STOCKHOLM is surprisingly affordable for a 100% wool rug. While its largest size is $299, the rug in the 5′ x 7′ range is only $199. That's a lot of design bang for your buck! While we're focusing on the black and white version of the rug today, also note that it's available in both gray and white and red and white versions.
While the rug will easily look at home in a variety of interiors, popular items that often accompany it include leather and velvet furnishings, gold-toned accents, and lots of houseplants. Deep blue is a popular upholstery fabric for furniture displayed near the rug. Some design lovers gravitate toward STOCKHOLM because they're decorating a room that's entirely black and white. Others use it as a neutral base for vibrant items such as throw pillows in radiant hues. With this rug, you can't go wrong. Hence its popularity.
HALVED
If you love a good striped rug, consider HALVED to be STOCKHOLM's colorful sister. A collaboration between IKEA and London-based design studio Kapitza, HALVED instantly brings vivid design home. Another affordable gem made from 100% wool, this rug takes on different looks depending on where it's displayed. Count on it to tie everything together in a room filled with vibrancy, such as the ultra-colorful space below.
As you can see in this next close-up, the rug features an asymmetrical design, complete with a petite band of colorful stripes on one side. It's easy to stare at this piece and count the colors, noting how each stripe contains four different lines in a range of hues. The result is both playful and radiant. The versatility comes from HALVED's ability to be an anchor in an already colorful space, or to be the colorful focal point in a crisp, neutral space. You decide!
The next two images are taken directly from Kapitza. Founded in 2004 by sisters Nicole and Petra Kapitza, the design studio is known for its colorful art. Kapitza has collaborated with clients ranging from Clinique to Gucci. Their IKEA collaboration proves that rugs are colorful artwork for the floor.
Whether you showcase HALVED in a room with a rainbow motif or you let the rug speak volumes against a neutral backdrop, it can't help but sing with color. And that's worth celebrating!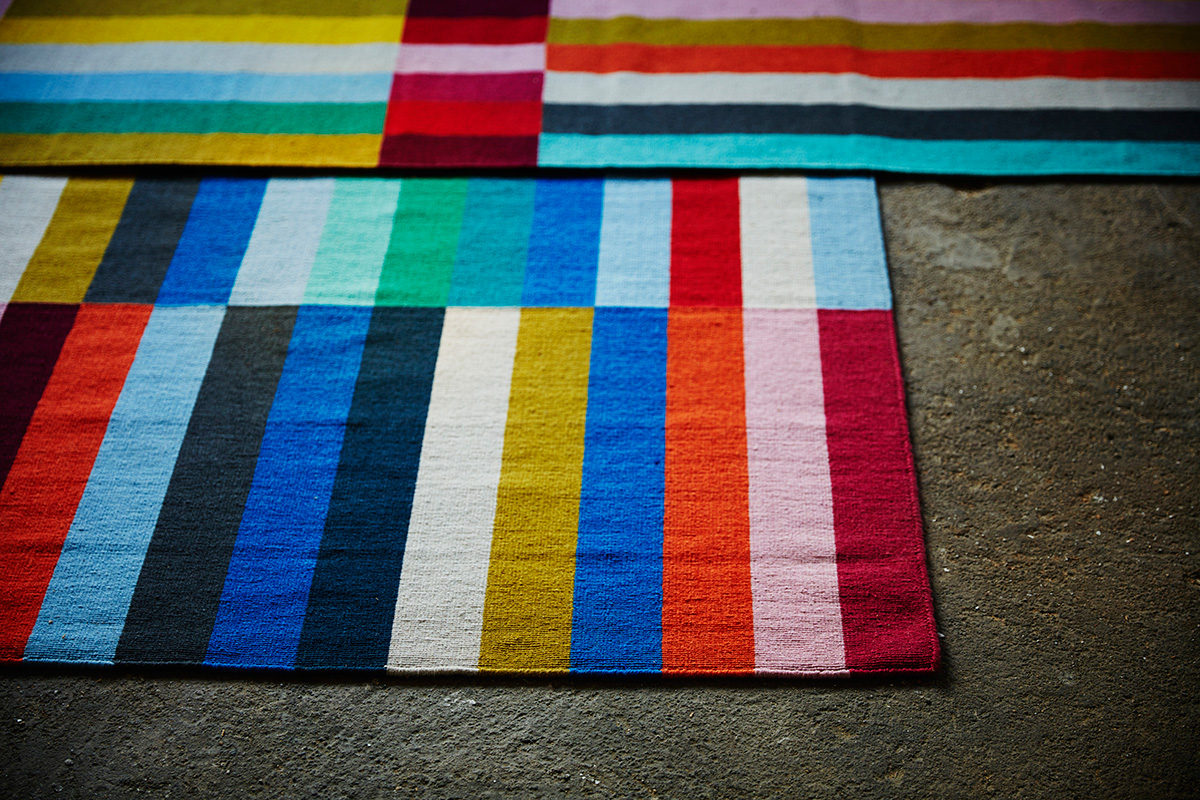 SIMESTED
SIMESTED makes a simple yet powerful statement with its red grid on a white background. One of the most interesting things about this rug is its ability to instantly evoke a retro feel, particularly when it comes to 1980s design. However, it's wonderfully clean-lined enough to fit into any context without channeling a specific decade. Below we see four of these IKEA rugs lined up to create a large floor covering in the home of artists and business owners Chris Willcox and Caitlin Jones. Asparagus is the couple's resale business, which features impeccably curated retro items from a range of decades. [featured at Architectural Digest]
Did we mention that the couple's home is a former 1980s dance club?! Below we see a close-up of the piece, which was designed by Kangan Arora. Like each square in the design, the rug itself is a perfect square: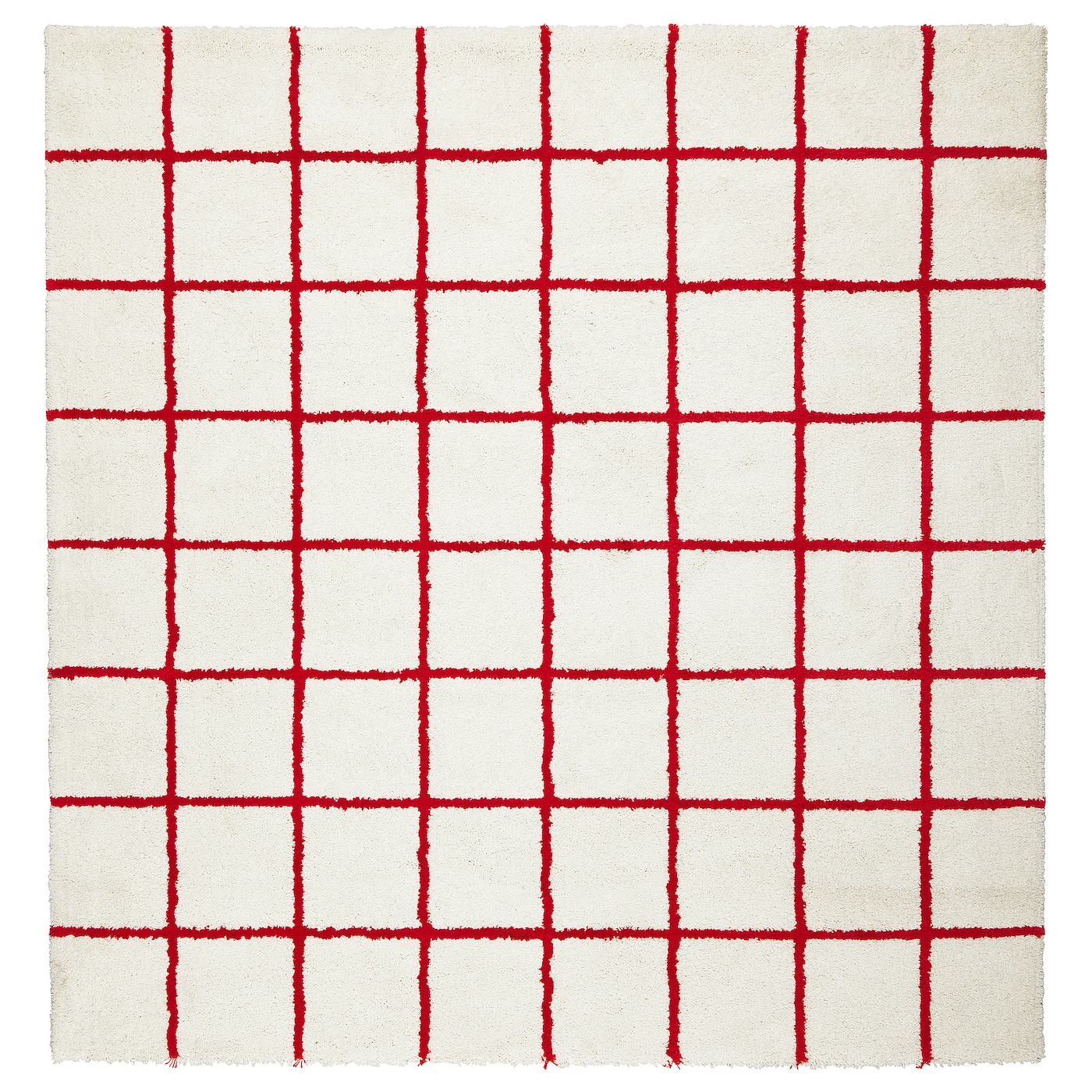 How you choose to style SIMESTED depends on the look you're going for. In an all-white room, the red can really pop, especially when other red accents are nearby. The look is fresh, crisp and bold:
When placed in a room with other colorful items, the rug becomes a part of a story rather than the prime focal point. Note how the mix of patterns in this next featured space is inviting and intriguing, especially when offset with refreshing white walls. Reds, yellows and blues are standout hues in this room, which is filled with light and personality:
KONGSTRUP
Two-toned geometry is the name of KONGSTRUP's game. Like SIMESTED, this is a high-pile rug, and its impact comes from the use of striking form and color-blocking. Another masterpiece from Kangan Arora, KONGSTRUP tells a color story on your floor, easily able to anchor a room and inject a cool-toned burst of color. It's chill, yet it gets noticed.
The rug's stair-step design is a beautiful blend of light blue and green, which creates the perfect marriage of soothing and deep. Light and darker combine in a seamless display of design magic. KONGSTRUP is artistic without being over the top, and as with all of today's featured rugs, there's a clean-lined look and feel that makes the piece appealing to design lovers.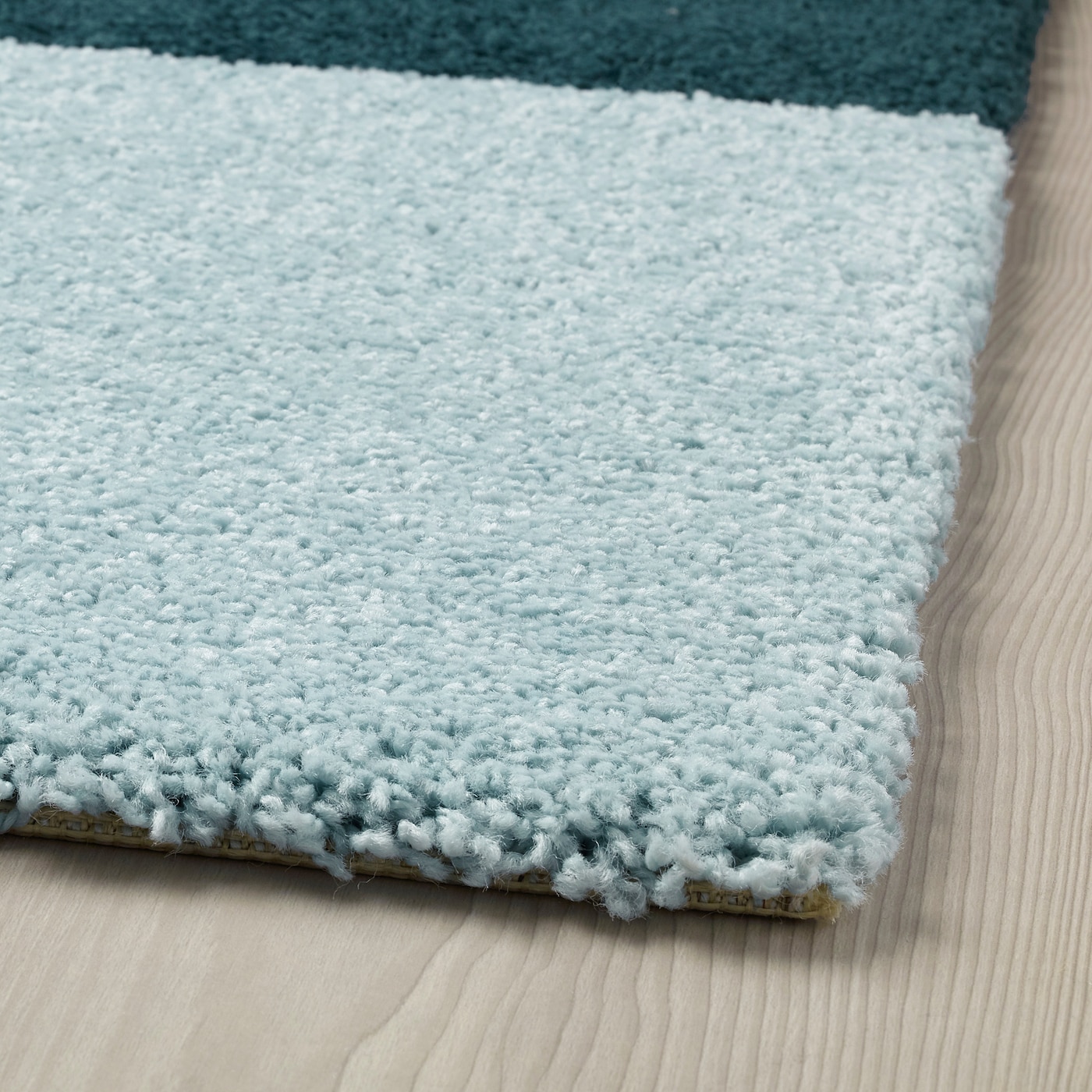 The last featured photo has a still life quality to it, proving that this rug can take on a high-end artistic look, especially when juxtaposed with interesting lighting and sculptural forms. Don't hesitate to pair it with other cool tones, such as mint. Rosy hues, which are perfectly on trend, provide an ideal contrast, as shown below.
Rug shopping has never been easier, thanks to IKEA. Are you drawn to classic black and white stripes, or do you prefer a rainbow of color? If you're into retro-modern design, would you feature a red and white grid on your floor? Or do you gravitate toward the cool yet bold look of a stair-step design in minty blue and dark green?
Each of today's featured IKEA rugs has a versatility about it, thanks to clean-lined design and an ability to take on different looks based on the surroundings. Thankfully these pieces have affordability on their side as well, making them appealing choices for those on a budget. Happy decorating!
You're reading These Versatile IKEA Rugs Have True Design Power, originally posted on Decoist. If you enjoyed this post, be sure to follow Decoist on Twitter, Facebook and Pinterest.