We are big believers in making the right first impression! That makes everything that follows a whole lot easier and this is true in case of home design and decorating as well. The entryway is a space that is often viewed from just a functional perspective. Yet, it can do a whole lot more than just bring value the interior with a space to hang all those coats and hats and put away muddy boots and shoes. It can be a setting for the perfect welcome; where your friends and guests are wowed with elegance and style. Be it the gallery wall in the entryway or just a slim console table in the corner, there are plenty of ways to decorate this room. But it all starts with choosing the right color scheme.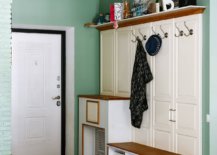 Normally it is white, gray or blue that you find most often in the entry room. Moving away from these color, it is yellows and reds that come into the mix. It is not every day that you find entryways in gorgeous green! Green entry rooms are a hot trend that seem to be taking over homes across the globe this summer. A color that can be added to the interior in more ways than just one, this is a look at the best and most beautiful green entryway ideas around. We are sure you will love them as well!
Lovely Wallpaper in Green
One of the easiest way to add green to the entryway is undoubtedly the wallpaper or the wall decal. This is both cost-effective and takes very little time to get done. You do not have to repaint on the walls and along with color, you also get a bit of pattern thrown into the mix. Custom wall decals obviously give the room a specific theme and this can range from tropical and beach style to traditional and farmhouse without any fuss. Inspirations below showcase how to add green using wallpaper to the entryway without compromising on ergonomics –
Shades of Green to Explore
Which shade of green do you want to use for the entryway? That is the first question that you need to ponder on before making other style and décor choices. Shades of green like Sage, mint green and light green with deep tones are perfect for the entryway and do not feel overwhelming. Brighter shades of green with a glossy finish can only be used in moderation; especially in entryways where there is ample natural light. You would want to ensure that the shade of green you pick easily transitions into the color palette of the living room next to the entry.
White and Wood Along with Green
A good color combination for your green entryway is to add a bit of wood and white to the setting to anchor the space. This can come in the form of ceiling, floor or even a series of shelves and cabinets and a backdrop in white is one that allows you to switch between styles even while using a bright hue like green.
Lighting the Green Entryway
There are different approaches you can take to lighting the entryway in green and our favorite option is a blend of sconce lights above the console table with a skylight that offer ample ambient lighting. Skylights also give the small entryway a much spacious appeal and this also ensures that rooms in dark green do not feel dreary or boring. If a skylight is not an option, then use smart recessed lights that are evenly spaced along with right accent lights for the best of both worlds.
You're reading Welcome with Color: Green Entryway Ideas for a More Refreshing Home, originally posted on Decoist. If you enjoyed this post, be sure to follow Decoist on Twitter, Facebook and Pinterest.