When it comes to modern homes, color is bit of a rarity in the past few decades. First it was cream, beige and white that dominated the 90's and early 2000's. Soon it was turn of gray to take over the mantle as the hottest neutral in town that does it all. Even when you have a colorful interior, it is often in the form of curated accents and sporadic décor pieces. But buckling that rend are recent apartments and homes of young homeowners who are demanding a lot more in terms of creativity and color. Crafted by spatiograf in Bucharest, this Colorful Apartment epitomizes the new idea of a more vivacious and elegant interior laced with bright hues.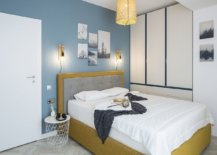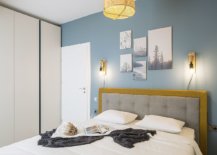 What you see inside this apartment is a living room where the backdrop is still predominantly white and yet it is the bright blue sofa that makes the biggest visual impact. This impressive use of color continues in the bedroom with navy blue walls and yellow accents, turquoise features in the adult bedroom along with yellow drapes and a bathroom where gorgeous green accents and a leafy mirror frame takeover. This ingenious yet classy use of color never disappoints and you have an apartment that has a bright and cheerful aura all around.
The furniture in the whole apartment is custom made, except for small pieces of furniture bought from the store. Dining table – a strong element in the kitchen due to its size and texture was executed by Kenosis, a workshop on solid wood in Timisoara. The ensemble is completed by a decorative detail, created by the Passibloom team from stabilized plants.
You're reading Navy Blue, Turquoise and Splashes of Yellow: Energetic Modern Bucharest Apartment, originally posted on Decoist. If you enjoyed this post, be sure to follow Decoist on Twitter, Facebook and Pinterest.