Fall is a time for celebrating the harvest and nature's bounty. No wonder we round up foliage and hang it on our doors as it begins to fall from the trees! While orange leaves and foam pumpkins grace many a wreath, today's post focuses on selections that consistently capture the eye of design lovers. Whether the look is decadent and plentiful or simple and modern, there's something striking about each of today's featured fall wreaths.
Not only have we rounded up some of our very favorites, we've included a DIY project at the end of today's post featuring a new take on wreath style. It's easy to get an abundant look when you mix something faux, something dried and something gathered from the yard! Keep reading for details…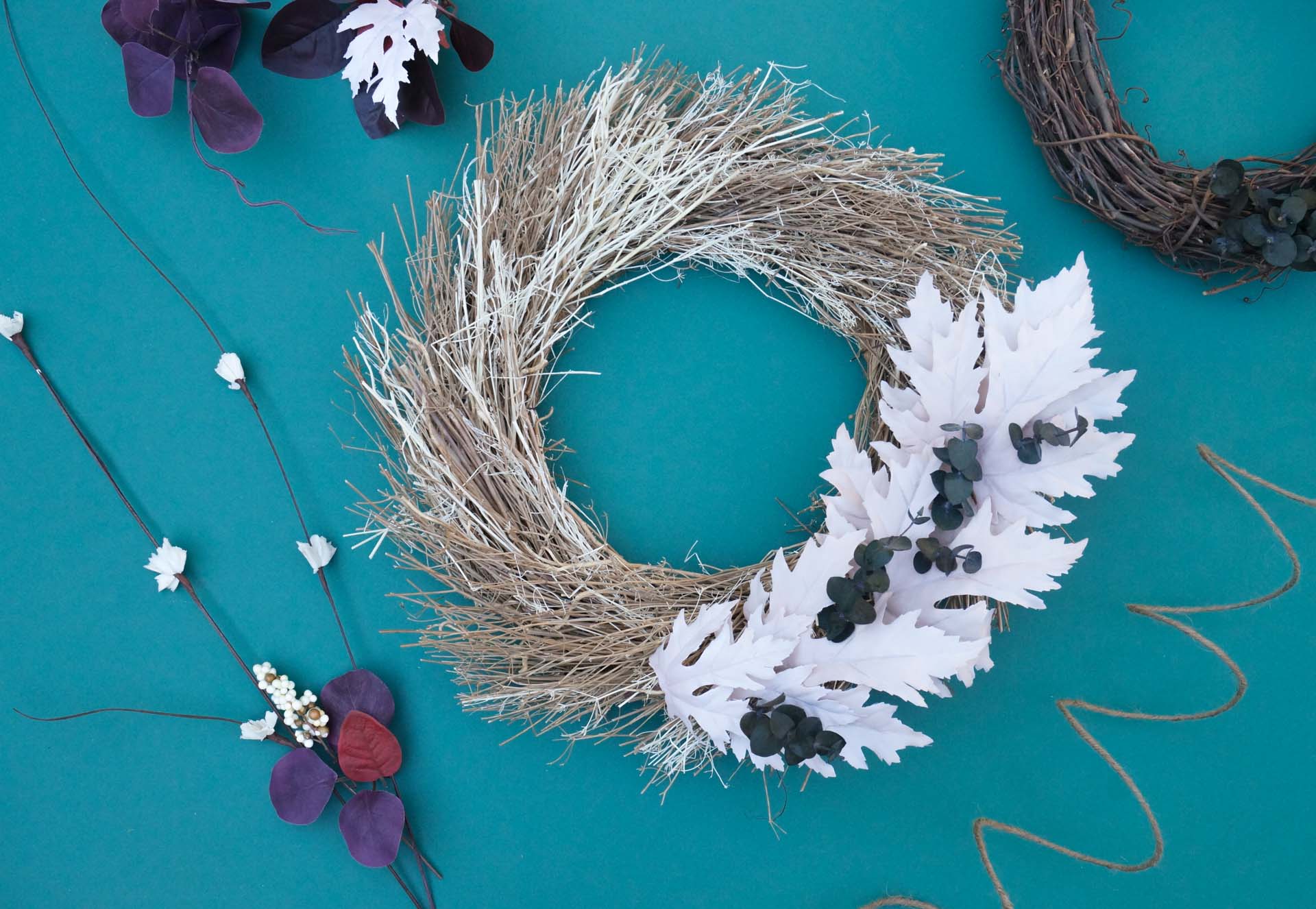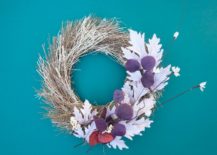 Fall Wreath Style
When it comes to fall wreaths, there are different styles and supplies that design lovers enjoy. From a "cup runneth over" approach to a "less is more" strategy, the effects are wonderfully varied. Two main looks that have made an impact this season: minimal and decadent. Minimal can range from a one-supply wreath to a monochromatic palette, as shown below.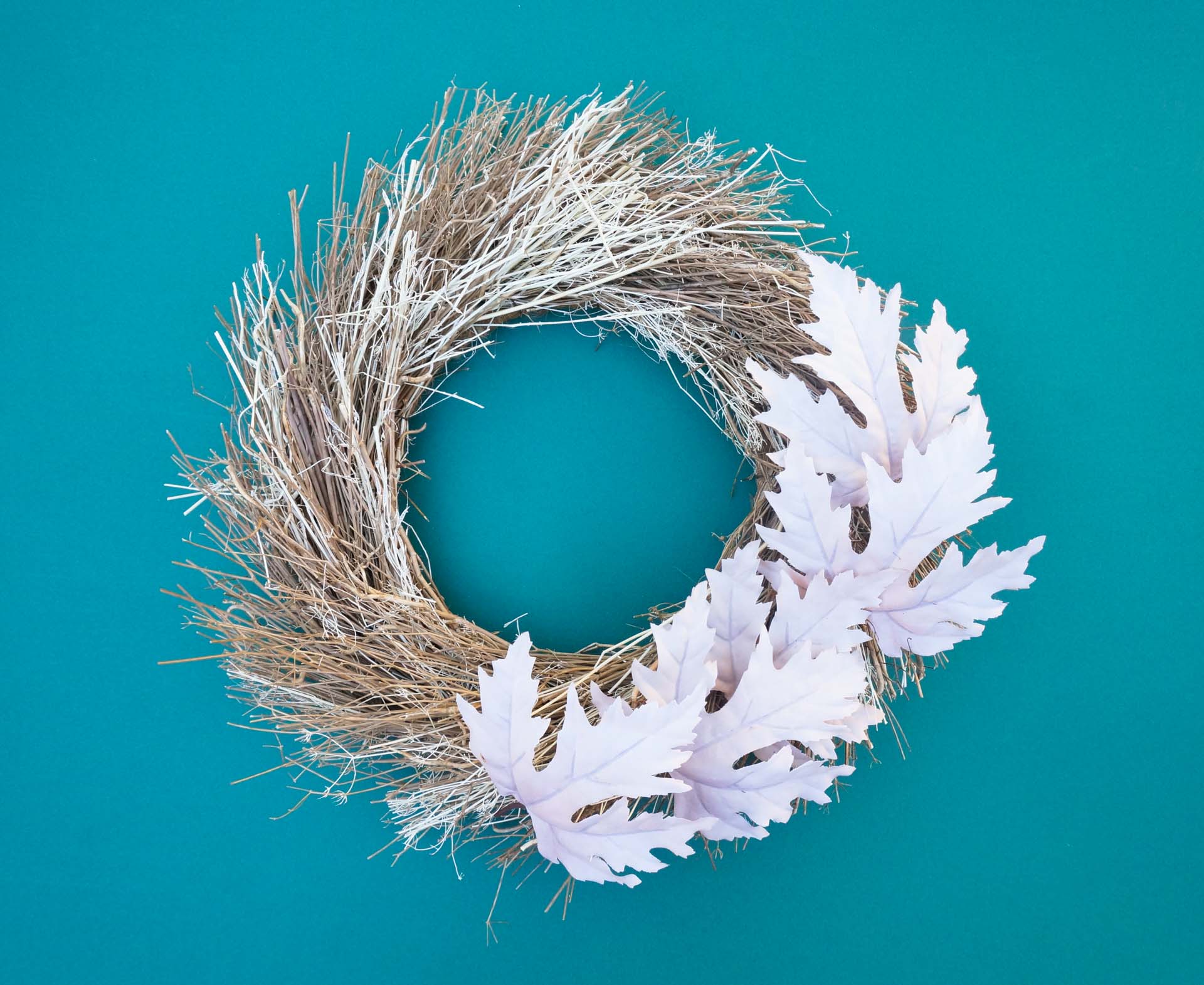 Decadent wreaths pack a lot of foliage into their frame. More is more, and beautiful details abound. Whether you're crafting your own wreath or shopping for the perfect front door statement piece, consider opting for a mix of real and faux foliage. For example, dried twigs make a great counterpart to fabric leaves. Plus, the real selections make the faux pieces seem more authentic, blurring the line between natural and manmade.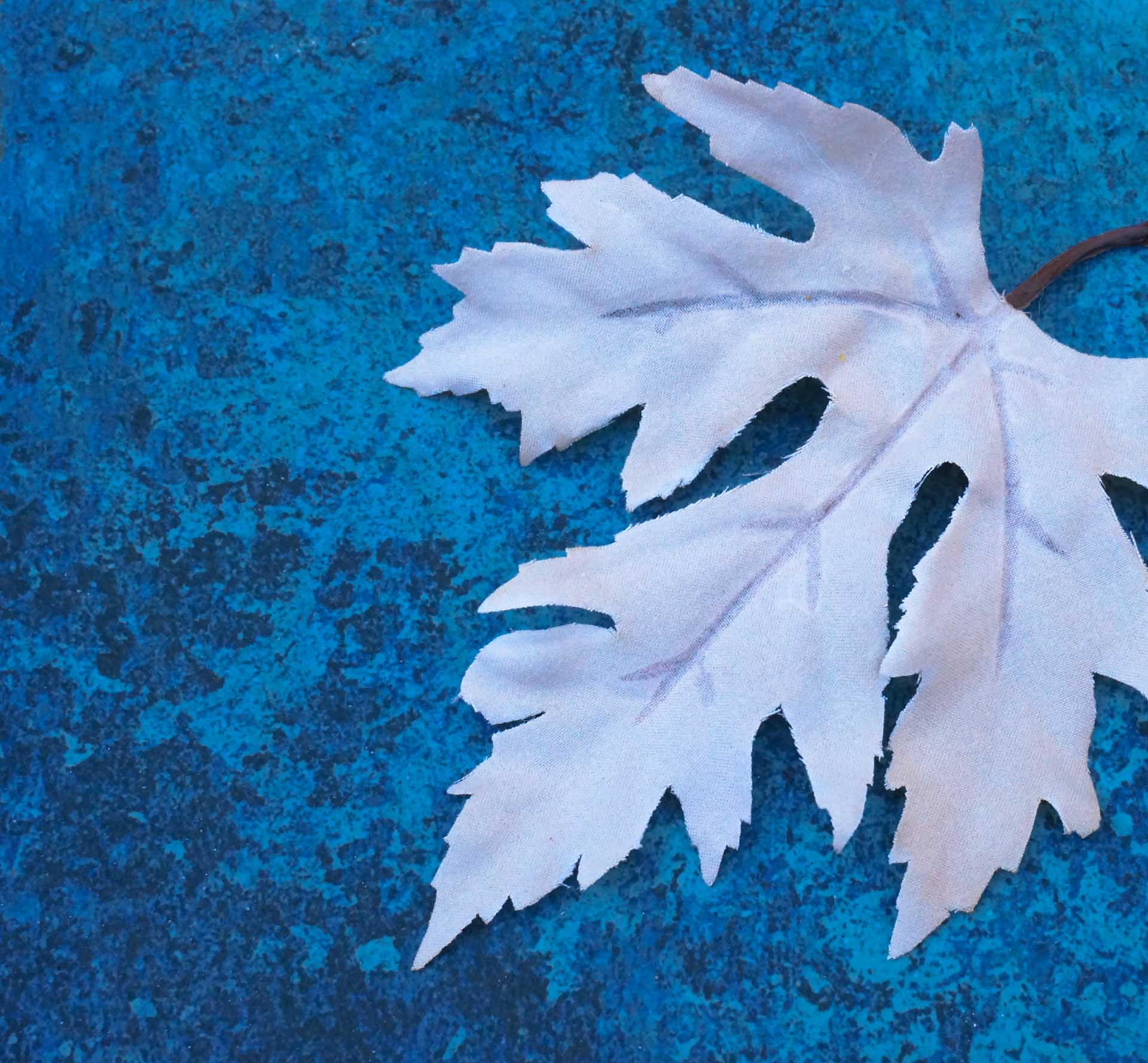 Make a bold statement by showcasing a simple arrangement, or go grand by choosing a variety of textures, shapes and colors that capture the essence of fall.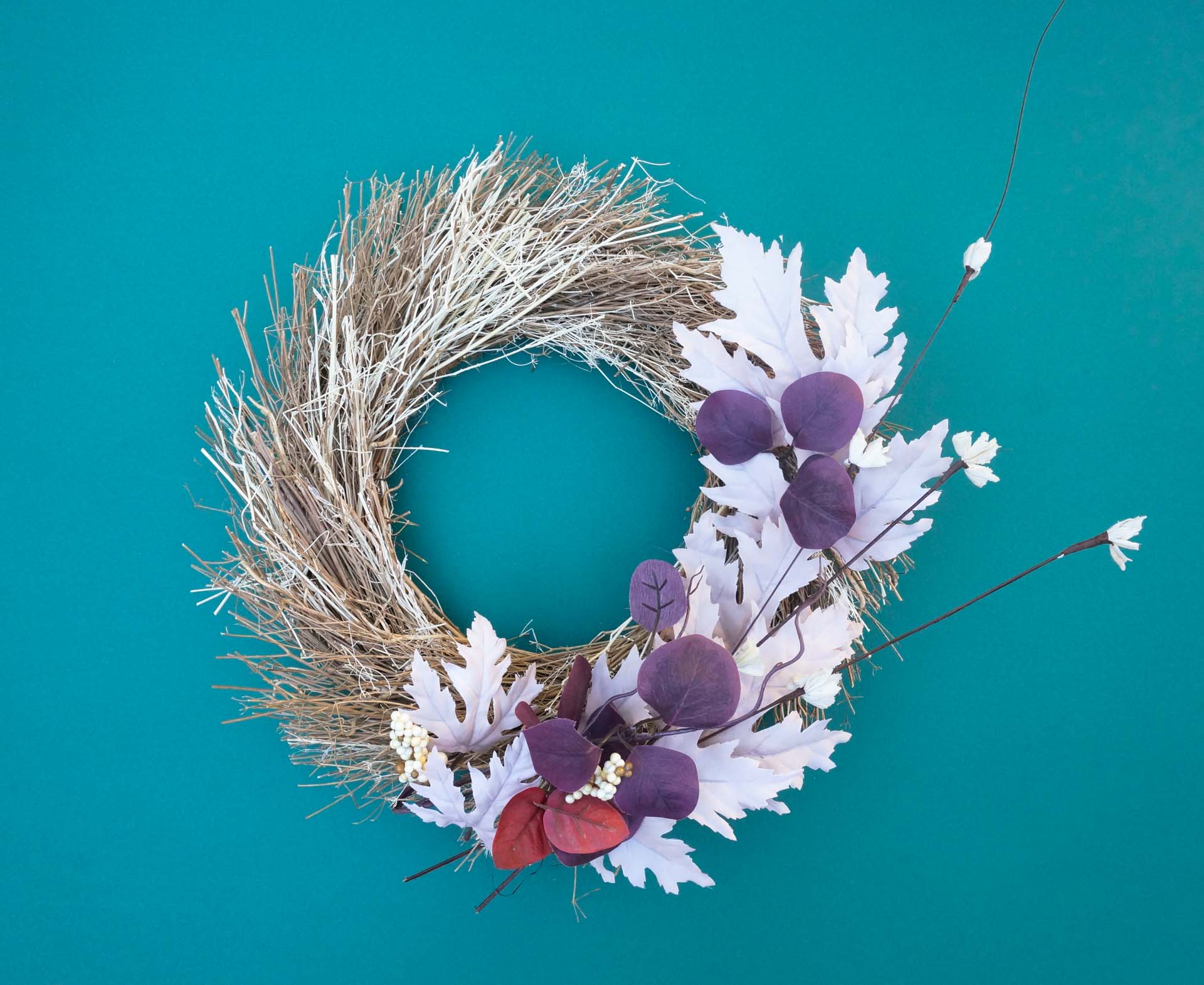 Shopping for Fall Wreaths
Let's begin with a fall wreath shopping roundup. 'Tis the season for glorious fall foliage, and the closer it gets to Thanksgiving, the more markdowns you're able to find. If you're looking to revel in abundance, Terrain is known for offering beautiful floral selections, often featuring dried and preserved items. This Birch + Preserved Ammobium Wreath features a lovely collection of foliage, including birch twigs, ammobium, orange safflower, Spanish moss, spruce pinecones, celosia and canella berries.
Searching for a bold statement using one key ingredient? Pinecone chips are the material of choice for Crate & Barrel's Pine Chip Brown Wreath. Not only does this wreath make a statement on your door, but it can also double as a tabletop centerpiece when candles are placed in the middle.
Simple, classic and chic, Anthropologie's Wheat Bundle Wreath lets the stalks speak for themselves, creating lovely movement and modern style. Natural Triticum wheat has never been so chic!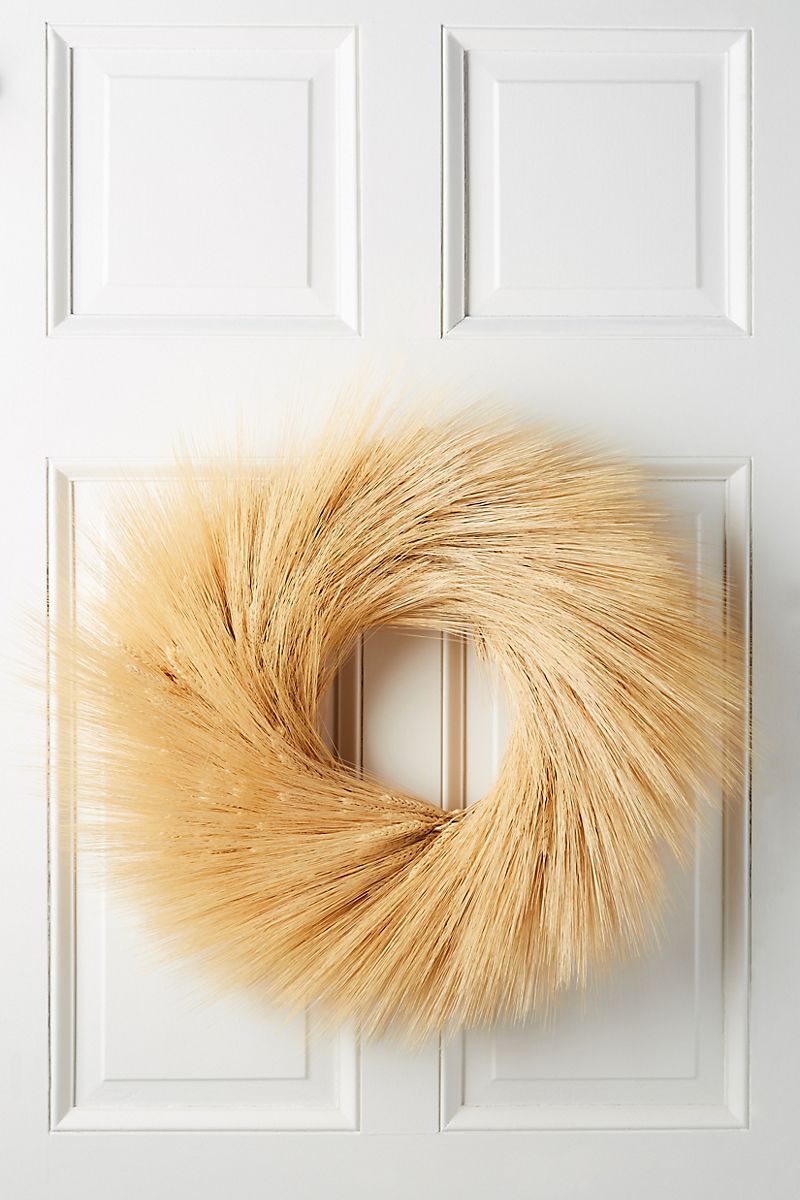 Similarly, monochromatic flair and beautiful fluidity are two highlights of Magnolia's Autumn Rice Flower Wreath. With a focused palette, more subtle hues such as cream and saffron can make themselves known. While the materials are faux, the amazing texture of each strand creates a realistic presentation.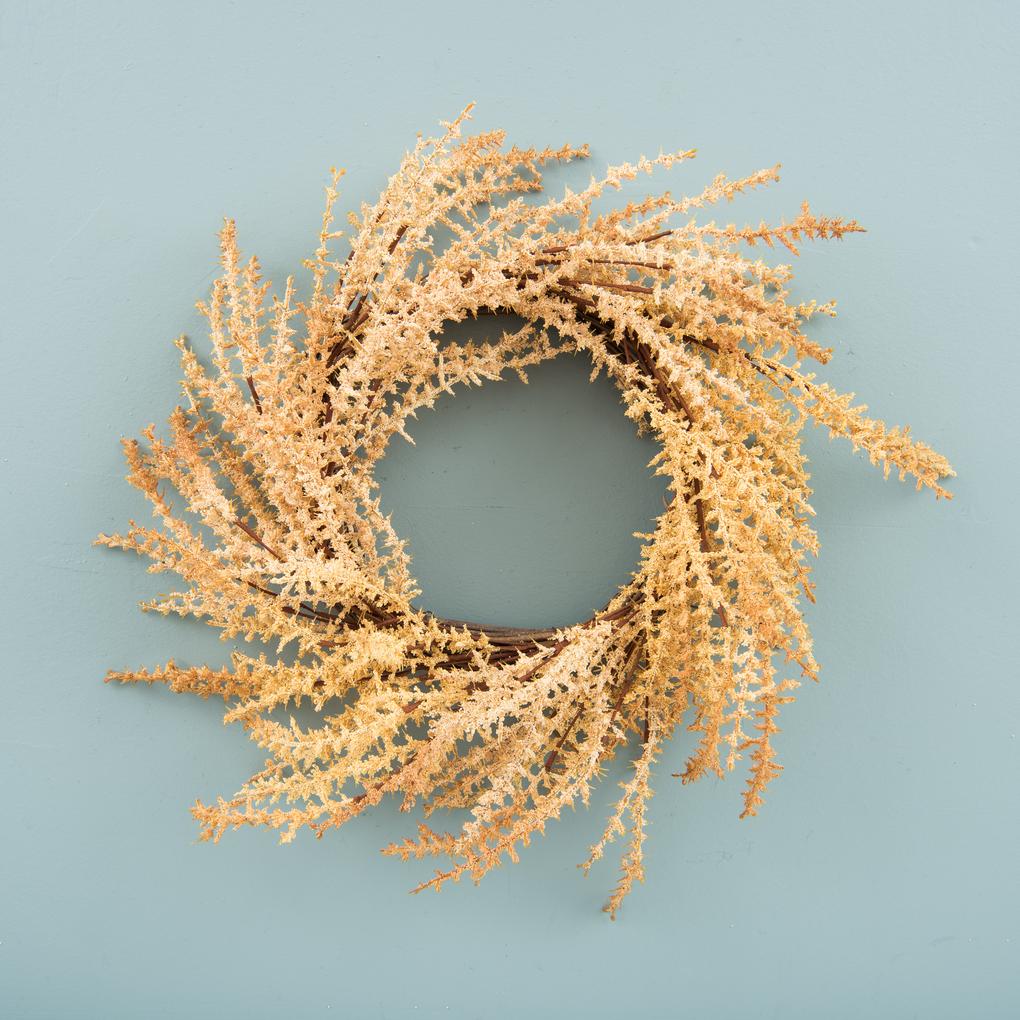 Don't discount the uniqueness of top design trends, such as metal hoop wreaths. Hues of green and wine grace this modern olive and eucalyptus wreath from Etsy shop Modsugar Design. The wreath is available in a variety of sizes, as well as silver, gold and matte black hoop options:
A DIY Fall Floral Bundle
Now that you have a sampling of fall wreaths, we'd like to present a fun design trend that's easy to create: the floral bundle. Decadence reigns, and the more foliage you have, the better! By combining a range of materials in an overflowing cluster, nature's bounty is the focus. While it's not the traditional round wreath form, this bundle can be showcased on your front door, an interior wall, or anywhere you want to make a big fall statement. Also note that switching out a few key selections with holiday-specific greenery can help this bundle easily transition to the winter months. Read on for easy DIY steps and styling tips. [project photos and styling by Kate Simmons]
Project Supplies:
an assortment of faux, real and dried foliage
floral wire or wired twine
scissors
a wire cutter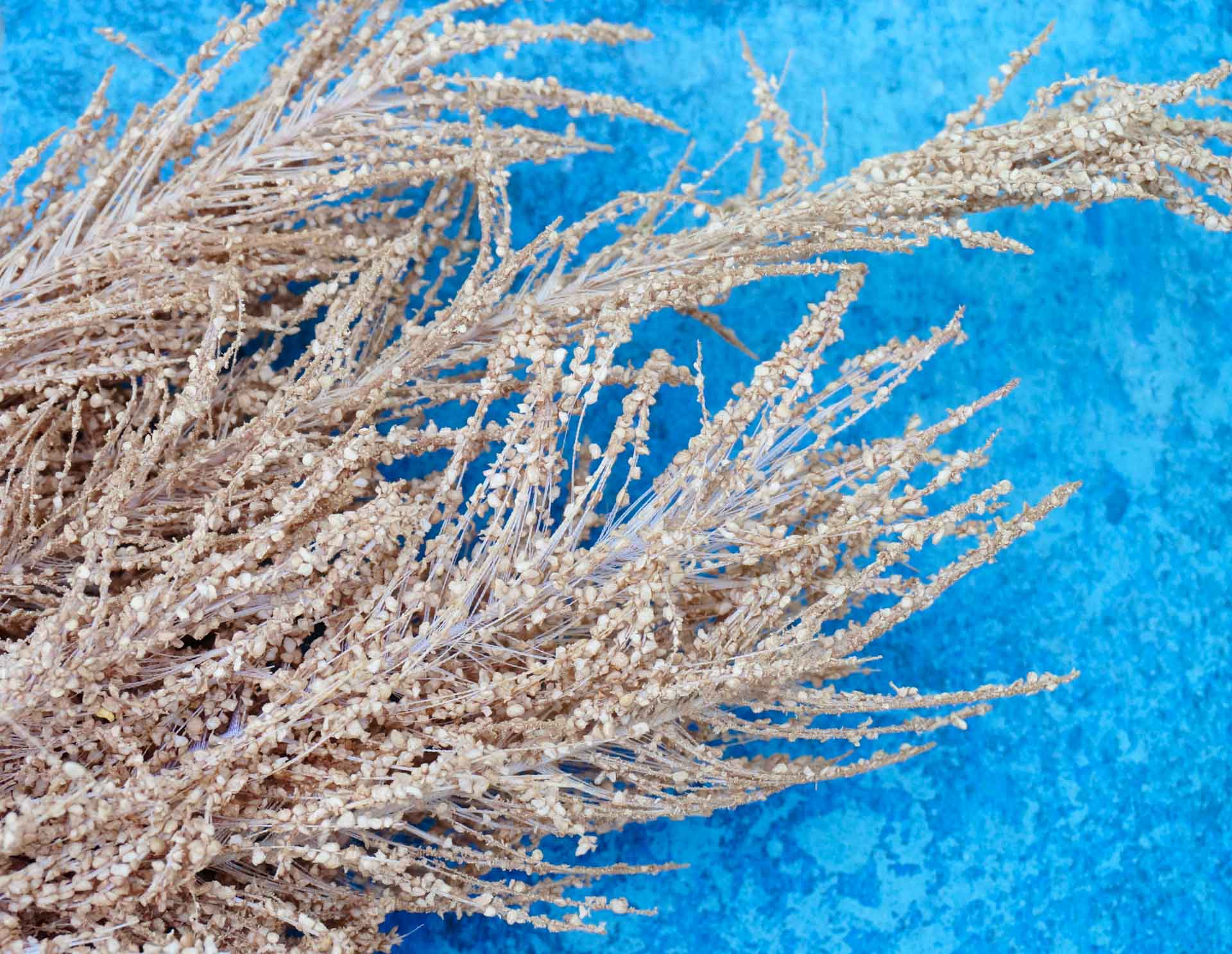 Straw-toned foliage works well for this project, along with shades of red and burgundy. Don't hesitate to bring in rich greens through selections such as striking leaves and dried eucalyptus. All of the foliage was purchased after Halloween, which meant major markdowns. The entire cost for the project was around $25.
While floral wire works well for holding everything together, wired twine is a great way to get the job done. It has an earthy quality that beautifully complements the arrangement, eliminating the need to hide it. Speaking of creative camouflage, you can minimize the faux look of manmade foliage by making sure leaves and blooms are putting their best face forward. Note how the leaves below are turned to the front, hiding the plastic veined backing that screams "fake".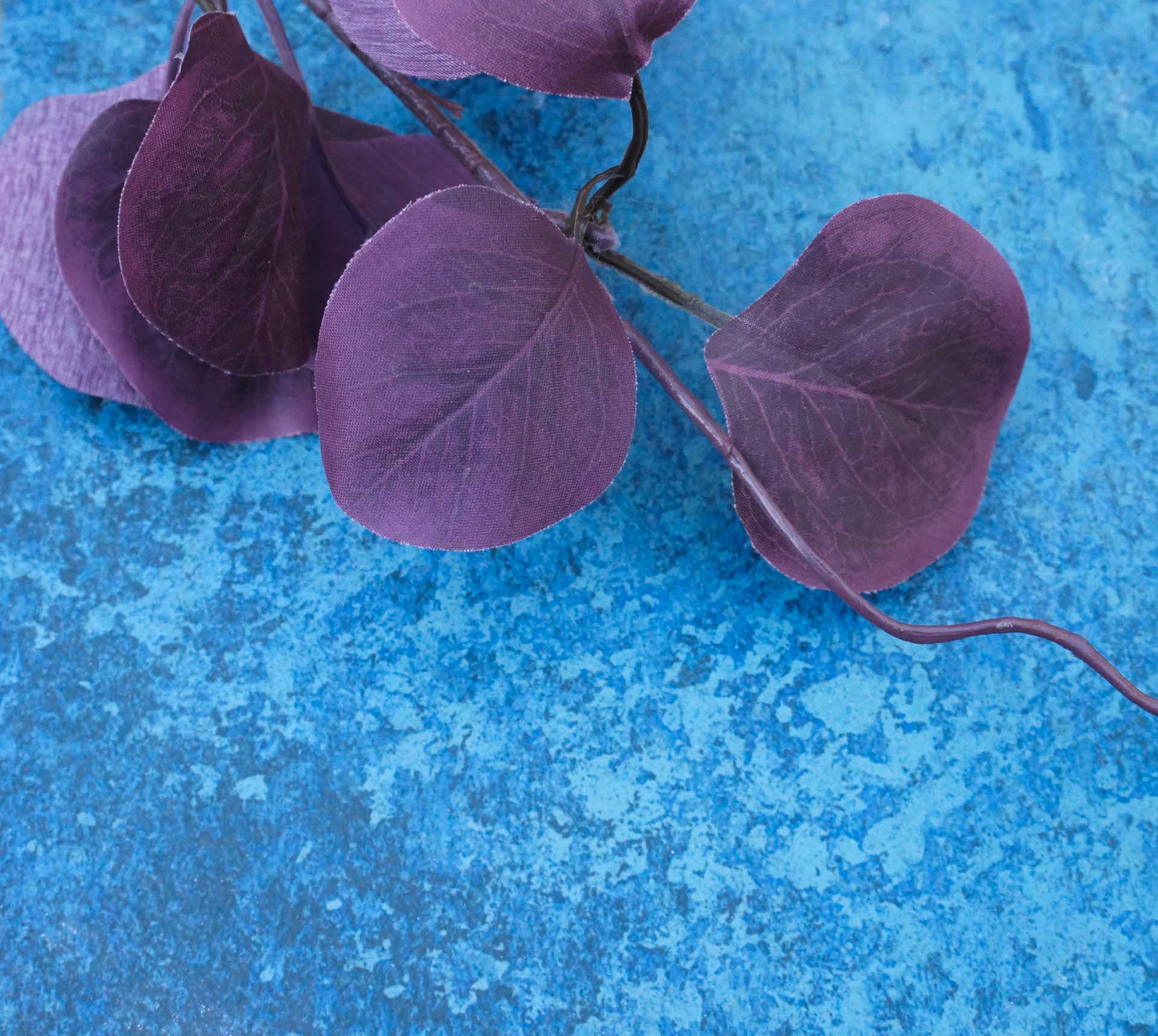 Ready to get started? Begin by bundling a few selections together with the wired twine, and continue adding more until you're happy with the result. It's that easy! Below we see the progression of foliage in a series of photos: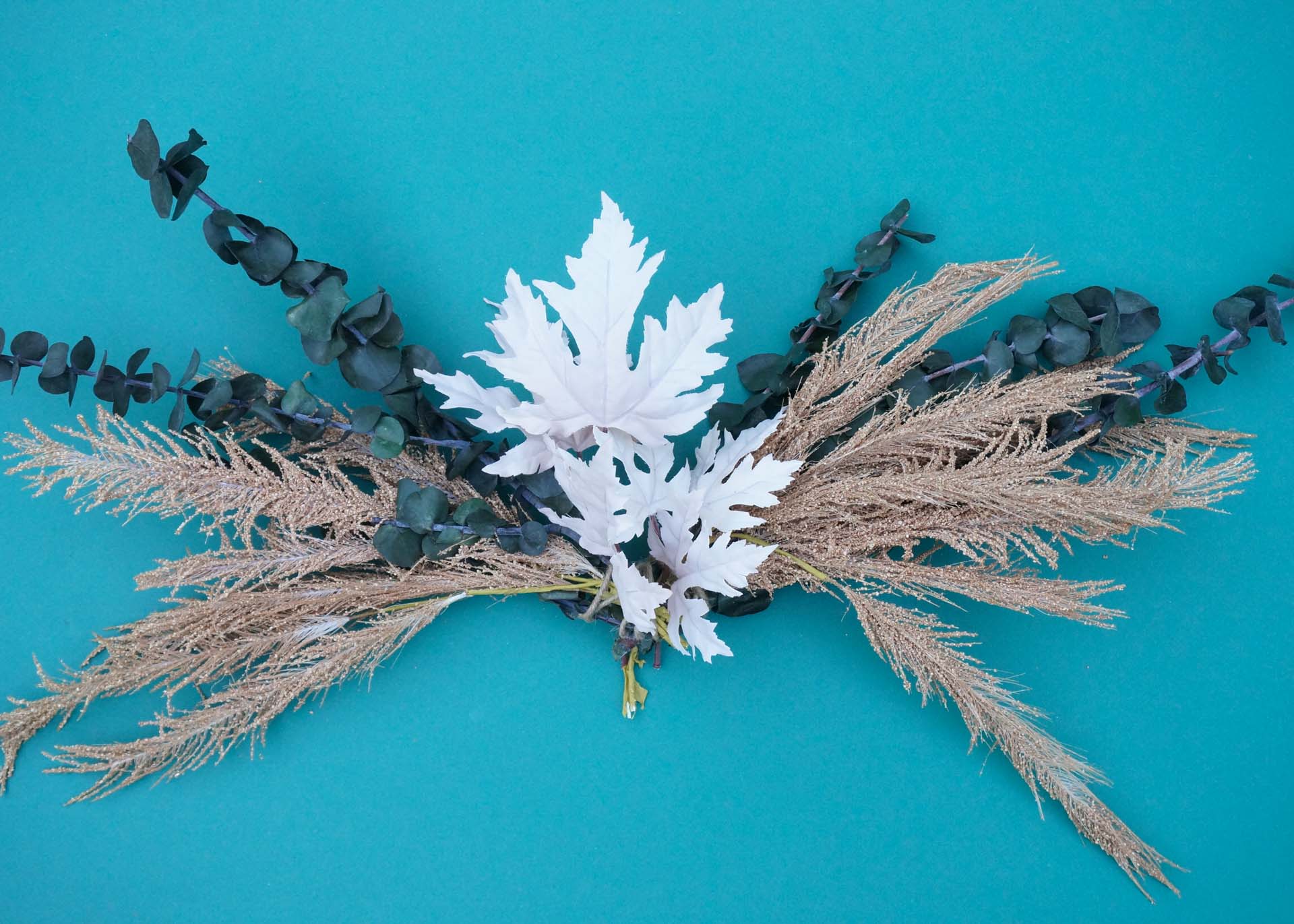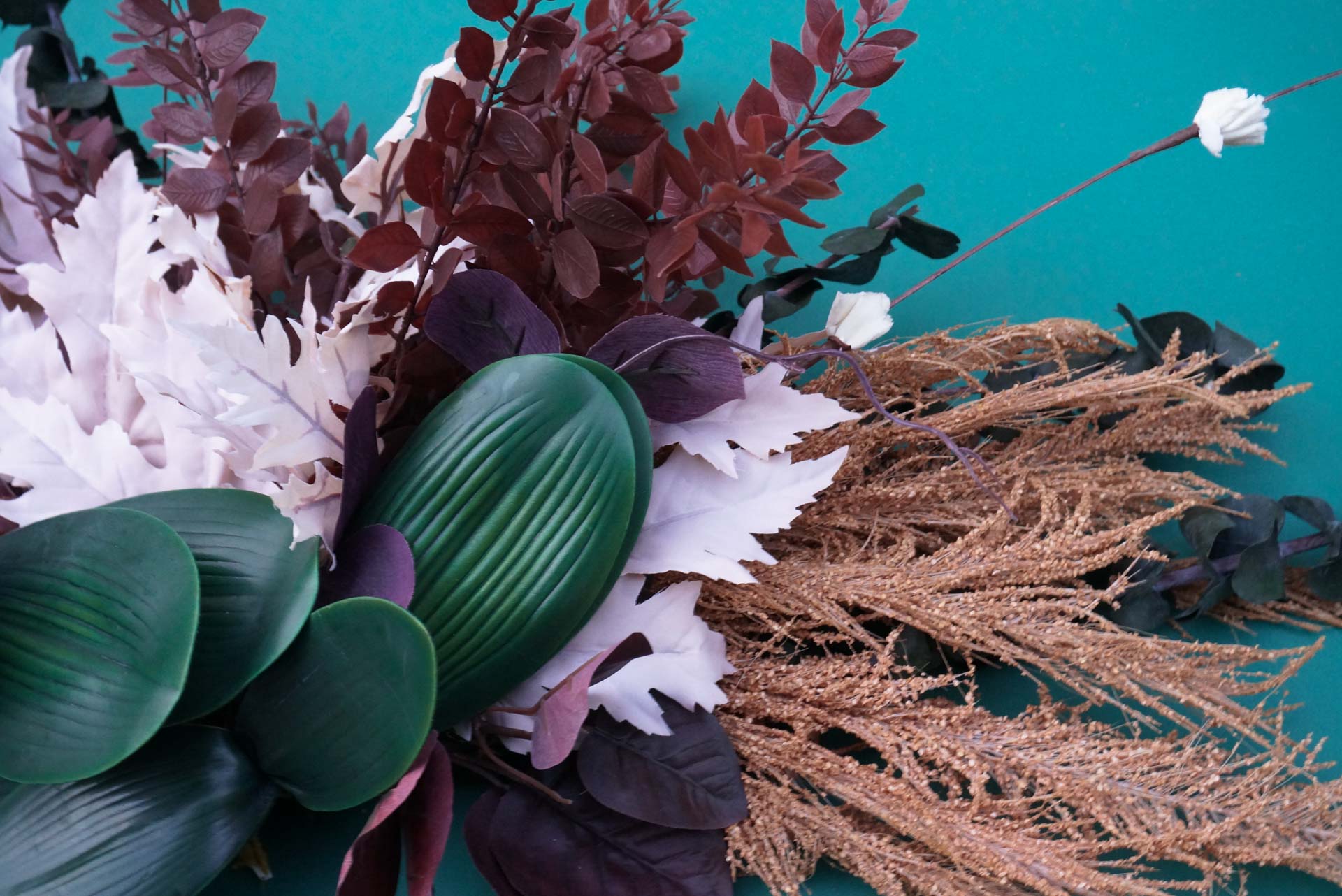 As you can see in the image above, dried foliage, faux fall leaves in the lightest shade of blush, faux orchid leaves and dried eucalyptus create a varied mix of authentic and manmade selections. There's diversity in texture and color, and for those who want an even bigger statement, there's room to add more. Consider large green leaves, pampas grass, pussy willow, and other favorites. There's no limit to how abundant the look can be, and while everything seems to have its place in this bundle, don't be afraid to create more of an overflowing, slightly chaotic finished product that has the appearance of a freshly picked, lovingly thrown-together bouquet.
Once you've finished your creation, display it with pride! Thanks for reading, and have a lovely fall.
You're reading Modern Fall Wreaths for Design Lovers, originally posted on Decoist. If you enjoyed this post, be sure to follow Decoist on Twitter, Facebook and Pinterest.