A Swedish Florist Turns a Schoolhouse into a Home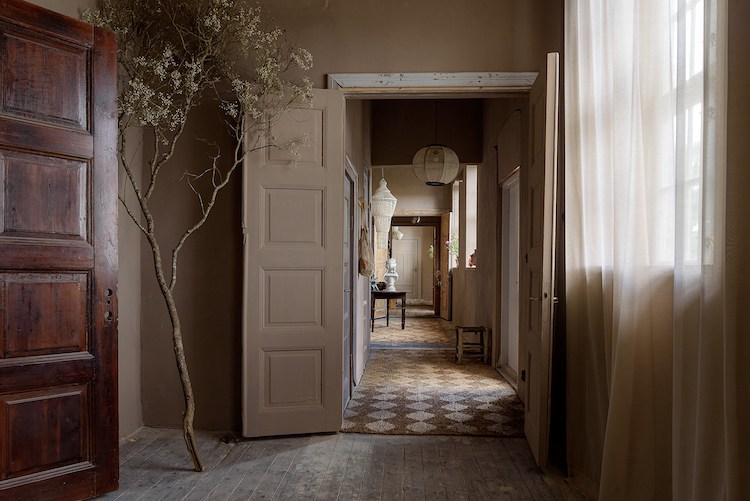 There are some people in this world who are blessed with a rare talent to transform homes into beautiful, distinctly unique spaces – which could also grace the pages of a magazine. Sofie is one of them. We first met at her lovely flower shop Florista in the heart of Malmö (featured in this guide). I'd often stop by to pick up flowers and have a chat while her loyal dog Farfar (meaning 'Grandad') sat and guarded the door. At the time, she was living in this flat.
Sofie left the city in pursuit of a country garden a few years ago, snapping up an incredible old school which she and her partner set about renovating and adding their signature stamp to the place. And now, I noticed on Bo-laget last night, it's time for the pair to move on once again – with Sofie taking up a job as a stylist in the fabulous eco-friendly store AB Småland in town. Which means, this beautiful house is waiting for a new owner. Could it be you? You're in for a treat if so!
In the large open-plan kitchen, Sofie has installed freestanding stainless steel units with open racks – giving the space a contemporary industrial touch.
Farfar in action behind Sofie!
I love the windows to the right – evidence that this room was likely used as a classroom in the past.
I've been seeing this check version of a seagrass rug pop up more and more in homes lately. It catches the light in the hallway in such a beautiful way!
Faithful Farfar again, guarding the stairs!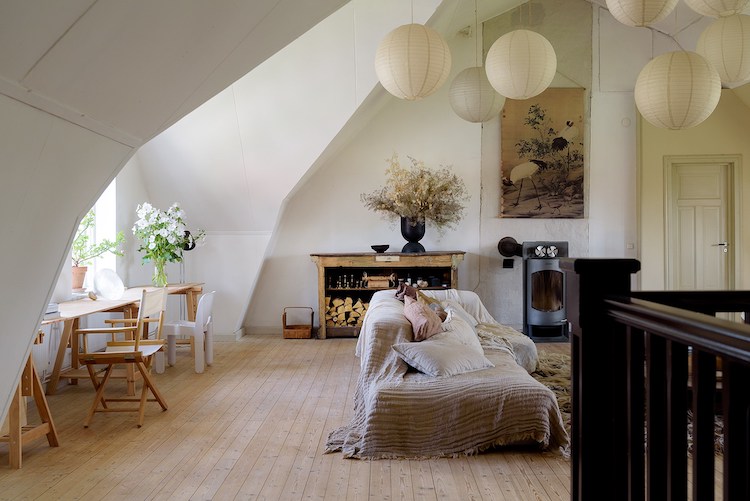 In true Sofie style, the sitting room is full of lush layers of texture and an amalgamation of styles. But the showstopper is the installation of pendant lights, don't you think?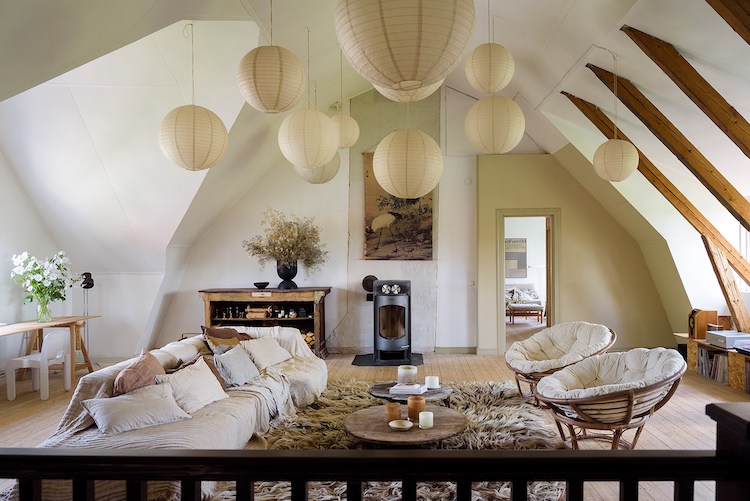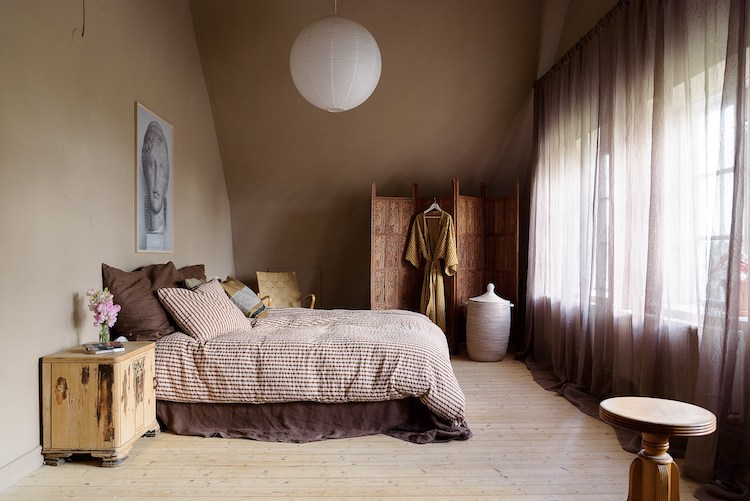 Sofie has a penchant for darker earthy shades, which help to add cosiness in areas like the bedroom.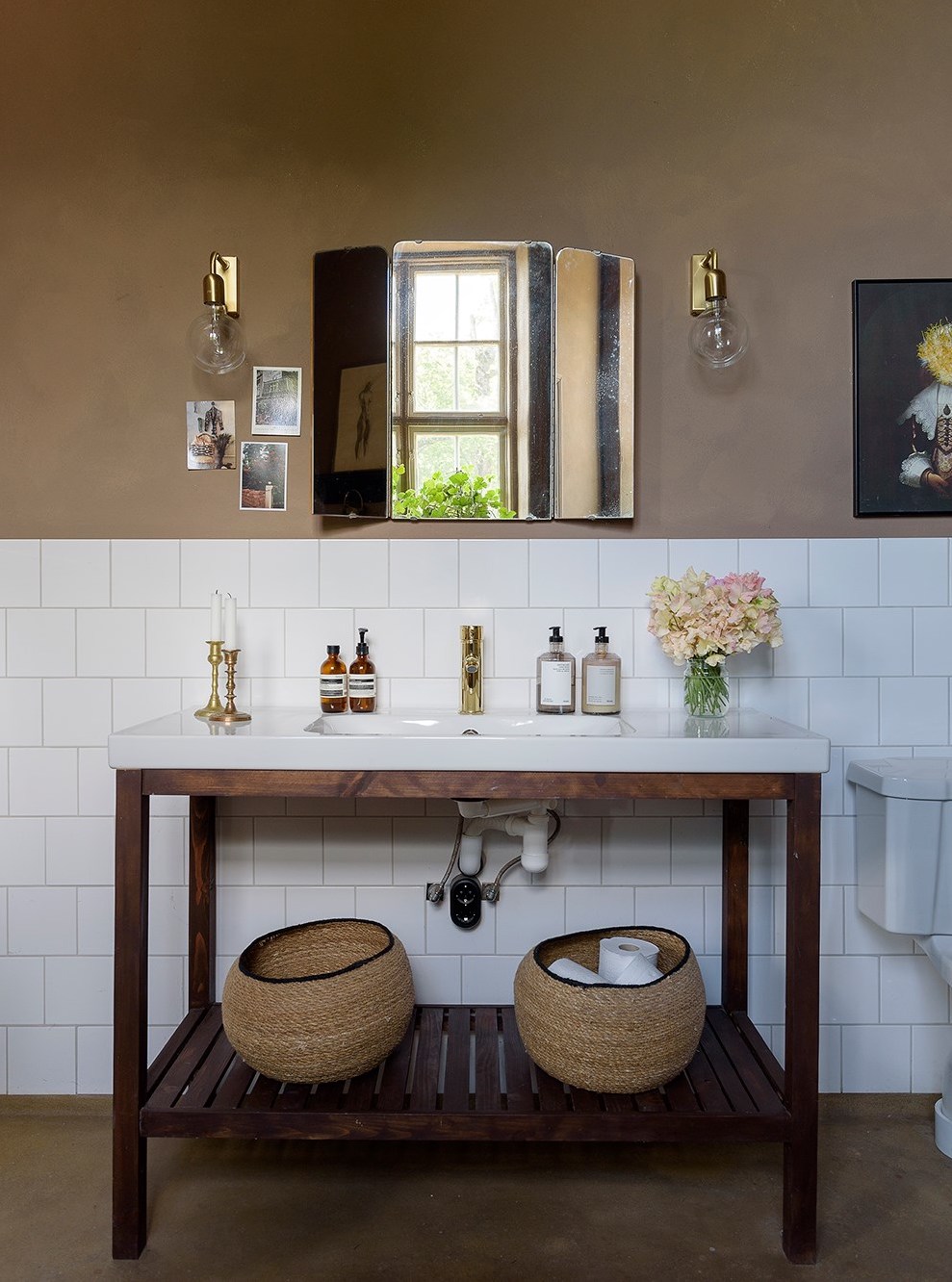 I absolutely love the bathroom! The combination of a deep earthy chestnut with white tiles, art and open shelving is spot on in my book!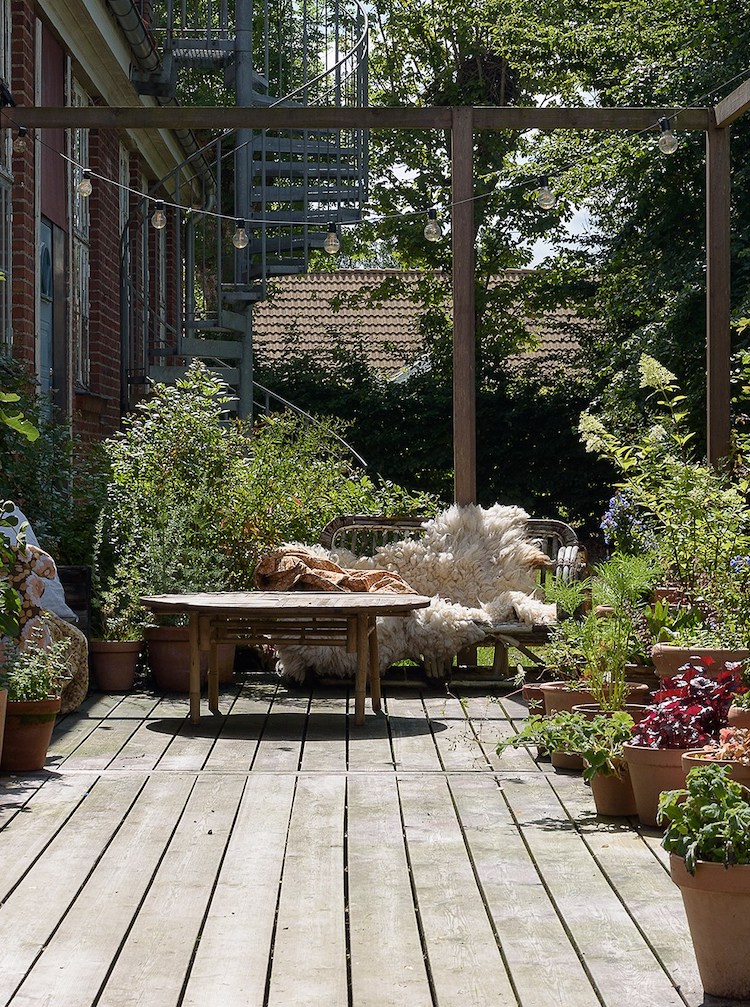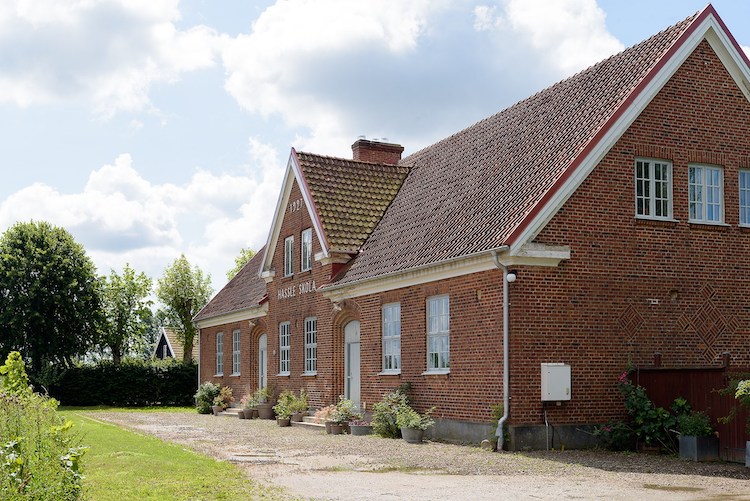 Beautiful. All of it.
Whoever snaps this up is very lucky, I have to say! I even checked it out myself but we're not quite ready to leave Malmö. More info here!
Also, if you missed it at the beginning, here is the link to Sofie's former apartment in town. I can't wait to see what she does next!
Would you like to see a few other schoolhouses? Here are a few I've featured in the past:
A beautiful family home in a Finnish schoolhouse
A rundown schoolhouse becomes a Swedish family home
An old school becomes a light and airy home
My friend Louise's home in a converted school
Here in Sweden we're gearing up for the big match in the women's World Cup – Sweden Vs Japan. The bacon sandwiches are ready and coffee is on the boil! May the best team win!
I hope you have a fabulous weekend!
Niki
Photographs courtesy of Bo-laget.
FILED UNDER:
converted schools
earthy home
swedish home