The Halcyon Modern Houseboat: A Floating Oasis on Lake Eildon
This modern, floating oasis on Australia's Lake Eildon will have you wanting to trade land for water in a split second.
Residing on the pristine waters of Lake Eildon, about a two-hour drive outside of Melbourne in Australia, this architectural marvel challenges tradition with its seamless blend of form and function. Designed by Jolson, the Halcyon is not just a modern houseboat, but an enviable floating dwelling that feels unconfined. Halcyon leverages Jolson's combined architectural experience and local familiarity to create a design that draws inspiration from dynamic watercraft, like ships and speedboats, and infuses a sense of motion into the structure.
The name "Halcyon" not only signifies a happy and peaceful period of the past, but also the mythical bird believed to calm winds and waves. Just like its name, the Halcyon houseboat delivers an idyllic and serene escape from the hustle of daily life.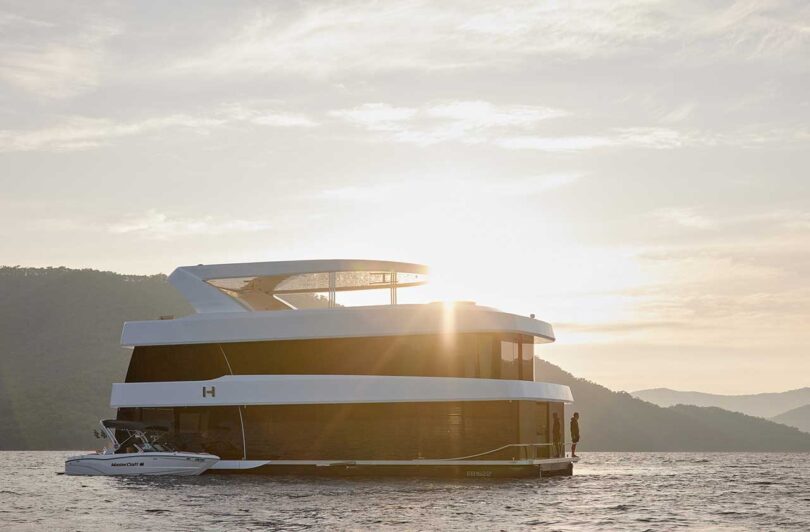 One of Halcyon's primary design goals was to establish a harmonious connection between the interior and the breathtaking surroundings. The shared living areas on the ground floor offer uninterrupted views of the water and landscape through the perimeter of windows. The living room opens out to a covered outdoor room offering additional seating and dining options.
The unique window design allows the sides of the houseboat to slide open to form an outdoor living room surrounded by the water.
Beneath the staircase, a built-in cabinet hides a TV while operating as a bar for entertainment.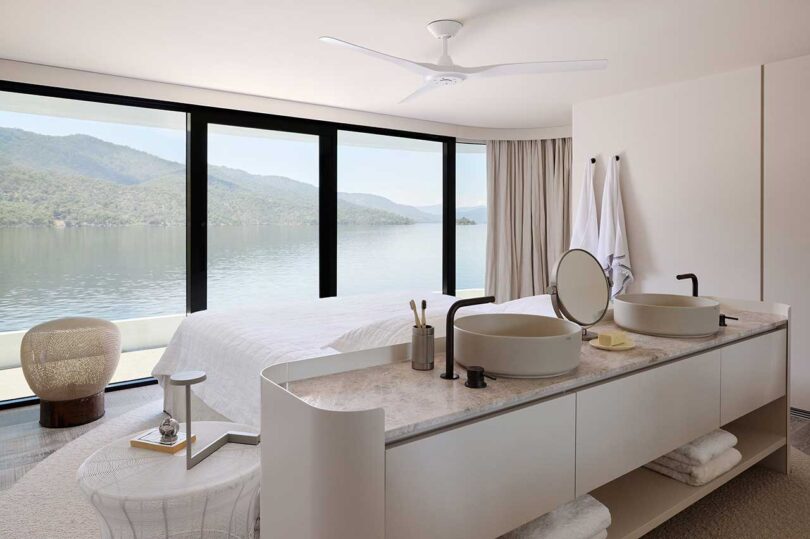 An open staircase placed in front of the windows connects Halcyon's three floors while allowing natural light to permeate inside.
The middle floor houses four bedroom suites that are strategically separated from the boat's decks and passageways for privacy and tranquility with elevated views of the lake.
The two main bedrooms, located at each end, boast circular mirrors that bounce light and the surrounding views, fully immersing the guests in the landscape.
Attention to detail is evident in the materials and furnishings on board the Halcyon houseboat. The rugged texture of sawn-cut timber floorboards extends into the furnishings, creating a seamless flow between indoor and outdoor decor. The thoughtfully curated color palette gives nod to the natural surroundings, particularly the gradient tones on the shore as the water recedes down the bank.
The partially covered top floor is a large multifunctional living space without walls, offering breathtaking 360-degree views. This roof space is a haven for relaxation on the sun lounges, daybeds, and wood-fired hot tub, while providing plenty of room for dining and entertaining at the linear bar complete with kitchen and bar amenities, and a circular banquette for eating.
Photography by Lucas Allen.