How to Build a Floating Home
We spoke with architect Eric Cobb about the process behind building a floating home.
We spoke with architect Eric Cobb about the process behind building a floating home.
For his first floating house project, an elegant dwelling in Seattle built by G. Little Construction, Cobb extensively researched methods of retaining buoyancy. Here, in his own words, he shares his insights and the fundamental differences between building houses on land and houses on water.
The older floating homes are built on giant logs that float. These are the ones that are sagging; over time the buoyancy of the logs is reduced. Divers keep having to go underneath them to place pressure-filled barrels to lift the home.
In the types of floating homes that are built right now, there are [two building options]. All floating homes now are built with concrete floats. In one, the concrete works as a giant floatation device with Styrofoam inside it, where the Styrofoam is floating and the concrete is forming an upside-down bowl over the Styrofoam. The Styrofoam does lose some of its buoyancy over time, and then the only recourse is to put barrels underneath. The other option is that the concrete float ends up floating because it's displacing water. It's a bowl filled with a void. This decision impacts how you're going to build it and the whole process after that.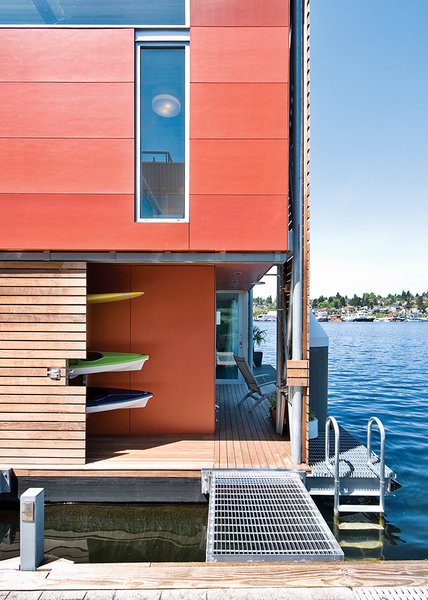 In the latter scenario, you have to keep water out of the float or it will sink. Unlike a house, where you're on dry land and you might have damp soil that's trying to work its way through your concrete foundation, here you have massive amounts of water pressure looking for any crack to power water into your displaced cavity. You have to use water-proofing measures [to prevent this].
See the full story on Dwell.com: How to Build a Floating Home
Related stories:
Meet the George Nelson Associate Who Designed the Dunkin' Donuts Logo
Why Brazilian Modernist Lina Bo Bardi Is "Among the Most Important Architects of the 20th Century"
Sustainable Living: Chicago's First Certified Passive House