Spring is in full swing, and while we're just starting to enjoy the warm-up in weather, design houses and top brands are looking ahead to summer. It's easy to create a vacation vibe at home when the new collections are filled with breezy decor. For example, Zara Home's Summer Escape collection channels a desert feel, with a focus on earth tones, "rustic wood, natural fibers and clay." Warm and neutral hues, flowing curtains, uncluttered spaces and strategically placed plants all create a laid-back vibe.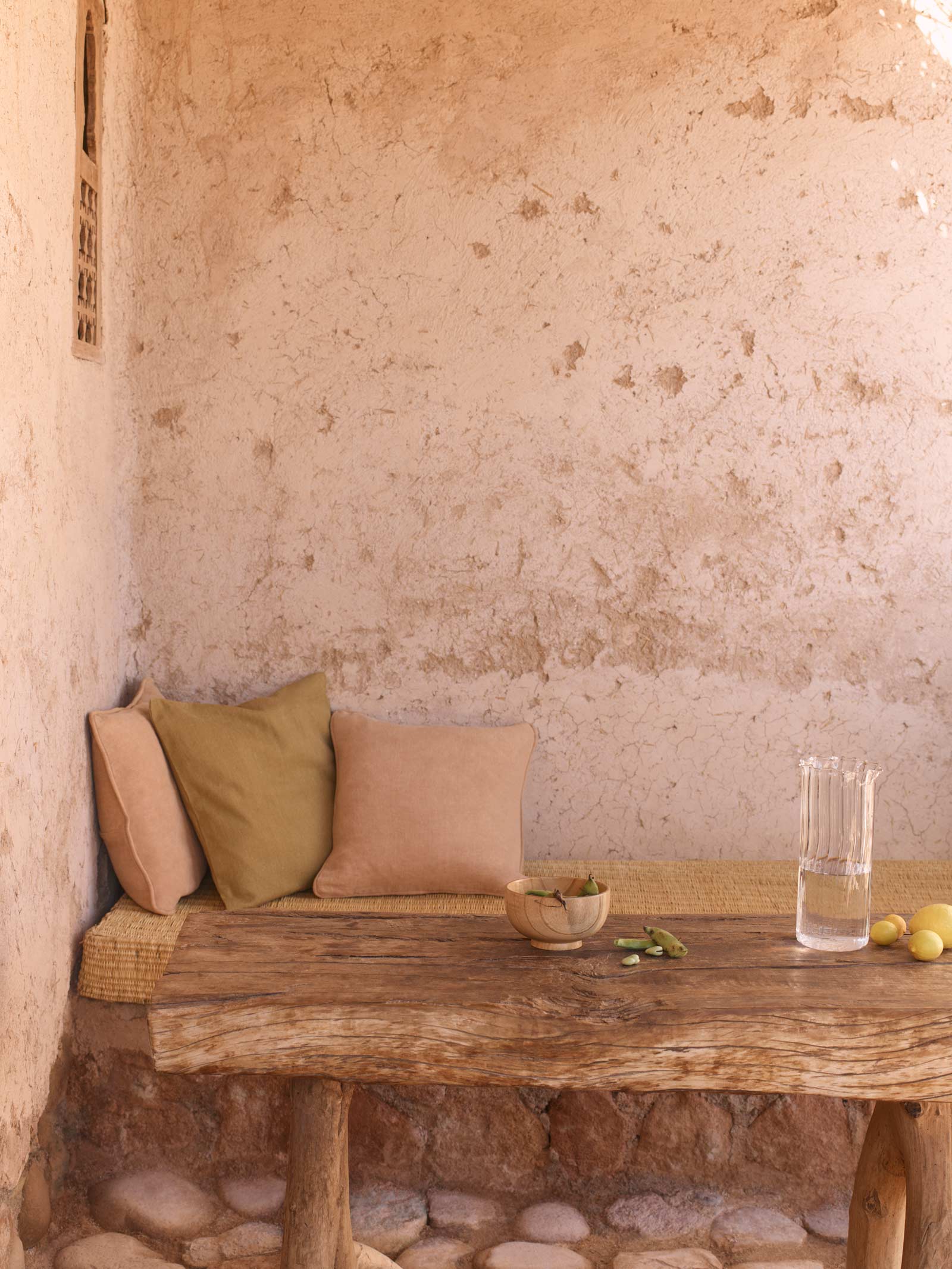 When it comes to many of today's featured brands, a big dose of SIMPLICITY takes center stage. Less is more. A few carefully chosen items are much more effective than a home filled with "stuff", and it's precisely this simplicity that creates an organized space. With necessities and tidiness taken care of, there's room to dream and enjoy life. Ready to explore more trends that will help you make your home a true getaway? Keep reading, and let the design inspiration wash over you like a fresh summer breeze…
Woven Baskets
One of the most popular ways to create today's featured look checks all of the boxes–earthy, simple, relaxing and organized! Woven baskets add texture and warmth to the home while helping you stay tidy. Plus, the woven construction creates a breezy vibe, which can't help but result in a laid-back feel. When organization comes in a chill package, everybody wins! Below we see baskets from Zara Home:
Made of banana leaves, this round woven basket (also from Zara Home) has a large open weave, which creates a unique look. If you're growing tired of the woven basket trend, this is a great way to freshen it up:
With a sleek, thick shape, this Woven Bamboo Basket from Urban Outfitters defies expectations, all the while containing everything from blankets to toys: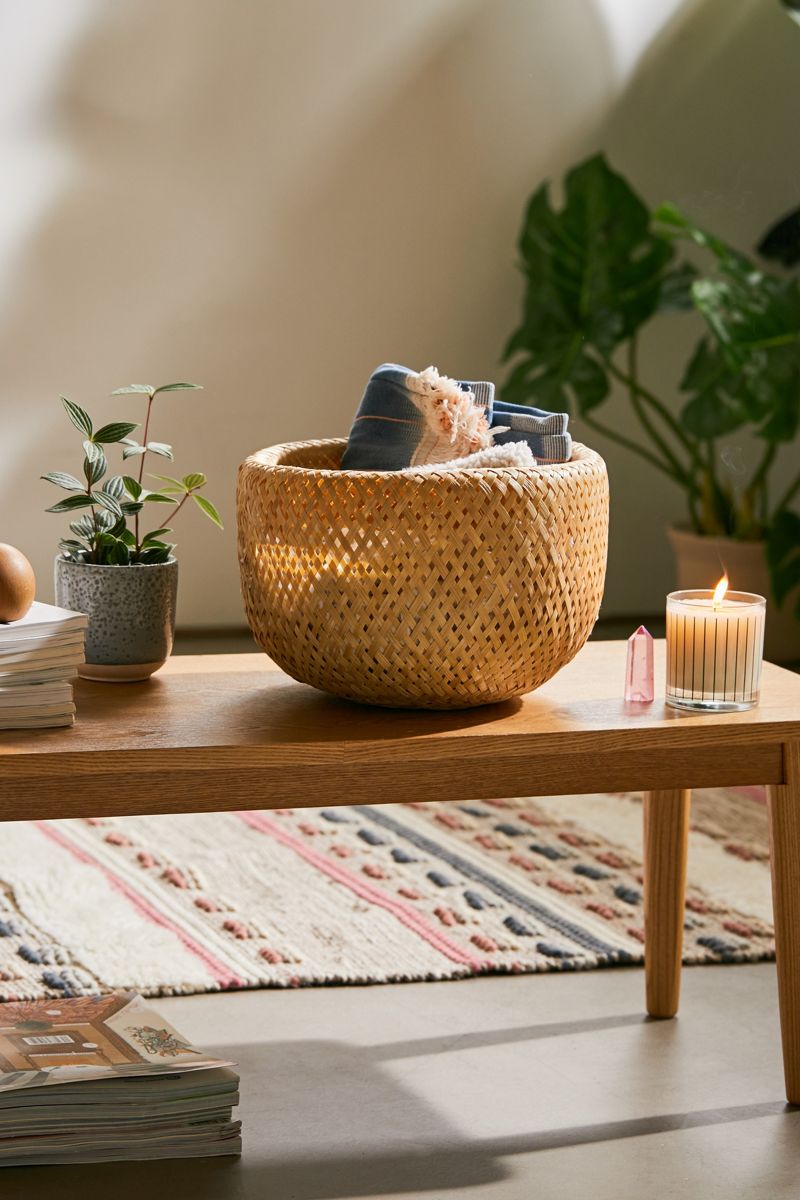 You can put a woven basket in any room of the house, from the living room to the powder room. Below we see H&M Home's Jute Laundry Basket, which can hold much more than laundry. Bring on the tasseled towels!
Currently featured at CB2: A SLEW of woven baskets. Do you prefer the natural baskets, the one-color selections (in hues such as bold black), or the patterned pieces? This trend shows no signs of stopping. We're definitely still smitten…
Geometric Motifs
Can you spot all of the geometric motifs in this vignette from CB2? Diamonds, squares and zigzags are popular designs that appear on everything from ottomans to throw pillows. Also spotted this season on the geometric motif front: woven fabrics with patterns that would look just as home on a rug.
While some geometric patterns are intricate, others are wonderfully simple. For example, Zara Home's Geometric Motif Bath Mat is reversible and made of cotton: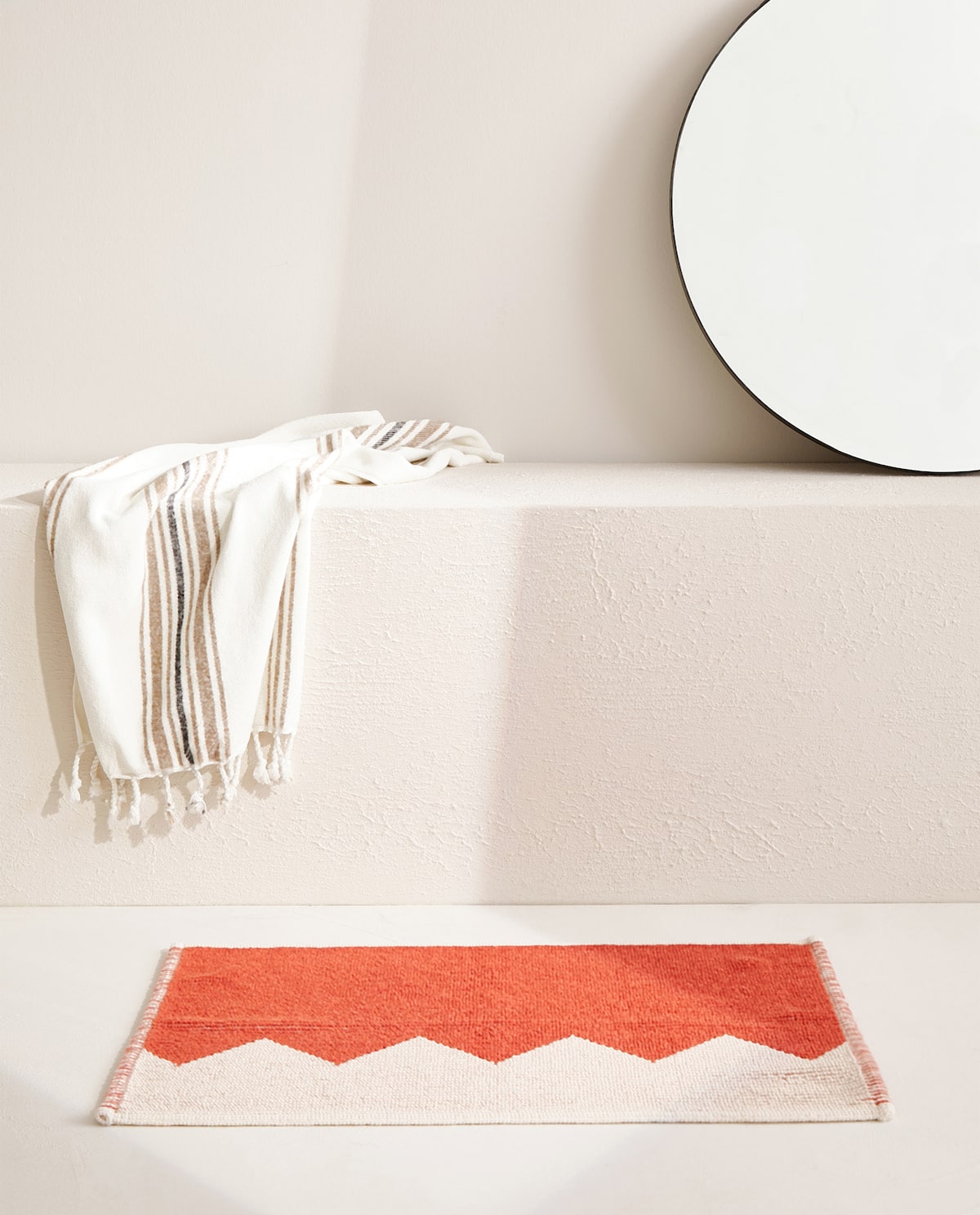 Below we see Embroidered Cushion Covers from H&M Home, complete with geometric motifs in shades such as light green. Texture reigns, but bold patterning is what first catches our eye:
Whether you're lounging by the pool, stepping out of the shower, or curling up on the couch with a good book, a geo pattern can welcome you with its boldness, all the while reminding you of a vacation retreat in a beautiful location.
Tassels and Pom Poms
When it comes to items such as pillows and curtains, it's hard to ignore the popularity of fringe in the form of pom poms and tassels. While some embellishments can create a busy feel, tassels and poms are the perfect blend of festivity and informality. Below we see Striped Throw Pillows from Urban Outfitters: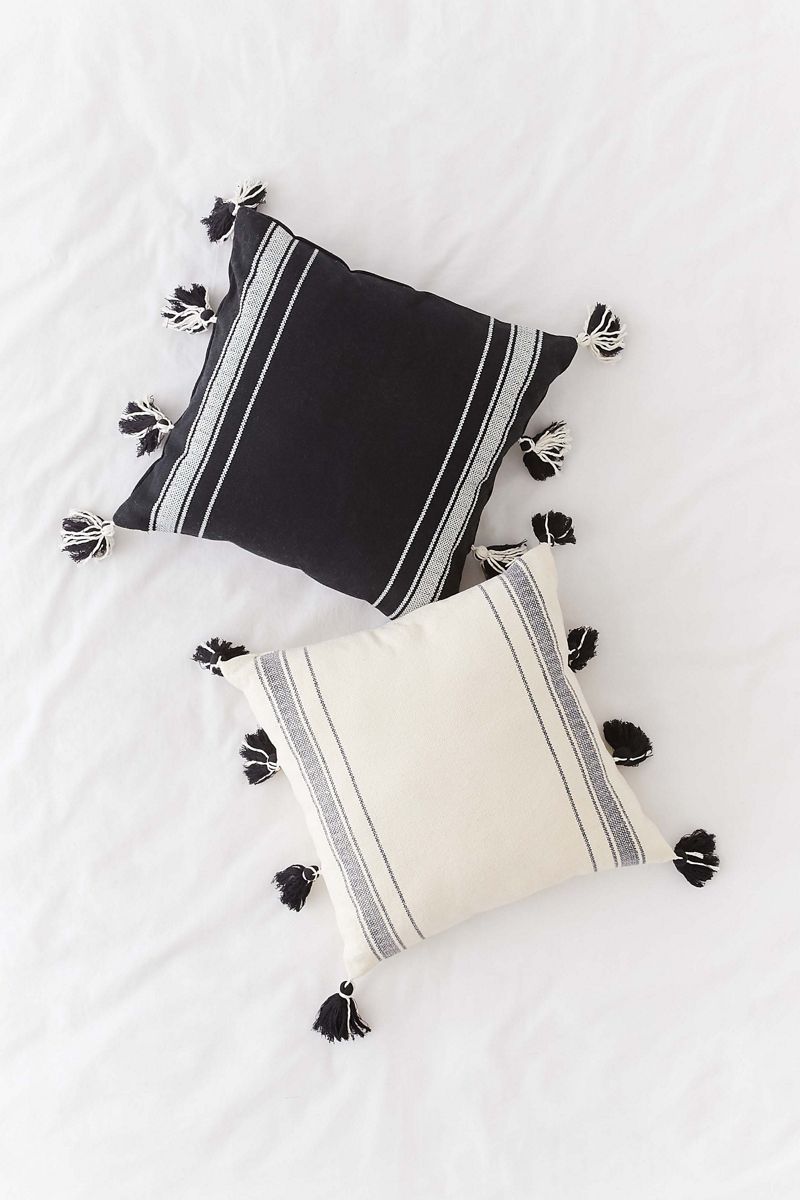 Could this bathroom be a resort powder room? It definitely has the look of a room where you can truly get away from it all! Chill out while you shower at home as pom poms line the curtain at the top and the bottom. Also from Urban Outfitters, it's the Magical Thinking Pompom Shower Curtain: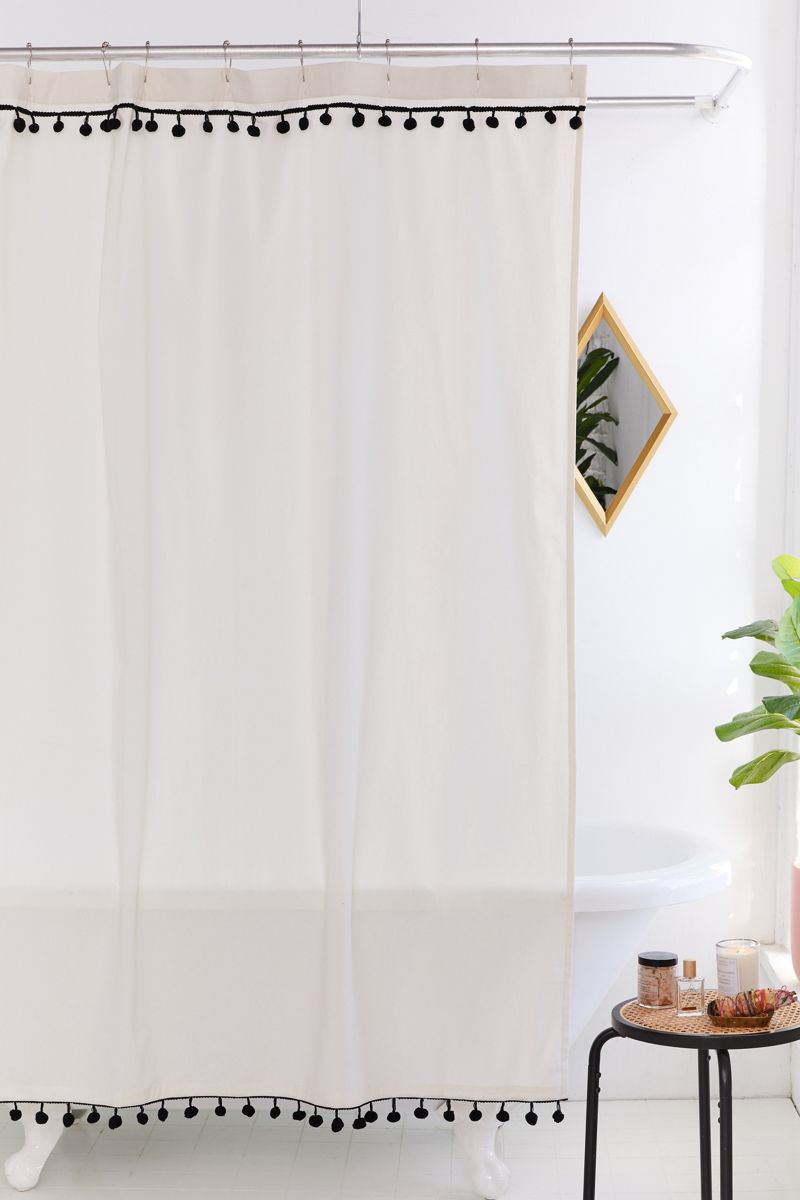 And when you step out of the shower, step into a space that uses curtains to its advantage. Whether you're dividing the room or covering the windows so you sleep like a baby, check out these Pompom Curtains in Rust: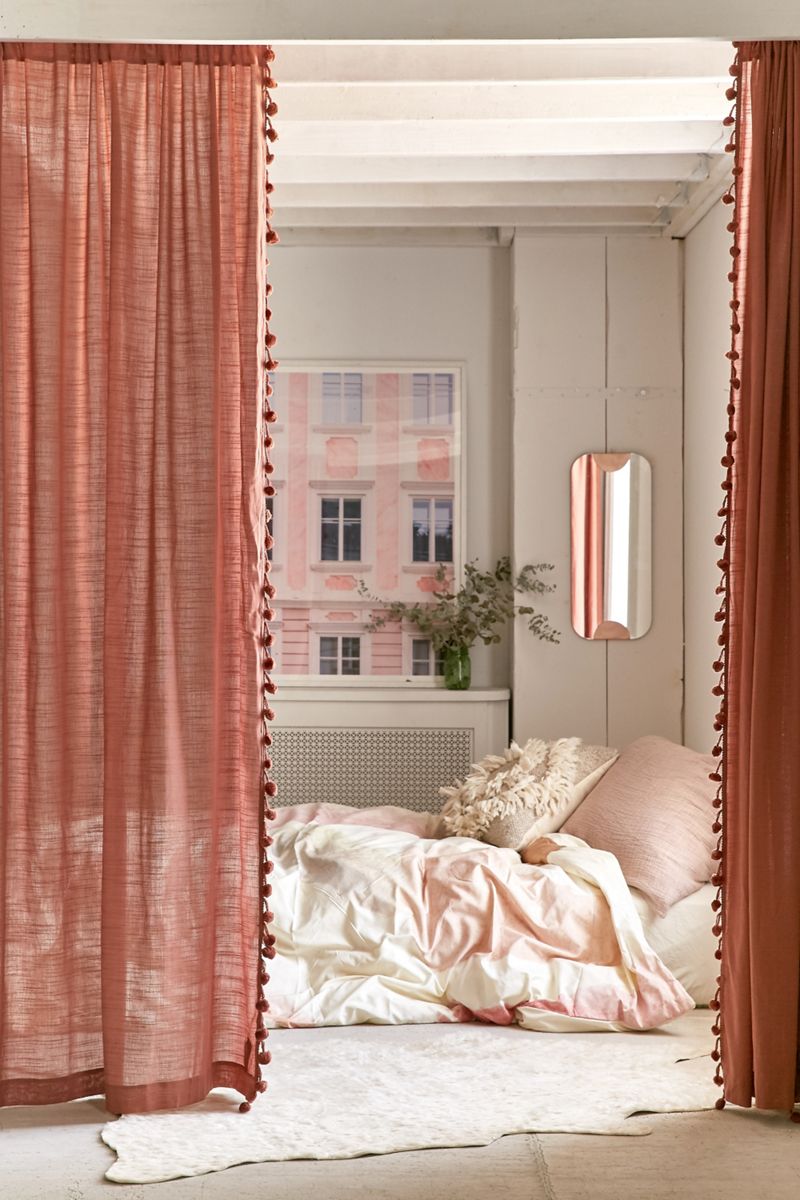 There are no limits to the pom pom and tassel possibilities. We've spotted them on wall hangings, woven baskets, blankets and more!
Patterned Surfaces
Patterned surfaces are alive and well in the world of laid-back decor. Whether they're super subtle or totally direct, the result is ultra refreshing. We're in love with this master bathroom, especially the tile in shades of blush and terracotta. To learn more about this space designed by the Mindells, visit Studio DIY:
Also on our list of swoon-worthy spaces: the blue bathroom in the LA home of Justina Blakeney, featured at Camille Styles. The backsplash tile is intricate and soothing at the same time: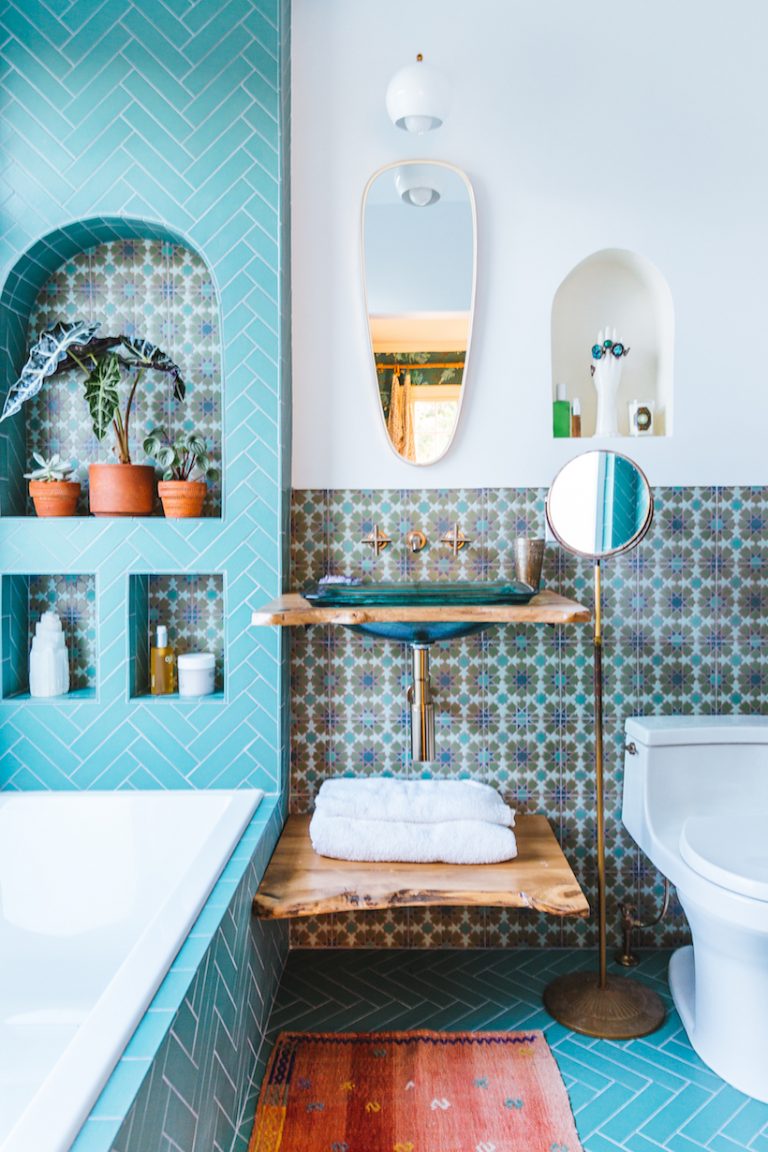 Patterned tile on a patio can take you away to a far-off place, especially if you're sitting on a comfy outdoor sofa (like the one below from Anthropologie). Blue and white for the win!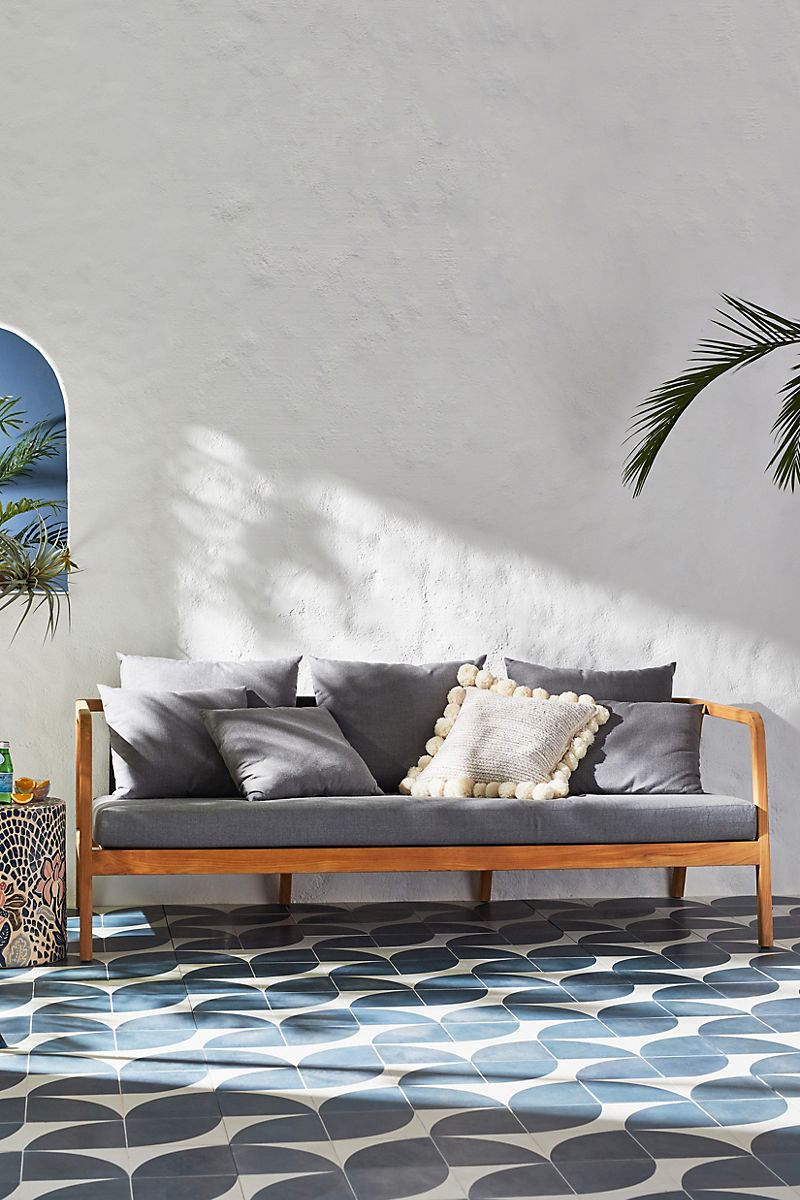 When the pattern graces your outdoor seating, each surface is like a canvas for line and design! Anthropologie's Amalfi Striped Bistro Chair is created from natural and synthetic rattan. With triangles, zigzags and waves in full effect, it's hard not to be swept away by this pattern.
Plant Power
Whether they're indoor or out, plants connect us with nature, creating rejuvenating spaces that inspire us to relax and refresh. Below we see an outdoor seating vignette from CB2: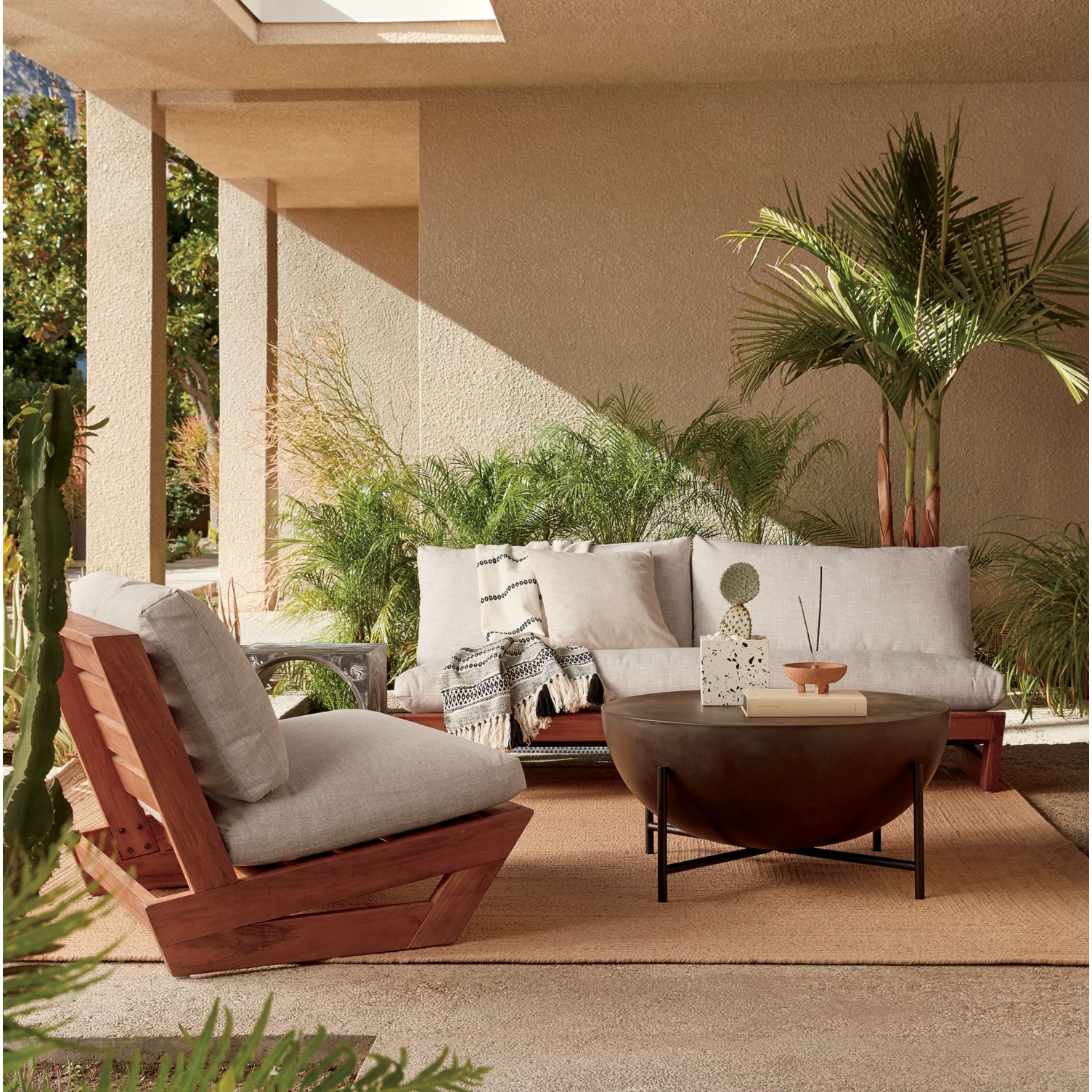 There are many amazing options to peruse if you're in the market for a planter, but you don't have to put down roots to enjoy a little greenery. Vases are the perfect receptacles for tropical clippings. H&M Home's Earthenware Vases are available in large and small sizes, in both white and green. Add a palm frond, and you're set!
If you love the look of woven plant baskets but you don't want them to get drenched outdoors, check out these Cement Basket Planters from CB2, available in small, medium and large. Yes, they're really made from cement!
When it comes to the world of plants, remember that sometimes less is more. The same can be said of all of today's featured decor! Photo from Zara Home's Summer Escape collection: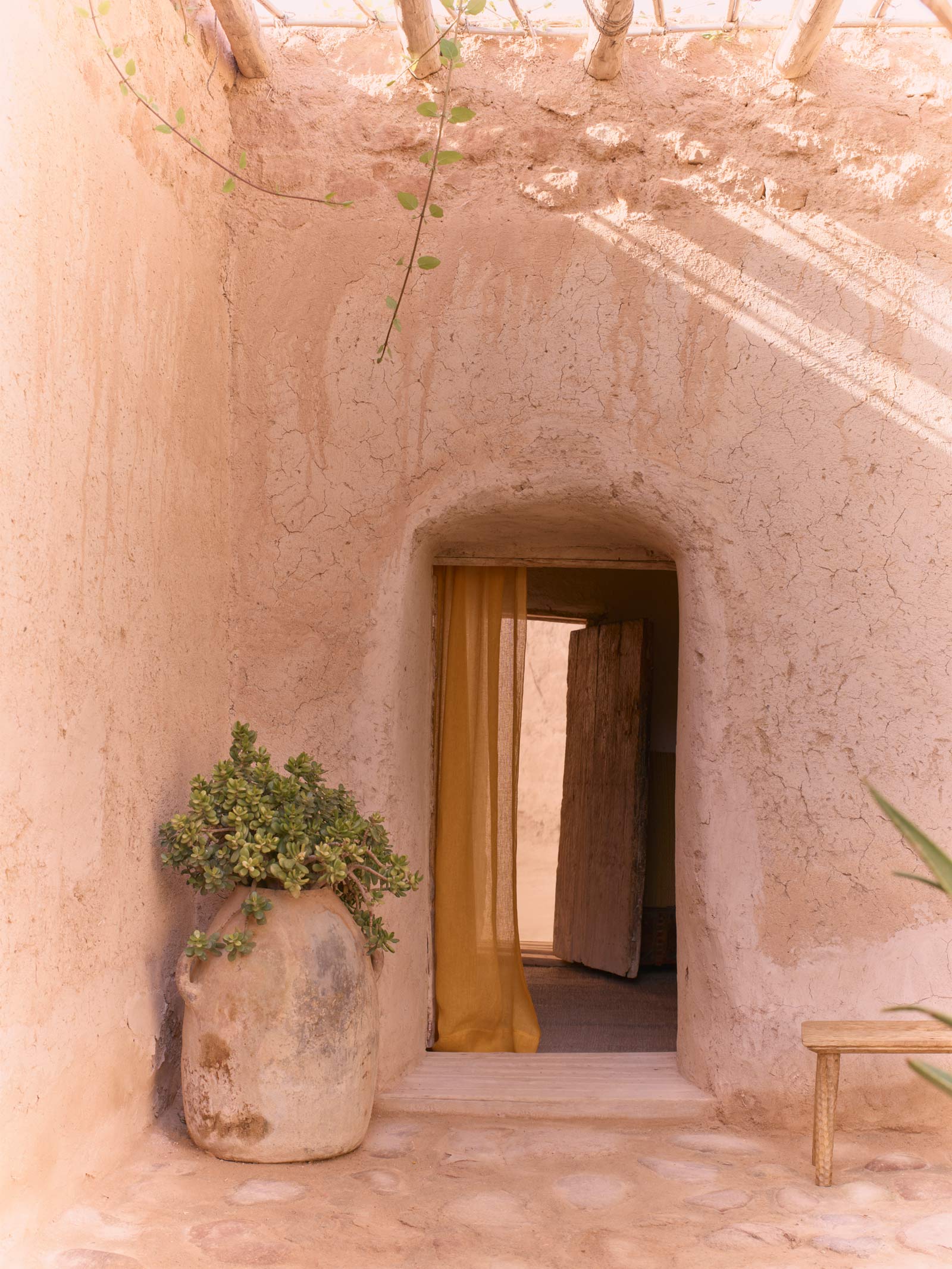 Happy decorating as you create a relaxing home haven!
Liked the story? Share it with friends.