Turning old buildings into contemporary homes not only saves resources and time, but it also gives us innovative new interiors that feel a touch different from the mundane. Transforming an old school building unit in Brussels, Belgium into a gorgeous modern loft with minimalist style and yellow aura, dmvA completely altered the interior while making most of the ample space on offer. It is not very often that you see homeowners or designers gravitate towards colored glass panels as room partitions and it is even rarer to have ones in yellow picked for the job. But that is exactly what you get here with fabulous light yellow glass panels delineating the living area from the kitchen and dining space.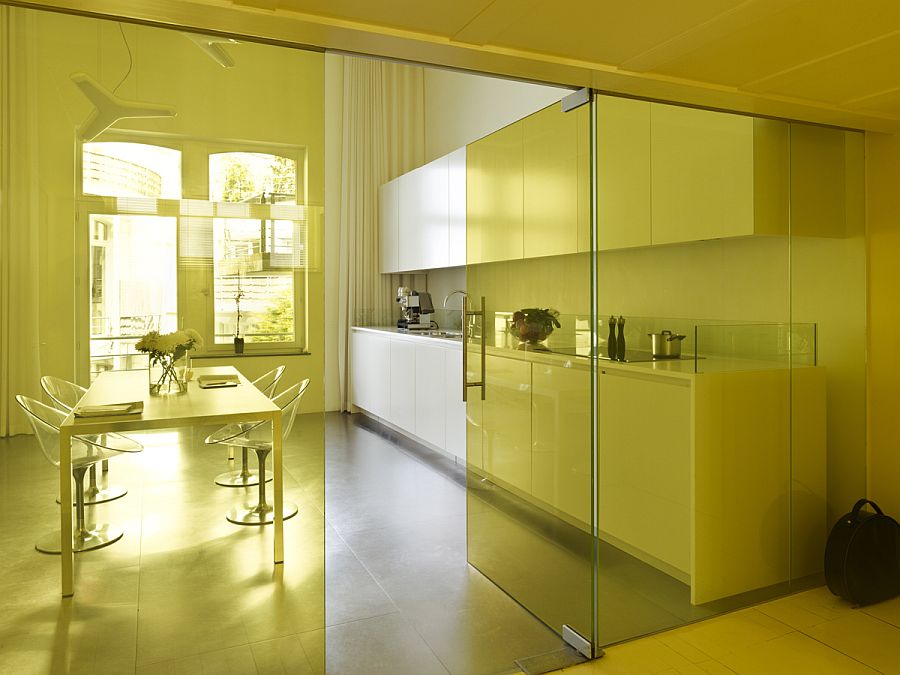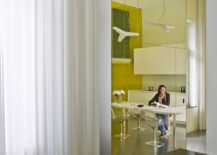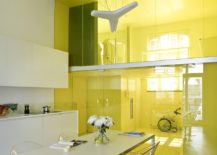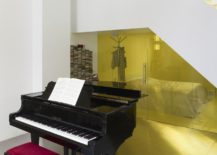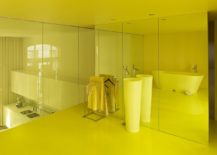 Beyond this lower level, you have the bathroom that is clad entirely in yellow with the floor, ceiling, fixtures and accessories, all embracing the color gleefully. Apart from this overload of yellow, the rest of the apartment is clad in white with minimal décor and cabinets shaping the kitchen and the bedroom. Space-savvy design takes over with contemporary lighting fixtures adding elegance to the mix. Large windows bring in natural light while a smart layer of recessed lighting ensures that there are no dull corners here.
RELATED: Dream Contemporary Loft Sits Snugly Inside Vancouver's Iconic Waterfall Building
This is a loft that is bound to easily polarize opinion. Some will instantly fall in love with the idea of yellow panels while others will detest the use of colored glass that alters the ambiance dramatically. No matter which side of the fence you sit on, this is a loft that grabs your attention for sure! [Photography: Frederik Vercruysse]
RELATED: Remodeled Apartment Inside 156 Year Old Building Paints a Picture of Abstract
You're reading Remodeled Loft Inside Old School Building in Brussels with Yellow Panache!, originally posted on Decoist. If you enjoyed this post, be sure to follow Decoist on Twitter, Facebook and Pinterest.