A beautifully decorated party table has the power to be the focal point of your next fete. Do you keep it simple with one centerpiece? Do you cover it in portion-sized edibles that guests can grab and go? Is there such a thing as over-decorating? While the answer to these questions may ultimately come down to personal preference, today we're sharing some stunning party decor ideas. Bonus tip: don't hesitate to get creative with the wall behind your party table!!
From centerpiece ideas to incorporating cocktails into your party spread, keep reading for a slew of photos and decor ideas. Because if you're wondering how to decorate a table for a party, you just might be surprised by how easy it is to get an abundant look, even on the tightest of budgets! For some extra fun, there's a cocktail recipe if you keep scrolling. Cheers to that!…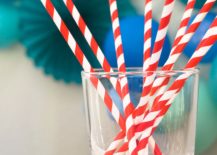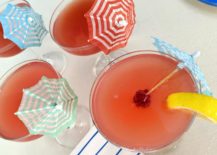 *Photos and styling by Kate Simmons for Decoist
The Big Picture
Will your party table be used mostly to hold party decor? Will it be a buffet table where guests can access the food at all times? Perhaps it's a little bit of both. Even if it's purely functional, you can always make this party hub a destination with a few pretty touches.
For starters, what's behind your table?! Try creating a beautiful backdrop with the help of balloons, paper fans and other decor. If you can make it easy, even better! For example, ordering a bundle of balloons in a specific color family (such as blue) gives you an array of tones for a reasonable price. Much more affordable than buying full bags of every shade and only using a portion of them. Aren't the paper fans the prettiest shade of teal?! You can secure the balloons with pushpins, or if you don't want a wall full of holes, try using balloon decorating strip for easy assembly and display.
If you're curious about the "living" plant wall in today's photos, check out our Decoist tutorial for crafting your own!
Your Party Centerpiece
Your party centerpiece may be as simple as a potted plant or as ornate as a row of eye-catching objects. A vase of flowers always gets the job done. Bonus points if they're the guest of honor's favorite!
Don't hesitate to let your party supplies double as decor. For example, a container of party straws=instant festivity.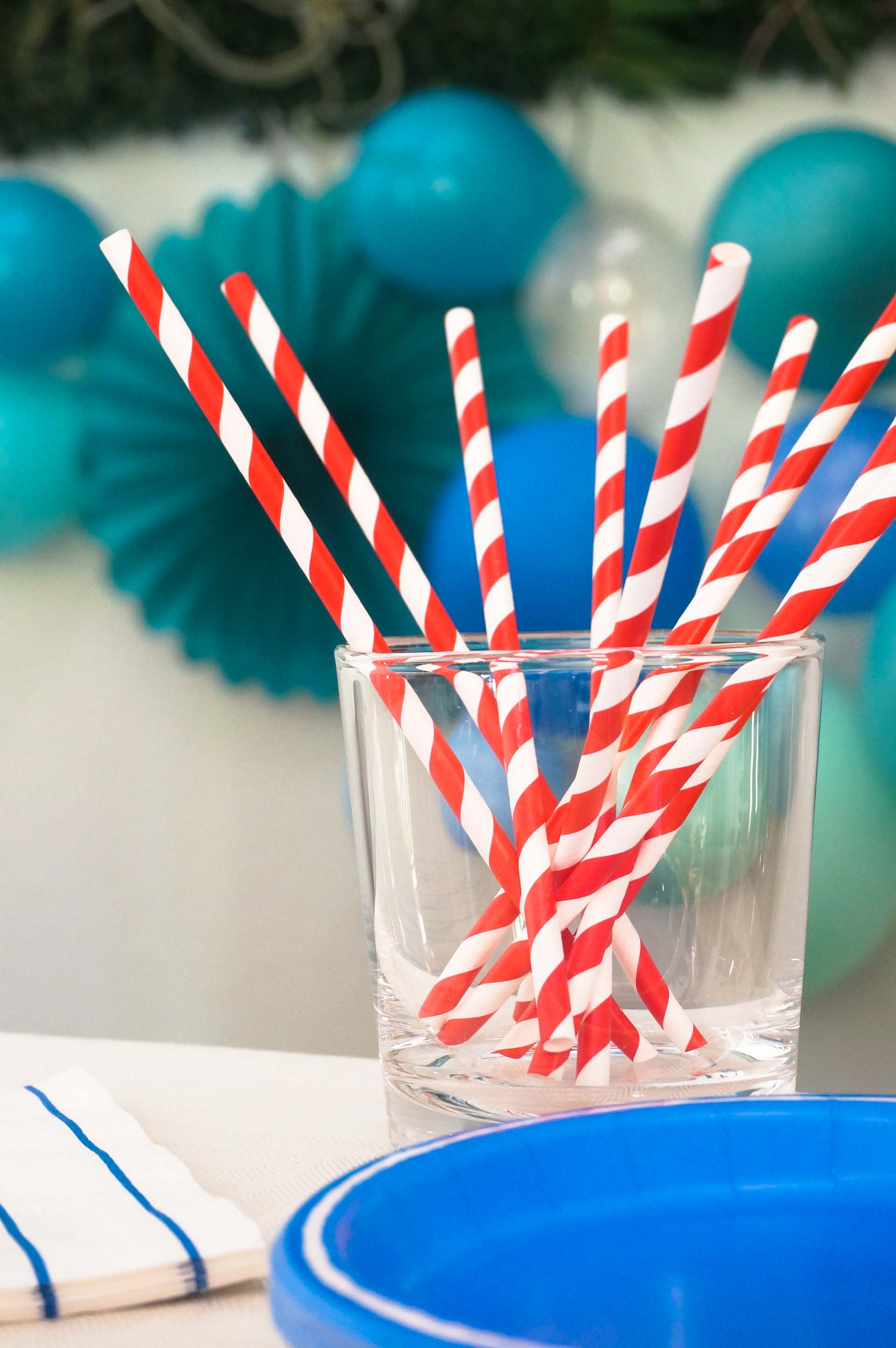 Even supplies such as party napkins can help establish the color story for your fete and add fun touches of pattern to your event. Blue and white stripes instantly channel a breezy summer vibe. Like the balloon bundle featured in the previous section, these Frenchie Striped Napkins in Cobalt are from the Oh Happy Day Shop!
Party Consumables
Displaying food and beverages is an easy way to give guests quick access to the consumables. Not to mention, it creates a beautiful spread on your party table! Pre-mixing cocktails and setting out a batch just before the first wave of guests arrives is always festive and fun. The look is decadent yet accessible.
To keep the flow smooth (and give yourself plenty of time to mingle without having to be on drink duty), consider having a separate bar area where party guests can later get their own refills. Setting out an easy-to-follow recipe takes the guesswork out of the mixology. Keep it simple by choosing cocktails that only consist of a few ingredients.
Ready for an easy drink recipe?! Try a blood orange mimosa!…
Blood Orange Mimosa
4 oz orange juice
2 oz blood orange soda
champagne 
fruit slices for garnishing
If you have fresh-squeezed blood orange juice, even better! All you'll need is champagne to top it off. But if you don't have access to blood oranges, the combination of regular orange juice and blood orange soda will do the trick. Keep in mind that soda can have a syrupy, medicinal taste when mixed with champagne, so the key is to add one part blood orange soda to two parts orange juice. Top with champagne and you're set!
This easy party drink is perfect for adapting into a mocktail. Use carbonated water to thin out the juice and soda, and you have a refreshing treat that's as beautiful as it is delicious.
Cheers to a party table that's equal parts affordable and fabulous!! Thanks for reading.
You're reading How to Decorate a Table for a Party, originally posted on Decoist. If you enjoyed this post, be sure to follow Decoist on Twitter, Facebook and Pinterest.