The undulating walls of this light-filled loft reference the building's past life as a silk warehouse.
How can you maintain the essential character of a New York City loft while trying to insert a bedroom into a seemingly impossibly narrow space? This was the critical question that architect Julian King faced when approached by a client who had purchased an apartment in a former silk warehouse in trendy SoHo.
The building was originally constructed in 1872, and the current apartment layout was not doing the building's original features—think high ceilings, brick walls, and double exposures—any favors.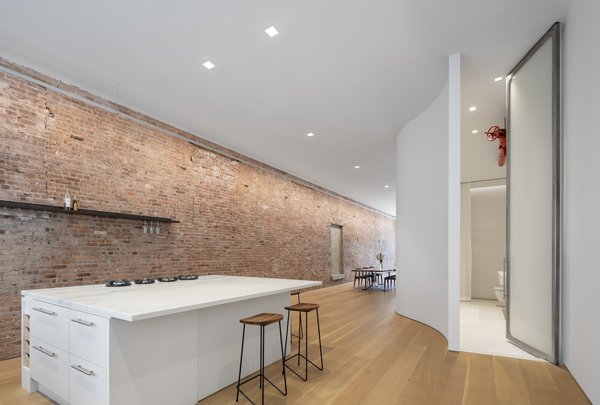 At the time of the purchase, the apartment was "terribly cluttered with an exposed mess of sprinkler piping, poorly configured and built rooms, and a landlocked kitchen," describes King. The room layout, in concert with the exposed ductwork, plumbing, and wiring, obscured the 13-foot-plus ceilings, and took away from the daylight provided by windows on either end of the apartment. King sought to "preserve what makes a classic SoHo loft a loft," but also wanted to consider creative ways to incorporate a bedroom without losing any natural light.
See the full story on Dwell.com: A Hidden Mezzanine Keeps This Narrow SoHo Loft Looking Crisp
Related stories:
Before & After: A Muddled Eichler Gets a Dashing Update
A Divine Intervention Is Staged For This 16th-Century Spanish Church
An Asymmetric Laneway House Reunites a Mother and Daughter in Vancouver